Marshon Brooks
was the second leading scorer in the entire NCAA as a senior and measured out extremely well at the NBA Draft Combine, yet there are questions about whether his style of basketball is conducive to winning and what type of adjustments he'll need to make as a pro. What would be the most likely way for him to find success in the NBA?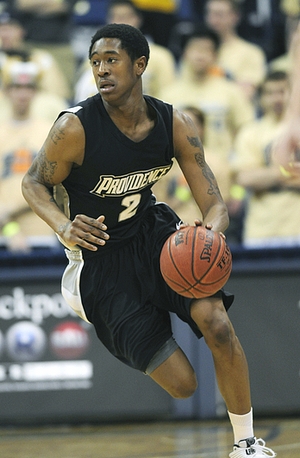 Playing a small role for Providence in his first two seasons, Brooks gradually improved his game his first three years in school and then exploded onto the scene as a senior. Not on the draft radar at all until his senior season, Brooks' huge numbers made NBA scouts give him a second look, and his impressive showing at the combine has only added to his buzz.
While Brooks has improved his skills in a variety of areas, passes the eye test, and frequently flashes an abundance of NBA abilities, there are still many questions about how his game will translate to the NBA, especially due to the extremely ball-dominant role he played as a senior.
An extremely potent scorer who used a ton of possessions as a senior,
Marshon Brooks
created a staggering amount of his own offense, with an incredible 29.5% of his possessions coming in isolation. Despite playing the shooting guard position in his team's offense, Brooks plays with the ball in his hands as often as many point guards, and has no conscience about creating his own shot at any point during the shot clock from anywhere within 30 feet of the basket.
Brooks' scoring skill set is very advanced, as he's capable of scoring inside and out in a variety of ways, having extreme confidence in virtually every aspect of his scoring game. Brooks relies on contested pull-up jumpers for the majority of his offense, and he's capable of knocking down very high difficulty shots of this variety. Unfortunately, he's also highly prone to taking ill-advised shots early in the shot clock, showing very questionable decision-making in that regard.
An interesting thing to note about Brooks' scoring offense is that in spite of his absurd amount of isolations and propensity for difficult shots, he still posted very strong efficiency numbers as a senior, a hard feat to pull off given the style he plays. Brooks' 1.01 points per possession ranks in the 88th percentile of NCAA players according to Synergy and his 58% True Shooting Percentage
ranks 6th of the 24 shooting guards
in our top-100 rankings. His team, Providence, was one of the
fastest tempo
teams in college basketball, which may have helped in that regard.
While stylistically he may play like most inefficient volume shooters, he actually was able to post very strong efficiency numbers overall at the college level. Looking to the NBA, the story will likely be quite different, as there are very few All-Stars who play the kind of dominant offensive role Brooks played in college, so a role adjustment is inevitable under any circumstances.
Doing the majority of his damage offensively with this perimeter jump shot, Brooks is highly capable both off the dribble and spotting up, though he's far more consistent with the latter. When spotting up, Brooks has outstanding form, boasting a high and quick release along with excellent balance, though these opportunities are rare given the role he plays in his team's offense. Of the 234 jump shots Brooks took in the half court setting according to Synergy this season, just 27 were of the unguarded, catch-and-shoot variety, but he scored a lethal 1.7 points per shot on those attempts.
With his off-the-dribble jumpers, Brooks is far more inconsistent, as his mechanics frequently break down, making him prone to some very errant misses. He has a strong tendency to unnecessarily fade away and exhibits poor balance in these situations, not squaring his shoulders to the basket and often forcing up difficult shots with a hand in his face. That said, his length and shot-creating ability allow him to get separation for his shot with ease, and if he can develop more consistency and become more selective with his opportunities, he has more potential in this area of his game.
Brooks will undoubtedly have a smaller offensive role in the NBA, making his team less reliant on him to create his own shot off the dribble, which could be a great boon to his scoring efficiency. On the other hand, it's tough to say whether the tendencies and questionable decision-making he's developed in this area of his game will be undone so easily. His abilities in this area of his game are quite clearly a valuable asset, but finding a proper balance and exhibiting better restraint in shot selection will be critical to his long-term success.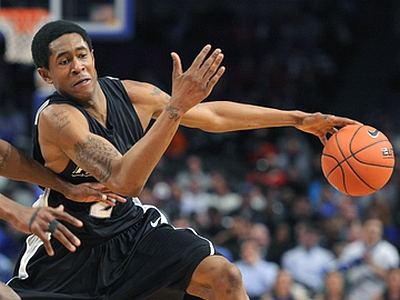 Brooks also has a strong ability to attack the basket out of isolation situations, though it clearly takes a backseat to his perimeter jumper in his approach to the game. Having a very sure-handed dribble with very long strides, Brooks is dangerous taking his man to the basket in spite of his lack of a great first step.
He isn't the greatest finisher at the basket, as he could improve both his strength and his aggressiveness going strong to the rim, but he got to the line at a strong rate as a senior, posting a 0.38 FTA/FGA ratio, something he vastly improved from his junior season. He also has a nice floater in his arsenal, taking full advantage of his terrific 7'1 wingspan to easily get it off at any time in the lane. With continued work, his floaters and runners have the potential to be a very solid weapon in the NBA.
While Brooks is more than capable of scoring both on jumpers and in the lane, the biggest question from an NBA perspective is how he'll get in position to do so, something that will be interesting to watch as he gets his opportunities in the league.
Playing with the ball in his hands so often and having free reign to take shots whenever and wherever he wanted, Brooks didn't do a ton of off-ball movement at Providence, with just 6.7% of his possessions coming off cuts and 1.2% of his possessions coming around screens according to Synergy. No team is likely to run their offense through Brooks in the pros (and if they do, definitely not nearly to the extent Providence did), so adapting to get more shots in that manner will be important.
Brooks' passing game also leaves much to be desired, as while he occasionally will show flashes of solid court vision and passing ability, he frequently displays tunnel vision looking for his own scoring, having no problem settling for a high difficulty shot with 30 seconds remaining on the clock before even looking at other options. He ranks as
the second worst passer
of all shooting guards projected to be drafted, which illustrates his struggles in this area.
On the defensive end, Brooks has a very intriguing set of tools, possessing a smothering 7'1 wingspan and a solid frame that appears it can put on a bit more strength. His fundamentals aren't bad and he has good but not great lateral quickness, being capable of staying in front of most opponents in college.
At the college level, Brooks was a solid defender overall, frequently showing a good energy level and not giving up on plays, but never really exhibiting the lockdown potential you'd expect from someone with his tools. He's prone to overplaying the ball by going for quick steals, and also can get juked quite easily on spin moves and other quick changes of direction, though he does an excellent job of contesting shots with his length when he's in front of his man.
To be fair, the amount of energy Brooks expended on offense as a senior could have prevented him from doing the same on defense, and it will be interesting to see how he adjusts on this end as a result of his inevitable offensive role change. He's capable of being a much more disruptive force both on and off the ball.
Looking forward, it's a bit tough to say how Brooks would best fit in the NBA initially, as there are a large number of unknown variables in projecting his game, which will likely require a major role adjustment. If he's taken earlier in the draft by a dismal team in need of someone to create offense, he'll likely be more comfortable transitioning to the league, and may even be able to produce big numbers, but it's unlikely it would contribute to winning basketball, similarly to was the case at Providence.
Being drafted later by a more established team would mean less initial minutes and much more of an adjustment, but could be the best for Brooks in the long-term if he embraces coaching and structure, as he has a number of skills that could be highly useful in a team-oriented setting.
Surely one of the more enigmatic prospects in this year's draft,
Marshon Brooks
likely has the most varied projections by NBA scouts of any player in the class. He clearly has a ton of natural scoring ability, strong physical tools, and a ton of skills, but how he can adapt that package into playing winning basketball is yet to be seen.