A national champion with impeccable winning credentials, is
Michael Kidd-Gilchrist
good enough to warrant being a top three draft pick?
-
Finding a Niche For: Harrison Barnes
Jonathan Givony
Michael Kidd-Gilchrist
had a dream freshman season by any standard, being an essential cog on a Kentucky squad that won the national championship in emphatic fashion.
Standing 6-7 ½ in shoes, with a 6-10 wingspan and a chiseled 228 pound frame, he has ideal physical attributes for a NBA wing prospect, and a versatile skill-set to go along with that.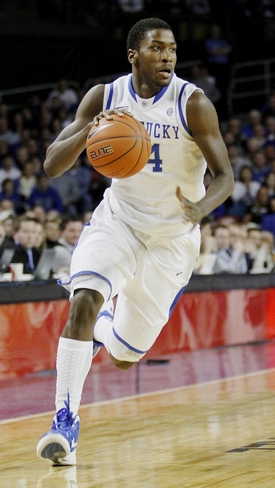 Offensively, Kidd-Gilchrist is far from what you would consider a go-to guy, as he actually took the smallest percentage of shots (18.6%, 7th on the team) of any player in Kentucky's rotation, relative to minutes played, according to Ken Pomeroy.
His most prolific source of offense came from pushing the ball in transition, getting out on the fast break as well as any non-guard prospect in this draft. His size, strong frame, aggressive mentality and physical nature all help him out tremendously with his forays to the rim, as he simply refuses to be denied once inside the paint. Kidd-Gilchrist finishes 71% of his field goal attempts on the fast break, according to Synergy Sports Technology, which is #1 amongst all draft prospects.
In the half-court, Kidd-Gilchrist doesn't have the most visually appealing style of play, but he finds ways to be productive, often through sheer desire and tenacity.
He has the ability to go inside the paint and back down smaller wing players in post situations, showing great strength overpowering opponents and having no problems finishing through contact. He has nice touch around the basket and even a jump-hook he likes to utilize at times with his back to the basket situations, something that could become more useful as he improves his footwork and ability to recognize and take advantage of mismatches at his size.
Kidd-Gilchrist has an excellent feel for the game, which shows up in the way he moves intelligently without the ball, as well as with his passing skills, which are very well developed considering his age.
Not someone who can be expected to shoulder an offense considering his somewhat limited skill-set, he is the type of player who needs good teammates around him to fully utilize all the different things he does well. He really understands the nuances of making others better with his ability to set screens, pass, and make hustle plays, which is likely a big reason why he's always been considered such a winner from very early on in his career.
With that said, he has a ways to go before he can be considered anything more than a complimentary offensive option, which is exactly what he was for Kentucky as their fifth leading per-minute scorer.
He's an average perimeter shooter at best, making 26% of the 51 3-pointers he attempted this season, showing highly unconventional mechanics (shooting the ball on his way down, with his elbow flailing out) that could hamper him from ever becoming anything more than that later in his career. He doesn't have much of a mid-range game either, struggling to pull-up off the dribble effectively due to his crude shooting mechanics.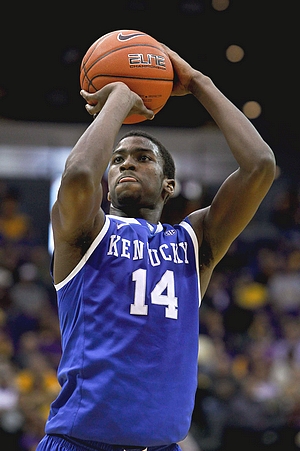 Kidd-Gilchrist isn't a very fluid or polished shot-creator either, as he's not a very advanced ball-handler at this stage in terms of changing speeds and directions on his secondary moves. His first step is very effective, and he has extremely long strides and the ability to overpower defenders on his way to the lane, but if he can't simply blow by his man or get his shoulder past him, he struggles somewhat trying to create offense in isolation or pick and roll situations.
Nevertheless, Kidd-Gilchrist found ways to help his team this year, be it crashing the offensive glass, cutting off the ball, getting out in transition, or drawing fouls and getting to the free throw line, where he converted a very solid 75% of his attempts this season.
He's extremely versatile on defense as well, being asked to guard point guards to power forwards, sometimes within the same game. He has ideal physical attributes here, with his terrific size, strength and length. He also moves his feet extremely well, and is competitive a player as you'll find on this end of the floor. It's obvious that he truly enjoys his work here, which is pretty rare at his age. His shows outstanding instincts blocking shots and getting in the passing lanes, and does a great job of contesting shots, playing the game with a real nasty streak.
The fact that he's strong and tough enough to defend many big men, yet has the agility to stay in front of guards makes him a real game changer covering the pick and roll, as he can switch onto virtually anyone without consequence. He also rebounds extremely well for a wing player.
Kidd-Gilchrist is a unique prospect in this draft, as he doesn't really fit the prototype of what teams drafting in the top five typically look for offensively. What he lacks in scoring polish he makes up for in toughness and competitiveness, though, as he's a consummate teammate who shows no ego and only seems to care about helping his team win games.
His work ethic is reportedly outstanding as well, as indicated by the
well-documented
"Breakfast Club" he started at Kentucky during Christmas break, urging teammates to show up at 6:30 AM every morning for weightlifting and shooting sessions.
Combine that with the fact that he's by far the youngest player in this draft, not turning 19 for more than five months, and it's not unreasonable to think that he still has considerable room for improvement over the next few years, particularly if he can improve his shooting mechanics.
In a perfect world, Kidd-Gilchrist would be drafted by a team that already has some talent in place, as he's probably not ready to carry a heavy scoring load early in his career. Regardless of where he ends up, though, it's difficult to see a team being disappointed in what he brings to the table, as he appears to be the type of player who will almost make the most of his potential, giving him very little downside.