A late blooming small school big man who didn't garner much buzz throughout his collegiate career, can
Mitchell Watt
find his way into the NBA, either through the draft or down the road?
-
Finding a Niche For: Justin Hamilton
-
Finding a Niche For: Tony Mitchell
-
Finding a Niche For: Khris Middleton
-
Finding a Niche For: Perry Jones
-
Finding a Niche For: Terrence Jones
-
Finding a Niche For: Marquis Teague
-
Finding a Niche For: Michael Kidd-Gilchrist
-
Finding a Niche For: Harrison Barnes
Joseph Treutlein
Buffalo's
Mitchell Watt
didn't make much of an impact his first three years in college, posting rather pedestrian numbers for a player with his athletic tools against such weak competition. There's a very good explanation for that, as prior to his sophomore season, Watt was diagnosed with Guillain-Barre Syndrome, a neuro-muscular disorder that causes the immune system to attack itself.
After playing 14 and then 21 minutes per game as a sophomore and junior, he finally managed to put things together as a senior, adding around 25 pounds to his slender frame and significantly increasing his pace-adjusted production and efficiency, showing an interesting combination of skills for a player his size in the process. Watt capped off his MAC conference player of the year campaign with a very strong showing at the Portsmouth Invitational Tournament, stepping up against the increased competition, which was important for him given the weak schedule his team played this season.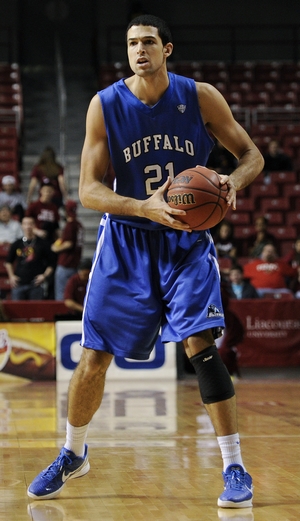 Standing over 6'9 in shoes with a solid 7'0 wingspan,
Mitchell Watt
is a very good athlete for his size, possessing high levels of mobility, quickness, and coordination, to go along with solid explosiveness and power as well. While he doesn't have the greatest frame, it appears as if he could add some more strength to his 220 pound build without sacrificing much athleticism, specifically in the lower body. Regardless, he has at least good physical tools for a power forward or undersized center in the NBA, and very likely could do more to maximize his body as a pro down the road.
On the offensive end, Watt served as his team's leading scorer and first offensive option this season, despite seeing most of his possessions in traditional role playing situations. While Watt's back-to-the-basket game was the most featured aspect of his offense on the whole, he saw plenty of action spotting up for jumpers and finishing on cuts at the basket, which is beneficial for a potential transition to the NBA in the future.
Watt's jump shot may actually be his most attractive quality on the offensive end projecting to the NBA, as he has a very capable stroke from the mid-to-long range, while he saw nearly 25% of his field goal attempts in the half court coming in the jump shot variety this season. Watt hit for nearly 1.0 points per shot on jumpers this year according to Synergy while attempting very few three-pointers (he went 11-for-34 from deep on the season), which is certainly good efficiency for a big man specializing in the mid-range game. Watt boasts a solid stroke with consistent mechanics and backs it up at the free-throw line, where he hits for 74% on 5.0 attempts per game, more evidence of his strong shooting ability.
While Watt wasn't consistently featured in the pick-and-roll game this season (just 15 of his 465 possessions logged by Synergy were tagged as pick-and-roll), he certainly has an intriguing set of tools to play the pick-and-roll game in the NBA, being a more than capable finisher both hitting jumpers and diving to the basket.
As far as finishing in the paint goes, Watt did a good share of getting to the rim off the ball this year, be it in pick-and-rolls, cuts, or attacking the offensive glass. He shows good hands catching the ball on the move, very good coordination, nice extension to go under the rim, and good touch on finesse finishes. Watt also shows nice reactive athleticism elevating around the rim, especially when unguarded, but shows more trouble utilizing his athleticism when having to deal with contact. He doesn't show much propensity for finishing through defenders and seems to be lacking in his power game both with his upper and lower body, something he'll definitely need to work on to have continued success in this area in the pros.
The other intriguing aspect of Watt's offense is his surprising ability passing the ball, as he shows good vision and feel operating out of the high and low post with the ball. He does a good job being patient with the ball and is capable of finding teammates either spotting up or cutting to the basket, serving as an effective cog in this area of the game. Watt also does a solid job contributing in other little areas on the offensive end, making flow-of-the-offense passes on the perimeter and being active setting screens to free up teammates, being a solid team player in general showing a decent overall feel for the game.
While Watt's post game was his most utilized skill on the offensive end in college, it isn't likely to be a consistent staple of his game if he does manage to find a niche in the NBA, as there are some concerns projecting forward. Watt shows a nice go-to move with his left-handed hook shot, which has solid extension, range, and touch, but the rest of his game is fairly raw, and his lack of great size and struggles establishing position and finishing through contact won't help him either. Still, the fact that Watt had a lot of experience contributing in other ways offensively likely wouldn't make it very difficult to phase out this area of his game, which could also free up his energy to improve in other areas such as rebounding.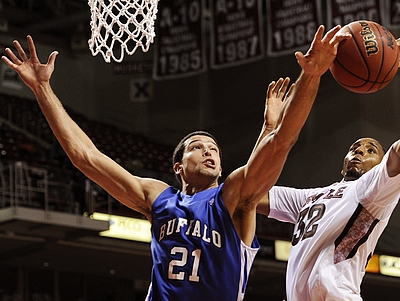 On the glass is perhaps the area Watt stands the most to improve, and may be the biggest thing holding him back projecting to the next level, as he posted an unimpressive 9.5 rebounds per 40-minutes pace adjusted as a senior, and did so against extremely unimposing competition. Excelling in this area is often critical for role playing young big men to find a niche in the NBA, and this is certainly the on-court area Watt needs to focus most on in the pre-draft process and beyond. To his credit, he did play alongside one of the best offensive rebounding big men in the country in
Javon McCrea
, which likely worked against him to a certain extent statistically.
On the defensive end, Watt shows some solid potential both defending the post and the perimeter, though is far from a great defender and also faced very weak competition this season. In the post, Watt actually shows more toughness and activity level than he does in most other areas of his game, being very active using his length, moving his feet, and contesting opposition shots. His fundamentals are still coming along and he's definitely still raw, but appears to have the tools and mindset to develop into a solid defender under the right coaching. His perimeter defense is a bit shakier, as he's not often tested and doesn't look natural moving laterally, but has the mobility and length to develop here as well. He also does a solid job contributing as a help defender in the lane, using his length and leaping ability to block 2.8 shots per-40 minutes pace adjusted.
Looking forward, Watt has an intriguing package of tools for a potential role-playing big at the next level, boasting good athleticism, solid size, a potent jumper, ability to finish around the basket, and decent defensive potential. His lack of significant experience against high-level competition, unimpressive rebounding, and the fact that he has just one season of noteworthy production under his belt are all concerns, but a team may find him to be an attractive developmental option late in the draft or in free agency, and one can certainly make the argument he shows more promise than some of the other big men teams have taken flyers on in recent years.