Perhaps the biggest enigma in this draft,
Perry Jones
' draft stock has cooled significantly after a disappointing sophomore season. Where does his draft stock lie and is he a prospect worth investing in?
-
Finding a Niche For: Terrence Jones
-
Finding a Niche For: Marquis Teague
-
Finding a Niche For: Michael Kidd-Gilchrist
-
Finding a Niche For: Harrison Barnes
Jonathan Givony
Despite being projected as a likely top five pick,
Perry Jones
surprised many last April by electing to return to Baylor for his sophomore season,
citing
the need to "grow as a player and person," and "have fun" before leaving for the NBA.
After a fairly average freshman season production wise, at least relative to his talent-level, the burden was on Jones to have a much stronger year, as he would no longer be able to rest quite so heavily on the laurels of his upside.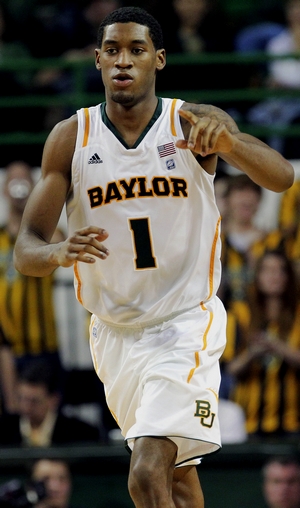 Unfortunately, Jones' follow-up season was fairly disappointing. His production dropped or stagnated in several key areas, and many were left to ponder whether he simply isn't a good fit at Baylor, or if he lacks the internal motivation and wherewithal needed to get the most out of his unbelievable natural tools.
Upon announcing his decision to return to school, Jones was asked what he thinks he needs to improve the most on the following year.
His answer
was fairly revealing: "My motor. To be able to keep playing consistently throughout the entire 40 minutes of the game."
With another full year to evaluate Jones, it doesn't appear that those questions are going anywhere. If anything, they've only gotten much louder.
One thing that no one ever questions is
Perry Jones
' talent. Just how rare and unique a player he is becomes immediately evident the moment you start watching him. He has a tremendous combination of size, athleticism and skills, making him appear to be capable of doing anything he wants on the basketball court. He shows terrific footwork inside the paint, has 3-point range on his jumper, can handle the ball fluidly from coast to coast, and is a breathtaking finisher around the basket.
What isn't quite as clear is why Jones struggles so much at times to make his presence felt over his college career, and why we didn't see more improvement from his freshman to sophomore seasons.
Jones' usage rate dropped this year, as he accounted for just 18.1% of his team's possessions, which ranked 54th amongst the 81 college players in our top-100 prospect rankings. His scoring production fell, as did his efficiency. His field goal percentage went from 55% to 50%, and he got to the free throw line much less frequently than he did as a freshman.
Jones is somewhat of a jack-of-all-trades, master of none, as he can do a little of everything, but nothing in his game is especially polished. He does not have a consistent means of putting the ball in the basket, and he goes through long stretches where he doesn't have any impact on the game, although part of that may have to do with the way he was utilized.
He sees the biggest share of his possessions in the post, either with his back to the basket, or facing up from the mid-post. He doesn't really have the strength or toughness to be overly effective backing opponents down, but his excellent size, length and quickness allows him to get shots off here with relative ease. He shows nice potential with his smooth footwork and soft touch around the basket, particularly with his jump-hook, but will have to improve on his ability to draw fouls and finish through contact if he's to maximize this part of his game.
Where Jones seems to be more effective at the moment is facing up from 12-18 feet in isolation settings. His incredibly quick first step and long strides allow him to blow by opponents, and he can finish strong at the rim thanks to his terrific leaping ability or with a floater inside the paint.
Unfortunately, his lack of experience and average feel for the game hampers him here somewhat. He often struggles to read the secondary line of defense rotating into the paint, as he's not a great passer on the move and isn't quite advanced enough with his ball-handling ability or off-hand to weave his way around defenders.
Improving as a shooter could help make him a more efficient offensive player, as he took 3.5 jumpers per-game this season, but only converted 36% of them. The main issue here appears to be his shot-selection. He has a tendency to settles for too many off-balance fade-aways at inopportune times, even when he has a clear path to attack the basket. At this stage opposing defenses don't have any real issue getting him to take the shots they want him to, something that will hopefully change as his knowledge of the game improves and he better understands how to take advantage of his unique strengths.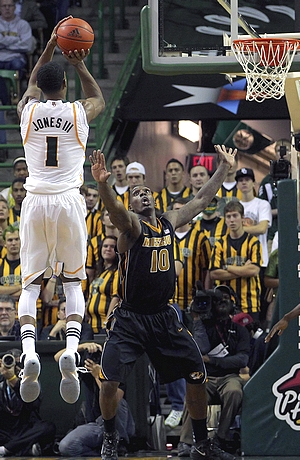 Defensively, Jones again has great potential, but is somewhat of a mixed bag when it comes to actual results. His tremendous size, length and phenomenal mobility should theoretically allow him to guard up to three positions in the NBA, but his poor fundamentals, awareness, intensity and toughness certainly put a damper on that, as does his occasional lack of focus.
His team played a lot of zone the past two seasons, which will likely make the transition to playing man to man defense a little rougher initially considering his lack of experience. Right now he's clearly better using his size and length defending big men inside the paint rather than forwards on the perimeter, where he tends to get lost.
Similarly to last year, Jones was a surprisingly average rebounder and shot-blocker this season for a player with his athletic tools, not showing much in the ways of instincts, hustle, or physicality, particularly in terms of boxing out.
Jones is going into this draft process with quite a bit less momentum than he had last year. His last college game was an especially poor NCAA tournament showing against Kentucky, where his team was thoroughly dominated and all his weaknesses were seemingly on full display.
With that said, Jones can easily turn that momentum around with strong workouts and interviews in the next two months, as he's exactly the type of prospect NBA GMs tend to fall in love with in June. At the moment, he clearly has no idea how to use the tremendous tools that are at his disposal, but it's far too early in his career to definitively say he never will.
In a strong environment with great coaching and plenty of patience, Jones could become a very useful NBA player, and surely there will be no shortage of teams willing to invest in his talent. The question is, how high in the draft will he ultimately be selected?