13:31: Edwards races down floor to beat defense, receives pass from Donnell Beverly, two handed dunk makes it a 52-51 game for Texas
With a little more than 13 minutes remaining in the second half of Connecticut's upset of then number one ranked Texas last Saturday,
Gavin Edwards
saw an opportunity.
The Huskies power forward took off sprinting down the court after his team has corralled a defensive rebound. As he bounded past several Longhorn defenders, he looked over his shoulder and made eye contact with guard Donnell Beverly, who promptly lofted a pass in Edward's direction.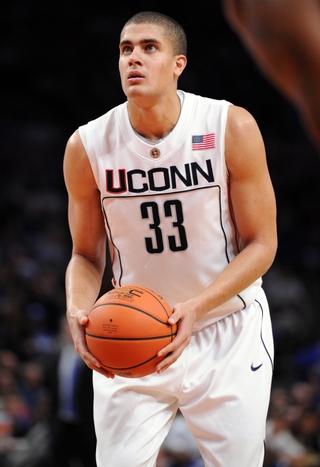 The senior grabbed the pass on the fly and came to a sudden halt two feet in front of the basket, just long enough for Texas guard
Avery Bradley
to go flying by on a block attempt, before sending home a powerful two handed slam.
The play, which was part of a 24-10 UConn run to open the second half, took just five seconds to complete from start to finish, but is the exact show of ability that might land the former unheralded Husky recruit in the NBA this June.
The fact that Edwards is even suiting up for the perennial Big East power today is in itself a small miracle. As a high school senior in Arizona, he received the majority of his interest from smaller local programs, including San Diego State, UNLV and Nevada.
Jim Calhoun and his coaching staff however were intrigued by the 6-9 youngster who could run the floor with surprising speed for a player his size and aggressively block shots on the defensive end.
"He could really run the floor well and any time you can get a big guy who can do that, we love it," Connecticut assistant coach Pat Sellers said. "He wasn't a big name or a high level guy, and it was late in the signing period, so we took a chance on him."
The Husky coaching staff may have liked Edwards enough to offer him a scholarship, but even that matter wasn't as simple as it might have seemed.
Up until late in the process it looked as though Connecticut was going to stash Edwards away at a prep school and let him season for another year before attempting to assimilate him into an already crowded frontcourt. Those plans did an about face shortly before the 2006 NBA Draft.
"When I first started getting recruited by UConn they were telling me I would benefit from playing a year at prep school," Edwards recounts. "But as soon as
Josh Boone
left they wanted me to come right away just in case I could help them, or if not, there was the possibility to redshirt."
Boone's decision to bolt for the NBA after his junior season was the small window of opportunity that Edwards needed to take his game to the next level, and he was able to capitalize on it by biding his time with the other schools that were actively recruiting him.
This practice of demonstrated patience has served the senior well during his four years in Storrs, and with his sudden rise to prominence as a senior, Edwards has drawn comparisons to another Husky late bloomer.
"We used
Hilton Armstrong
as an example," Sellers said of the preseason discussions the coaching staff had with Edwards.
"He played behind
Emeka Okafor
,
Charlie Villanueva
and
Josh Boone
for most of his career, so he always had spot minutes. His senior year he starts every game, averages 11 points, six rebounds and is the Defensive Player of the Year in the Big East. He didn't just emerge though, he was going against those guys every day in practice, he was just stuck behind them. Gavin has been behind
Jeff Adrien
and
Hasheem Thabeet
for so long, we said, 'hey you're in the same situation.'"
"They have the same personality too. For Hilton, it didn't matter if he got five minutes, he was always the first in the weight room, always came in after practice for extra work and Gavin has been the same way his entire career. All of that work has paid off for him in his senior year. We told him if he stuck with it he would be fine, and to his credit he's done that."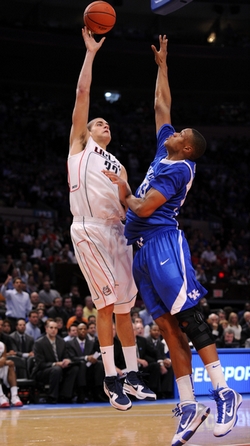 Of course, Edwards has a distinct advantage over most athletes who try to stay motivated to work hard when they don't see their efforts rewarded with more minutes. His father Earl spent 11 seasons in the NFL and has been a great source of knowledge and guidance for Edwards.
"It definitely helps because a lot of people don't really have anyone to mentor them and tell them what they need to be doing," Edwards said.
"He's been through all the different little events and dealt with all the nuances that the sports world has. Having someone there who has experienced all of those things has been a big help to me."
And Edwards has been a big help to the Huskies fortunes on the court this season.
Of all the questions that surrounded the program entering the year, perhaps none loomed bigger than the status of the frontcourt. Loaded with perimeter talent, but having seen the departures of
Jeff Adrien
and
Hasheem Thabeet
, the Huskies, a team known for their wealth of talented big men, were left with a sense of uncertainty.
The senior has responded to the challenge. Seeing his playing time nearly triple from a year ago, Edwards is currently fourth on the team in scoring and ranks third in rebounding, all while shooting a scintillating 65 percent from the floor and leading the team in free throw shooting, connecting on just under 80 percent of his attempts.
While nothing about Edwards' game early on in his career screamed pro prospect, the Connecticut coaching staff is quick to point out his surprising open floor speed, body control and shooting ability for a forward as factors that will attract pro scouts. He probably won't ever be mistaken with a classic low post scorer, but Sellers says that teams need to make note of his scoring efficiency.
"We worked at getting him to slow down, read the defense and make a decision in the post, and he really started to come on in that regard at the end of last season," said Sellers.
"If he has a guy his size or smaller defending him, he can take him inside and make things happen, that's going to be attractive to teams. He does need to get stronger to handle the bigger NBA guys and quicker to handle those perimeter fours off the dribble."
Edwards knows there are questions centering on his toughness and his ability to withstand the physical nature of life as a frontcourt player in the NBA. But for a player who has spent nearly his entire career looking for his chance to shine, he can't do anything right now other than be happy with his present situation.
"I've learned from this whole experience at UConn to keep working hard and take advantage of your opportunities."
There are few who would argue Edwards' attitude towards taking advantage of those chances. Just ask Donnell Beverly, he got the assist.