There's a reason
Jack McClinton
never flashed a smile after draining 3-pointer after 3-pointer during his time at the University of Miami; he was never satisfied. The two-time first team All-ACC performer has been counted out his entire career dating back to his days at Calvert Hall High School in Baltimore. McClinton wasn't recruited by any of the local major colleges, so he decided to take the prep school route and spent a year at South Kent in Connecticut. There, the sharpshooter did enough to earn a scholarship to attend Siena, where he immediately established himself as one of the top players on the team. His time with the Saints was short lived, though, as head coach Rob Lanier, the man who recruited McClinton, was fired.
The coaching change left McClinton wanting out at Siena, and he ultimately decided to transfer to the University of Miami. He spent the next three seasons lighting up some of the top teams in the country in the ACC, emerging as one of the conferences brightest stars. Still, despite all of his accolades at the collegiate level, McClinton is still an unknown talent to many NBA fans, but has been hard at work doing his best to impress scouts and GMs. He turned in a good showing at the NBA combine in Chicago a couple of weeks ago and has been getting solid feedback from the teams that he has worked out for.
McClinton took some time out recently in between scheduled workouts with various teams to talk about his career at Miami, what position he sees himself playing at the next level, and whether or not he can break out of the one-dimensional label as a shooter.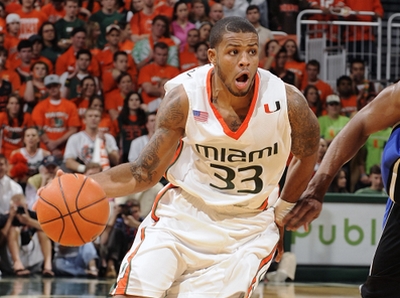 DraftExpress: After the season ended at Miami, where were you training in preparation for individual workouts?Jack McClinton:
First I went to Washington D.C. for a while to train. From there I had six or seven workouts and now I'm back down in Miami actually for some more training. I'll be on the road a lot more now, so there isn't as much training going on as there is the individual stuff.
DX: What did you focus on in your training? Where were you looking to make improvements?
JM:
I'm really working on everything; I don't think you can be too good at any one thing. You know you have a deck of cards and of course my ace is my shooting, say my ball handling was a nine and so on. So I've got that ace, but you want to improve the other stuff, you can always get better with your ball handling, that's something that can really help me get to where I want to be. So I've been doing two ball drills, lots of stuff with cones and whatnot. The guy I've got in DC is a great workout guy.
DX: What teams have you worked out for so far?
JM:
I've worked out for Oklahoma City, Houston, San Antonio, Detroit, Milwaukee and Chicago. Then of course I was also at the pre-draft camp in Chicago.
DX: How do you think the workouts have gone so far?
JM:
They've gone real well; I really think I get to show off my game in the individual workouts. People think I'm just a spot up shooter, but I can create my own shot and do stuff like that in these workouts.
DX: What have teams been asking you during the interview sessions you've done with them?
JM:
A lot of teams have been asking if I can play the point guard position. I've been playing that position almost my entire life. I was a point in prep school, I played it at Siena, I played it a little bit at Miami, but most of the time there the team needed for me to be a scorer so I was.
DX: Do you think you can make the transition to being a point guard in the NBA or do you see yourself exclusively as a shooting guard?
JM:
I would label myself as a guard, not a point guard or a shooting guard, just a guard. If you look at the NBA there are six or seven great point guards like the
Chris Paul
s and
Deron Williams
, you have a lot of great ones. There are also a lot of guys who can manage an offense without getting rattled; I think I can be one of those guys.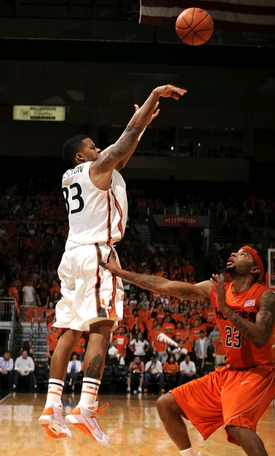 DX: You were an outstanding shooter in college. This season you connected on 45 percent of your perimeter shots while taking seven three-pointers per game. Do you think if you had been on a team with a top point guard and a good big man you could have made an even higher percentage of your threes?
JM:
You know you can look at it in two ways. I was in a position where I wasn't always able to get my shot where I wanted. But we had a great point guard and a great big; I'm just thinking that maybe my shots would have come a little bit easier. I wouldn't change anything for the world though.
DX: You were relied on very heavily to carry the offense at Miami. Do you view that as a positive or a negative in this process?
JM:
I definitely look at is as a positive. Being at Miami, sometimes I had to go out there and really try to get my shot and work that much harder. At the next level I'm going to surrounded by great players, so maybe rather than having to take a step back, I can shoot a regular jump shot. Maybe if I wound up with a dominant big man, like a
Tim Duncan
who can really control the paint, I could come down and spot up for open shots. I mean there are a lot of different circumstances.
DX: One thing you excelled at in college was creating your own shot. Can you continue to do that in the NBA?
JM:
I can definitely continue to do that. I have a lot of ball handling skills and that's one thing I've really worked on and have had to work on while at Miami, just to get my shot off. My main move has always been my step back because I can create a lot of space, but I've also been working on a lot of counter moves off of that.
DX: The last truly great shooter to come out of the ACC was J.J. Redick a couple of years ago. The knock on him has been that he is too much of a one dimensional player, is that a concern for you?
JM:
No, not at all, that's one thing I don't want to be labeled as. I can do so much more than just shoot the basketball.
DX: At the combine in Chicago you tested out well and were one of the fastest players in attendance. Do you think numbers like that are going to help your stock?
JM:
You know I really don't know how much teams look at that stuff. I think it could only help me, but at the end of the day I think it comes down to what you can do on the court. I think those numbers, people will look at those and think, OK maybe he's more athletic than we thought, but I don't know if that's going to increase my stock.
DX: One thing that scouts clearly will look at is size. You measured out just under 6-1 in shoes, is that a concern for you?
JM:
No, really it isn't a concern for me because a lot of times players are told you're not tall enough to be here. I've been going through that my whole life. When I was transferring to Miami I had people telling me not to because they said I wouldn't play. I just used stuff like that as motivation; it kept me working harder in the gym to prove all of those people wrong. I'm not going to stop doing that; I'm always going to have that chip on my shoulder to keep getting better.
DX: You had an outstanding college career and were one of the top players in the ACC for the last two seasons. Has it been a surprise given how well you did at Miami that your stock isn't higher?
JM:
You know you look at it, yes I had a great college career and was able to do some things. But at the same time, I don't know who puts together these draft boards, I don't know what GMs think, but I have been hearing a lot of good feedback. At the same time though you can't use that as an excuse to let up, you have to always keep working. You have to keep getting better because you can never stop getting better.
DX: You said you consider yourself as a guard rather than a point or a shooting guard. Can you defend both of those positions in the NBA?
JM:
I could; if I had to cover a 6-5 shooting guard I would have to work my butt off not to let them get the basketball and things like that. At the same time though, I think it all really depends on what system you're in. If I was on the floor with a bigger point guard like a
Deron Williams
, he might be able to cover the two-guard and I would cover the point. If you look at
Chris Paul
and
Jannero Pargo
they play together and it works, so it all depends on what system you're in.
DX: One name that comes up a lot when trying to compare your game to guys in the NBA is Eddie House. What do you think of that comparison?
JM:
I mean it means a lot just to be compared to anyone in the NBA. He's been around for a number of years and done well. I think it's a good comparison, we're both great shooters. The one thing is that you don't see
Eddie House
do a lot off the bounce, I'm not saying he can't, but if I have the opportunity to play in the NBA I know if I have a guy closing out on me I can make a move to get a better look or find someone else for a shot.
DX: What do you see your role as in the NBA early in your career and then maybe a few years down the road?
JM:
Well definitely I see myself as being the kind of guy who can come into the game and knock down an open shot depending on the situation the team is in. Down the road, if I really keep working hard at my game, I see myself as a Mo Williams or a player like that.