A lot has changed since my last blog. I am now playing for Brose Baskets in Bamberg, Germany, and enjoying basketball again. To say it without saying it, a change of scenery was definitely needed…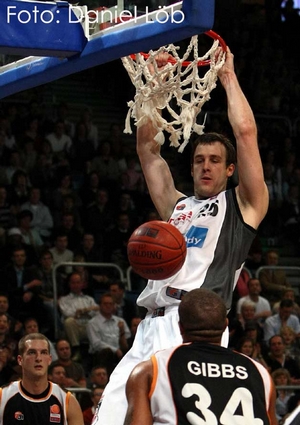 So please send all your condolences to my wife. She might as well have married a G.I. Joe as much as we move. My job seems to make her birthday more and more interesting each year. Last year, we thought we were going to Las Vegas for me to play in the D-League All-Star Game. The basketball gods had other plans, and I got called up to Milwaukee.
This year, her family was coming to visit us in Spain and we moved to Germany hours before they were scheduled to leave. We were in scramble mode trying to get their travel arrangements to Germany. It ended up working out better if she just met them in Paris for a couple days before they came here. Woe is Jen…
Besides being known for its many breweries, Bamberg is also known as "Freak City." Get your mind out of the gutter… I am happily married thank you very much. Bamberg gets that nickname because the fans are crazy.
We have a neighbor that seems to wait up all hours to clap when I walk into my building after a big game. When I got home from a road game the other day at 2 AM, he was on his balcony clapping. That makes a man feel good. Guess it is better than having a scope aimed at you after a loss. If the latter were the case, I would have worn a flak jacket home after we got upset the other night on the road.
The night we arrived in Bamberg, one of the team managers told me that he would pick me up at 8 the next morning to go to the doctor. I was a bit skeptical. In Spain, some people are just thinking about going home from the discos at that time. Here, 8 o'clock appears to be mid morning. The lady at the reception desk at the clinic looked at my bed head as if I had committed a cardinal sin.
By noon on my second day here, I had passed a half hour stress test and seen three different doctors in three different places. By the end of the day, I had gotten our new German cell phones, Internet, visas, bank account, and car all taken care of. Even managed to get a practice in there. Months would have been needed in Spain to accomplish these tasks, maybe a full year.
There is NO need for the Police, since each citizen seems so disciplined. People don't even run yellow lights or jay walk. How dare they. I would doubt if anyone even passes gas in the company of others. German police are probably as bored as someone trying to stay awake while reading one of John McCain's books.
The word efficient doesn't justify how this country works. It is like a finely oiled machine. We learned this when our neighbors didn't think we sorted our garbage correctly and placed a note on our door. Yah, that happened. Then they emailed the team office and let them know too. I bet half of the police force is sleeping in their cars from shear boredom right now.