Scouting Report by Kyle Nelson. Video Analysis by Mike Schmitz
After ranking as our sixth best NBA prospect in the SEC
in September
, LSU forward
Jarell Martin
took another step forward as a sophomore. After leading the Tigers to a third placed finish in the SEC and an NCAA Tournament berth, Martin was named First Team All-SEC and attracted deserved attention from NBA scouts in the process. Following a loss to N.C. State in the first round, Martin looks likely to start the next step in his journey and enter the NBA Draft.
Listed at 6'10 with a solid, but loosely defined 235-pound frame, Martin has good size for a power forward at the next level. He is a standout athlete, as well, showing quickness in the open floor, as well as agility and explosiveness around the basket. That being said, it remains to be seen as to whether Martin is as tall as he is currently listed. If he measures closer to the 6'7.5 in shoes that he logged at the 2014 Nike Skills Academy, then his draft stock could take a hit, especially given his average wingspan (measured on separate occasions at 6-9 and 6-10).
(Video may not load with Internet Explorer. Use Chrome or Firefox)
Martin is a particularly intriguing prospect offensively, where he showcased a versatile skill-set while balancing scoring from many different spots on the floor. He averaged 18 points per 40 minutes pace adjusted while seeing a significant increase in his usage rate, while his shooting efficiency metrics remained largely the same.
On film, Martin shows a lot of promise with his face-up game and he looks comfortable either taking the ball to the basket or pulling up for a jump shot. His ball-handling skills are above average for his size, which when coupled with athleticism, makes him hard to defend when he attacks the basket. Unsurprisingly, he did a better job of getting to the foul line, logging 6.6 attempts per 40 minutes pace adjusted and showing the ability to finish through contact when willing (59% at the rim in the half-court). These attributes also allow him to thrive as a scorer in transition, where he converted 64.5% of his attempts.
One area that Martin did not improve in as much as hoped is as a jump shooter, after showing some promise as a freshman (hitting 33% of his 3-pointers, which made up a third of his overall field goal attempts). He made just 27.5% of his overall 3-point attempts this season, including 29.5% of his catch-and-shoot opportunities, and seemed a lot less confident in this part of his game. He also showed some potential shooting off the dribble, though he made only 33.3% of his overall attempts.
His inconsistent shooting mechanics are likely to blame, as he shoots with a variable release point and occasional hitch while falling away from the basket and lacking much elevation or arc. The fact that he once again shot below 70% from the foul line suggests that he has quite a bit of work to do before he develops into a respectable jump shooter at this level or the next. This will be an important area for him moving forward.
Martin's post-game also remains a work in progress. For one, he does not consistently use his strength and size to his advantage while posting up. He also does not look to score on the low block that often; just 13.1% of his attempts come out of post-up situations. While he has outstanding mobility, his footwork leaves much to be desired at this stage.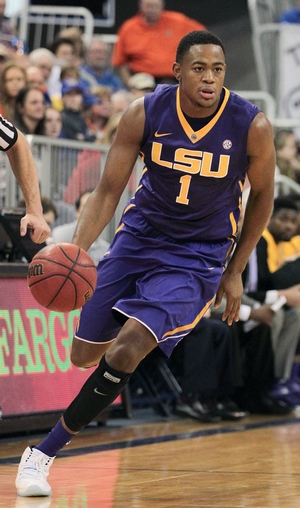 When he does commit to operating in the post, the results can be intriguing. He shows a solid jump hook, from a standstill and on the move, and uses his quick feet to his advantage while spinning around and cutting through defenders on the low block. He does a good job operating out of the pick-and-roll, as well, with the versatility to roll to the basket or step out for a jumper. He also works hard on the offensive glass, turning his and his teammate's misses into scoring opportunities thanks to his strength, quickness and leaping ability.
Though his physical tools suggest that he has room to improve, Martin is not a very good defender at this point in his career. His awareness leaves a lot to be desired, as he relies far too heavily on his physical tools and is not very instinctive about being in the right place at the right time, often committing silly fouls and being very inconsistent off the ball. He allows his man to establish deep post position and all too often does not even contest shots in the paint.
He also is not the greatest rebounder, posting 6.4 defensive rebounds per 40 minutes pace adjusted, and allows far too many offensive rebounds on his watch. When he is dialed in, however, he looks fairly competent, but moving forward scouts will want to see far more effort, intensity and toughness, before he can be relied on to play a role for a competitive team at the next level. To Martin's credit, the environment he was in the past two years was not the most disciplined, so there is some hope that he can make strides quickly in more organized settings.
While few doubt his talent, Martin still has plenty of work ahead of him in the pre-draft process to convince teams that he is not a tweener forward. On the one hand, his physical profile and versatile skill set are intriguing from an NBA perspective, and he clearly has upside to continue to improve. On the other, he is a very poor passer, his defense was frequently lackluster, and his perimeter game is still very much a work in progress.
For these reasons, he must demonstrate improved shooting mechanics, defensive intensity, and basketball IQ in pre-draft settings. Combined with better-than-expected measurements, this could help solidify his standing as a legitimate first round prospect, and could even help him move further up in the draft thanks to his outstanding talent-level.