Matt Williams
Coming off a season where he earned All-Big Ten Third Team honors averaging 12.4 points and 6.4 rebounds per game, playing alongside 2015 second round pick
Aaron White
,
Jarrod Uthoff
returned to Des Moines figuring to build his own NBA resume in the wake of White's departure, and potentially help the Hawkeyes to their third consecutive NCAA Tournament appearance.
Getting off to a sensational start, Uthoff's strong play offensively through the middle portion of the season helped guide Fran McCaffery's program to a #3 ranking in the AP poll, Iowa's highest in almost 30 years. However, the redshirt senior struggled at times down the stretch, after driving the Hawkeyes' offense efficiency to remarkable heights by the end of January, when Iowa was one of just over a dozen teams in all of Division I scoring over 1 point per possession.
Over his first 22 games, Uthoff scored 1.1 points per possession over 16.9 possessions per game, while shooting 46% from beyond the arc. Over his last 12, he scored 0.95 points per possession over 20.2 possessions per game, while shooting 27% from deep. Iowa frequently looked to him to shoot them out of trouble, as virtually every Hawkeye rotation player outside of Peter Jok struggled offensively late in the year. Even with his less than impressive play in February and March, Uthoff ended the season averaging 18.9 points and 6.4 rebounds per game, earning Consensus All-American Second Team and Academic All-American First Team honors, while leading the Hawkeyes back to the NCAA Tournament. Considered a potential prospect showing an impressive scoring repertoire in a secondary role a year ago, Uthoff's play, especially early in the year, earned him plenty of attention from NBA scouts as he made his case as one of the top forward prospects in the senior class.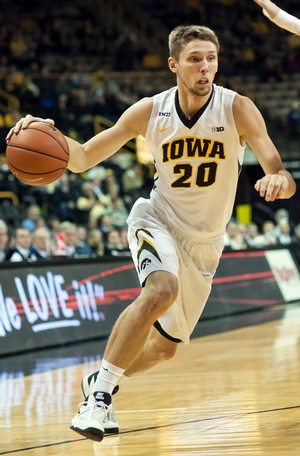 Standing just under 6'10 in shoes, with a 6'11.5 wingspan, Uthoff has tremendous size for a small forward, and despite lacking prototypical length, could conceivably play power forward in small lineups depending on the situation. Tipping the scales at right around 215 pounds, the Cedar Rapids native is stronger than he looks on first glance, but could stand to add some weight to his frame, which has been a challenge for him to this point in his career. He is a solid, but not spectacular athlete on the whole, though he makes good use of the tools he does have on the defensive end, mitigating some concerns about how his physical tools might translate.
Uthoff's appeal from an NBA perspective isn't based as much on his physical tools as it is on his impressive, albeit inconsistent, offensive ability. An exceptionally smooth, prolific jump shooter who can score in a variety of ways, Uthoff did a little bit of everything for the Hawkeye's this season as the team's clear first option, ultimately
finishing seventh
in our top-100 scoring 23.9 points per-40 minutes pace adjusted. A dangerous threat from beyond the arc with his feet set, he had plenty of off screen actions run for him, but also made an impact with his instincts cutting off the ball and filling lanes in transition, while also seeing far more opportunities to create his own shot in isolation and post up situations than he did early in his career.
Even as his role has grown, Uthoff's skill set remains predicated on his jump shot. 35% of his shot attempts in the half court were catch and shoot jumpers last season, of which he converted 39%, frequently using his size to his advantage to shoot over close outs. Moving well without the ball and shooting the ball with impressive accuracy on shots out of rhythm after jab steps or simply pausing to size up the defense, Uthoff's mechanics are very fluid and consistent, even if he doesn't get much lift on his release. His ability to make shots from beyond the arc and from the midrange should help him provide value as a floor spacer at the next level. His 80% career shooting from the free throw line won't hurt either.
Lacking great ball-handling ability and blow-by quickness, Uthoff frequently fell back on his ability to get off shots from the midrange when looking to create for himself. Taking, but also making difficult spinning jump shots in the post, face-up one dribble jumpers moving away from the rim, one legged fadeaways from the midrange, and even 15-footers off of multiple rips throughs or fakes, Uthoff shot 45% in one-on-one situations, despite the high degree of difficulty of his attempts. It doesn't seem likely that Uthoff will be asked to create as heavily for himself at the next level, but his ability to potentially take smaller players in the post and his familiarity with making difficult shots over defenders could be a plus.
Aside from his jump shooting ability, Uthoff is a good, but not great finisher inside. He is not particularly comfortable scoring around defenders in close, and given that he isn't too quick off the dribble or creative in the air, he's limited when he can't build a head of steam and elevate right to the rim. Despite his limitations, Uthoff shot a respectable 59% around the rim in the half court last season, as he is noticeably more explosive when the defense doesn't divert him off his driving angle to the rim, and his knack for moving without the ball leads to some largely uncontested look inside.
Possessing a strong feel for the game, Uthoff posted the second lowest turnover rate among the 267 players that used over 500 possessions last season, due in some part to his shot selection, but also thanks to his patience and understanding of his role and limitations. He's not a prolific playmaker, but is a willing passer as well.
Defensively, Uthoff is a fairly unique player on paper. He was one of just eight NCAA players, and only two from high major conferences along with
Chris Boucher
, to play over 25 minutes per game and average over 1 steal and 3 blocks per-40 minutes pace adjusted. Uthoff may not be the quickest, longest, or most physically imposing defender, but he is a bit of a savant when it comes to contesting shots, showing impressive anticipation and a knack for getting his hand on the ball cleanly just as the opposing shooter is releasing it at and away from the rim.
An engaged defender on the ball, Uthoff plays with good focus, and stays in position well, even if he doesn't get in the lowest stance or have a particularly stellar competitive streak. He isn't always very physical denying dribble penetration, but plays the ball to be sure he can get a hand up when his man looks to shoot, helping make up for his lack of freakish quickness. Off the ball, Uthoff isn't quite as reliable as he tends to lose his man and isn't particularly quick to recover. His strength wasn't a major concern at the college level as he did a decent job holding his ground defending the block and boxing out, but it will be interesting to see he fares as a pro against stronger power forwards. The same can be said about his ability to close out and keep quicker small forwards in front of him.
One of the breakout stars of the Big Ten this season,
Jarrod Uthoff
raised his profile considerably in the eyes of NBA scouts as a fifth year senior. The circuitous route he took to collegiate success means he'll be 23 most of his first season at the pro level, and his lack of great explosiveness and average mental toughness limits his upside to a degree, but his jump shot and perimeter skill level make him a player a team could look to invest in as a second round pick in the hopes he can grow into a roleplayer who can fill in at either forward position.