In the waning minutes of Marquette's 95-64 exhibition win over Houston Baptist a few days ago, assistant coach Aki Collins witnessed something he had never seen before. Senior guard
Jerel McNeal
dove for a loose ball, got a hand on it, and had it promptly ripped away by an opposing player. Collins could only watch and laugh in the midst of his team's easy victory.
"I have never seen anyone beat
Jerel McNeal
to a basketball," says Collins with a half laugh. "If he enters the scrum, he's coming out with it. I don't care how big you are, how strong you are, if
Jerel McNeal
gets to a basketball he's coming away with it. You'll have to take his arm off to get that ball."
That kind of toughness has allowed McNeal to develop into one of the top on ball defenders in the country and tempted him to enter his name for the NBA Draft last June after seeing his production increase drastically in the NCAA Tournament. McNeal, who didn't hire an agent, ultimately didn't attend the Orlando Pre-Draft camp and returned to campus in the fall with a newfound sense of dedication to his team and his school.
"When you get to the NBA Draft as a junior like I was, I didn't hire an agent, so really I had nothing to lose from the situation," says McNeal. "I was able to get feedback on things I need to work on to become a better player; I think I handled that pretty well. At the end of the day, I feel like I have a little more to improve on at this level and then try to make the jump next year."
From the moment he returned to school, the NBA has been the farthest thing from McNeal's mind, not that there has been a lack of distractions for the senior and his teammates in the last several months.
The first major event took place before McNeal actually opted to even return to Marquette, when longtime head coach Tom Crean left to take over the helm at Indiana. Just a few days later, the university would announce former assistant coach Brent "Buzz" Williams as the new head coach of the program. Williams, who had been with the Golden Eagles for nine months, was familiar with Crean's system as well as the players, but that didn't completely soften the blow.
"It was a confusing point for [the team] right after it happened," says McNeal. "It was something that we were all shocked about. It hurt us that Coach Crean left, but it was one of those situations where you get up and learn from it. We were lucky to have Coach Buzz step in and pick up where Coach Crean left off."
McNeal and the other three seniors on the team were able to help rally the rest of a young roster around their new coach.
"When they bought in right away, the rest of the team followed suit," says Collins. "I hate to sound corny, but it really is one big happy family here right now."
With one obstacle out of the way, McNeal and Marquette have a whole slew of questions surrounding them that will be answered in the coming months; not the least of which will surround McNeal and fellow guard
Dominic James
's ability to coexist in the backcourt together.
Both players, due mainly to their size, project as point guards at the next level; with only one ball to go around, it would seem that there would be potential for conflict to arise with both players trying to impress NBA scouts. Collins has repeatedly said that he doesn't expect any issues with the situation, stating that while McNeal is certainly capable of running a team, he knows that his job this season is to score points. McNeal, for all his desire to play in the NBA, has no doubts as to where his loyalties lie.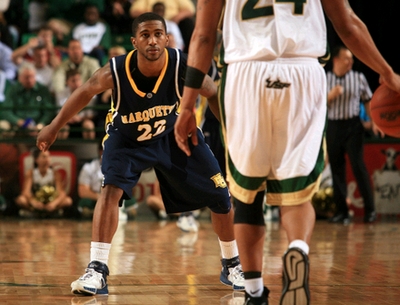 "I think the main thing is any time you get a situation like that, you have to put winning at the forefront and worry about the rest later," he says. "If you're not focused on winning, then nothing is going to work for either one of us in the game."
For now, it seems the bigger concern for McNeal and the coaching staff will be how to win games with an undersized and inexperienced frontcourt in a Big East conference loaded with talented big men. The Golden Eagles have just three players taller than 6'8", and only one has logged minutes at the Division 1 level.
The coaching staff has not shied away from the fact that the team is very much focused on the play of the backcourt, particularly McNeal and James. But while the lack of an interior presence may give some bracket fillers pause come March, McNeal will tell you to not sleep on Marquette.
"We may have to worry about stopping the big guys, but they need to worry about stopping us too," he says.
But ultimately for McNeal, it is all about how he can help his team win. He's known as a lockdown defender and he's proven he can score, but he came back to school to become a more complete player. While McNeal is looking to make strides in his overall game, the coaching staff has pinpointed some specifics. Collins says that the major focus for McNeal's game in the off-season was his ball handling ability, a facet that according to Coach Collins has already improved by leaps and bounds. When it comes to what he can bring to the table in the NBA though, McNeal and Collins see much more eye to eye.
"I think whatever deficiencies he has in his game as it projects to the NBA level, you won't find a guy who is tougher than
Jerel McNeal
," says Collins. "I think if you have two guys who are equally talented, the tougher guy is going to win every time out."
It's that kind of praise that has followed McNeal around in his three plus years so far at Marquette. It's that kind of attitude that will allow him to lead the Golden Eagles to another successful season. It's that kind of mindset that will prevent him from losing out on another loose ball for many games to come.