The biggest name in the draft has selected an NBA agent, DraftExpress learned tonight.
Kentucky freshman
John Wall
, the leading candidate to be selected first overall in the 2010 draft, has signed with Dan Fegan of Blue Entertainment Sports Television (BEST).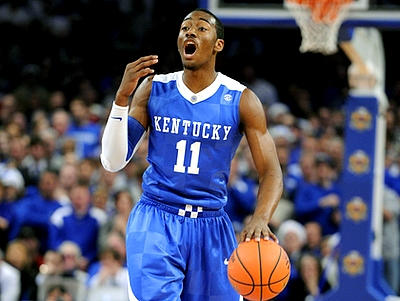 Fegan, a Yale Law School graduate and one of the most powerful agents in the NBA, made a big splash for Jonathan Blue's agency, which
acquired his practice
in 2008, with this signing.
It has been heavily rumored in recent weeks that BEST will be acquired by French sporting and publishing giant Lagardere S.A.,
as reported by Sports Business Journal
. The sale has not yet been finalized according to sources, but is surely in the works at this point.
The signing of Wall is a major coup for Fegan, BEST and, potentially, Lagardere. They've landed a player widely considered to immediately join an elite group of young NBA point guards. Wall's unique combination of exceptional physical tools—size, speed and explosiveness—along with his terrific playmaking skills and superb intangibles make him a game-changing presence in today's NBA, and an extremely marketable one at that.
Wall is not only a physical specimen with an unlimited amount of talent and upside, but he's also an extremely unselfish and highly competitive player—making him an incredibly rare and coveted prospect for NBA teams, and beyond.
Fegan also represents another highly marketable future star point guard in
Ricky Rubio
, along with the likes of
Anderson Varejao
,
Nene
,
Jrue Holiday
,
Shawn Marion
,
Yi Jianlian
,
Jason Terry
and
Troy Murphy
.
Industry sources and other top NBA agents we've spoken with since the news broke about Lagardere's acquisition of BEST expect them to immediately compete with fellow top media conglomerates Creative Artists Agency (CAA) and Wasserman Media Group (WMG), companies that have slowly taken over the NBA agent landscape. This is a major step in that direction and will provide a huge amount of exposure in turn.
It has yet to be determined what will happen with Wall's marketing rights. Marketing is considered to be a major piece to the puzzle with Wall, given the pull the projected No. 1 pick will likely have in the sneaker world and beyond.
Yahoo's Adrian Wojnarowski
reported a few weeks back
that Wall could join
LeBron James
' marketing firm, LRMR, but that deal appears to have fallen apart.
BEST is reportedly in the process of finalizing an agreement to co-represent Wall's marketing rights along with another company, not LRMR.
Look for Dwon Clifton—part of Wall's AAU team, D-One Sports—to leave his position as assistant coach at Baylor University as part of this signing.
See which agent every prospect in the 2010 NBA draft will be signing with right here