Jrue Holiday will be the first person to tell you that his freshman season didn't live up to expectations, not that that fact has scared away GMs looking to draft a point guard. Holiday entered the season as a consensus top five high school player in his class, giving UCLA fans plenty of hope for yet another appearance in the Final Four when the newcomer teamed up with returning All-American point guard
Darren Collison
. That dream failed to become reality for a variety of reasons, but certainly the underwhelming numbers posted by Holiday received some of the most scrutiny.
A point guard by nature, Holiday spent the majority of his time playing off the ball due to the presence of Collison. This fact, coupled with Ben Howland's slow-paced offensive system, prevented Holiday from getting very many touches or allowing him the freedom to create. Scouts who have seen tape of the freshman from his days as a prep star in California know that Holiday is a blossoming talent with an intriguing skill set to go along with good size for his position.
Holiday has been preparing for the draft since UCLA's season came to an end back in March, but has yet to officially make a decision on whether or not he will keep his name in the draft. DraftExpress sat down with Holiday to talk about his training, his year in the Pac-10 and what the future holds for this talented youngster.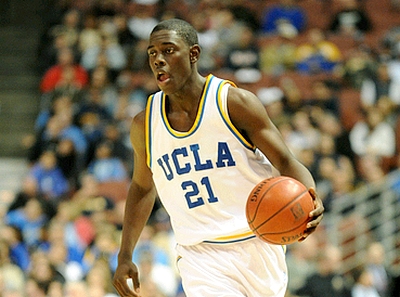 DraftExpress:
Since the season ended what have you been up to? Where have you been working out?
Jrue Holiday:
I've been at IMG in Florida working out for about 3 ½ weeks. Before that I was in California working out at a gym called 360.
DX: What have you been focusing on in your training? What are you looking to fine tune for individual workouts?
JH:
I'm really trying to improve my jump shot because people don't think I have one. You can always improve ball handling too. I'm working on being able to shoot coming off of screens and just making better decisions. Being at these workouts isn't always 1-on-1 stuff, there's going to be 2-on-2 and 3-on-3 drills, so it's important to make smart decisions.
DX: During these workouts what are you hoping to show off that we didn't get to see this year at UCLA?
JH:
That I'm a floor general, a leader, a captain and that I can run a team. Even though I didn't get a chance to last year and I didn't perform the way I wanted to, at the next level my position is a point guard. I truly don't think people saw that this year.
DX: Overall how did you feel about your season at UCLA?
JH:
It wasn't to my liking; it wasn't up to my standards. At the same time though, I loved it, it was a learning experience. Even though I felt I played out of position, it was something new that I have to learn to deal with. I know that I can play off the ball now and that I don't always have to have the ball in my hands. I learned that when I'm off the ball I can still be a leader, I can direct people in ways that can help the team succeed.
DX: Were there ever points during the season where you wish you had gone to a different school where you would have been the focal point of the offense?
JH:
No, it never did. I chose UCLA because I thought it was the best place for me. You know North Carolina was in my top three and they won it all this year. Even though they won it all, I still don't feel like it was the right place for me. Washington was interested and they had a good year as well, but I felt like UCLA was the best fit and I still think it was.
DX: Have you been talking with Coach Howland during this process?
JH:
We have; I saw him before I left for Florida a couple of weeks ago. We sat down and had a meeting, he just wanted to reiterate that he's one hundred percent behind me and he's actually helping me keep up with my school work. Even though he would like for me to come back, he thinks I'll succeed in the NBA.
DX: Has he talked to you at all about next year? If you were to return for your sophomore year would the point guard position be yours?
JH:
He did talk to me about things towards the end of this season. He's told me that the ball is going to be in my hands a lot more if I come back next season.
DX: What have you learned from playing under him this season?
JH:
That I need to be more of a leader. Last year I kind of just laid back because we had Darren [Collison] as our senior point guard. Even though he's a senior I could have been a leader too while I was on the court. I think really the biggest thing was trying to be more of a leader.
DX: You were a highly ranked player in your high school class. If the NBA didn't have an age limit, would you have skipped college for the draft?
JH:
I don't really know. That's something I'd have to sit down and talk with my parents and advisors about. If I felt I was ready at that time, then I definitely would have taken that opportunity. I guess since they've put that rule in, I've never really looked at it.
DX: You said that you didn't live up to your own expectations for this season. Given that you've only played this season at the college level, how much stock do you think NBA teams should invest in your high school ranking and how you performed at that level?
JH:
I don't know, I really couldn't tell you. High school and college basketball are two completely different systems. College is obviously a lot harder than high school. People change a lot during that one year, some people get worse, but for the most part players get better. Most of the time in college you're not the man anymore, you don't get to do what you did in high school because you didn't get the ball as much, or didn't play as much, whatever it is. I'm not really sure if the NBA even looks at what you did in college; when you come to these camps you get to lay it all out for everyone to see.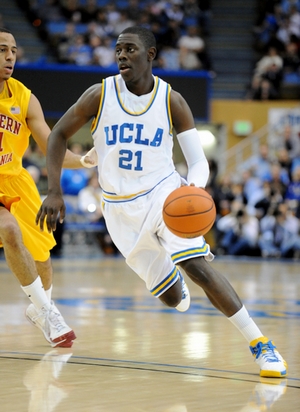 DX: You recently had a workout with Sacramento, how did that go?
JH:
I thought it went really well. I was out there for a day; I was really aggressive I thought. I was the biggest point guard there for sure; I thought there were going to be some more guards my size to be honest. I thought I shot the ball really well and they warmed up to while I was there.
DX: Can you see yourself going 4th overall and landing with the Kings?
JH:
I can, absolutely. If they feel they can use another point guard, I feel like I'm that player who can step in and fill that role. Whether it's leadership, scoring, getting the right man the ball, or whatever they need, I think I can do that.
DX: What is the range of teams that you are going to be working out for?
JH:
I think the range is probably from one to twenty. But my advisors are handling that, I'm not entirely sure.
DX: How much is your size going to help you as a point guard prospect?
JH:
I think it will a lot because all of the point guards I've played against have been shorter than me. I'm only eighteen years old so I'm still growing and still getting bigger. I'm actually a smart player; I'm just as quick and fast as any of the other players.
DX: Where are you in terms of your decision to stay in the draft? Are you going to need a promise from a team in order to keep your name in?
JH:
I'm really going to have to sit down and talk with my advisors and my parents. We're going to have to see if staying in is going to be the best decision or if going back to school would be better.
DX: Is there anyone in the NBA that you think you compare to? Is there anyone you try to model your game after?
JH:
I try to model mine after
Deron Williams
; he's a big point guard with a great handle and he can shoot the ball. There's also
Chauncey Billups
, just how he's able to walk in and lead a team.
DX: You played both the 1 and the 2 in college. Do you see yourself transitioning full time to the point?
JH:
That's my position, the point guard. At the same time I can play the two-guard, but I am a point guard.
DX: Do you think you're more suited to running an up tempo offense or a half court offense?
JH:
I honestly think that I'm in between, I can do both. What I like to do more of is the up and down, just fly, get highlights and all of that. It really doesn't matter though, I can make the same progress in a half court situation as I can flying up and down the court.
DX: Have you had the opportunity to talk to any players who have gone through this process?
JH:
I talked to
Steve Francis
, he was at IMG. He's a veteran so he's been through this, but he just told us to stay positive. It's a long process, your body is going to get worn and you're going to have some bad workouts. But ultimately just work hard, stay positive and enjoy this process, it only happens once in a lifetime.