Scouting Report by Jonathan Givony. Video Analysis by Mike Schmitz
Kris Dunn
came to Providence as a McDonald's All-American and the centerpiece of Ed Cooley's rebuilding process. A serious shoulder injury hampered him severely as a freshman, and then another injury to the same shoulder forced him to miss almost the entire 2013-2014 season. After two surgeries over a span of 18 months, Dunn was essentially forced to start from scratch this season, as a 21 year-old redshirt sophomore.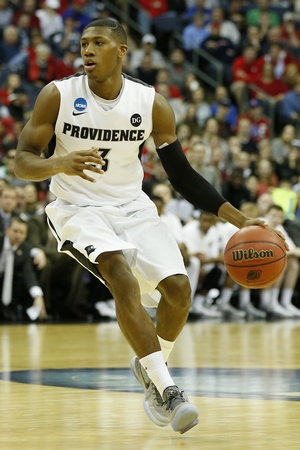 The results were mostly spectacular, culminating in co-Big East player of the year honors, a loss in the conference tournament finals to Villanova, and a six seed in the NCAA Tournament. Dunn stayed healthy all season and put up some of the best numbers in the country, 18 points per-40 minutes, 6.5 rebounds, nearly 9 assists and over 3 steals. His highlight reel featuring his best plays of the season is one of the most impressive among any prospect in this draft class, and his NBA stock has shot up into the stratosphere in turn.
(Video may not load with Internet Explorer. Use Chrome or Firefox)
Dunn is not only an extremely productive product, he also has outstanding tools and upside. His appeal is readily obvious on first glance, starting with his terrific size at around 6-4, long arms (a wingspan between 6-8 and 6-9), ideal basketball frame, excellent quickness and dexterity, and ability to play above the rim with ease.
Dunn has the ability to operate at different speeds and has a couple of different gears he can get to, which makes him extremely dangerous in both the half-court and transition-game. He has a terrific first step and can beat his man off the dribble in one on one situations, but is also a prolific pick and roll player thanks to his shifty style of play and creativity as a ball-handler.
Dunn's size allows him to see over the top of defenses with ease, which affords him many different options in the pick and roll game, including passing to all sides of the court, pulling up off the dribble, or driving all the way to the rim. He has excellent court vision, dishing out an assist on an outstanding 51% of his possessions, indeed leading all college prospects in our Top-100 rankings in assists per-40. While not a great decision maker at this stage, he has outstanding potential as a playmaker, and will never be at a disadvantage physically in the NBA.
As a shooter, Dunn is somewhat of a mixed bag. He didn't attempt all that many 3s this season, as only 20% of his field goal attempts came from beyond the arc, and found somewhat mixed results when he did, making 34.7%--often looking unbalanced and jumping way forward on many of his shots, some of which looked rush and came very early in the shot-clock. He shows good potential in this area, though, with solid shooting mechanics and touch, particularly pulling-up off the dribble, where he had plenty of success, making 44% of his attempts according to Synergy Sports Tech, one of the better rates among collegiate guards this season. With time and repetition, Dunn should be able to continue to extend his range out to the NBA line and become a decent outside shooter in time.
(Video may not load with Internet Explorer. Use Chrome or Firefox)
The two biggest areas of concern surrounding Dunn offensively is his finishing around the basket and extreme turnover rate. Dunn converted an extremely poor 45% of his shots inside the paint in the half-court this season. Despite having ample strength and explosiveness, he shows average touch around the rim when forced to finish over length, and tends to avoid contact at all costs, showing a concerning lack of toughness in the process. Some of this might have to do with amount of time he missed with injuries and concerns about getting hurt again, but this was an issue prior to that as well. To his credit, he has a very nice floater he's developed from the middle of the paint that helps make up for his struggles at the rim to a certain extent.
Dunn can be very wild and careless with the ball as well, as he posted the highest turnover rate in our Top-100 prospects (4.8 turnovers per-40, 22.5% TO%), and shows truly baffling decision making at times. Some of this is likely due to his lack of experience playing his first injury-free season in college, but his turnover problems are an issue we've talked about since the very first scouting report we wrote about him back in 2011. He makes some extremely impressive moves with the ball at times, but can get very sloppy with his handle as well.
Defensively, Dunn has all the tools you look for in a guard—elite size and length, a great frame, quick hands and feet, and outstanding instincts getting in the passing lanes—resulting in some extremely impressive plays. He forces a ton of turnovers—his 3.2 steals per-40 minutes pace adjusted ranks #1 among Top-100 prospects by a wide margin, and is also a strong rebounder at 6.5 per-40, tied for second best in the Top-100. He's big enough to stay in front of point guards and shooting guards alike at the NBA level, which give his team very nice versatility that is highly coveted these days.
With that said, despite the tools and talent, that didn't always result in lockdown defense at the college level. Not particularly sound from a fundamentals standpoint, Dunn tends to play very hunched over on defense, which helps him conserve energy, but neutralizes his quickness to a degree. He shies away from using his body to contain dribble penetration or fight through screens, lacking some of the physicality, grit and toughness you like to see from shutdown defenders. Providence played quite a bit of zone this season, partially to help Dunn save energy for offense and keep him out of foul trouble, so there will be somewhat of a transition for him making his way to the NBA in that regard. Nevertheless, his technique will need improvement, as will his intensity and effort-level.
Dunn is clearly one of the most talented guard prospects in this draft class, with some extremely impressive characteristics, and weaknesses that can and should be improved upon in time. He'll likely do extremely well in private workouts and has a chance to really rise up draft boards as we get closer to the end of June. While he's a little older than some of his peers who will be drafted in the top-20, at 21 years old, he clearly still has a great deal of upside left to tap into due to his lack of experience at the college level and his terrific physical tools.