Blog Entry #1: The Players You See. The Players I Play
Blog Entry #2: There Are No Direct Flights to Portsmouth
In high school and college, I worked hard at basketball. Now that college and academic requirements are pretty much done, that hard work has been taken to a whole new level.
It's only natural, with school and other priorities just as important as basketball, finding time to work on your game and manage your daily obligations to school work can be an extremely difficult task.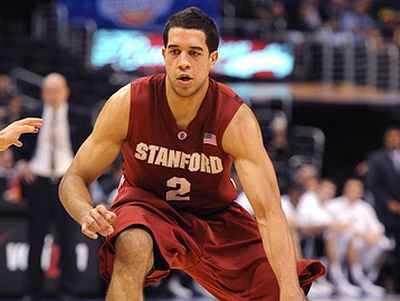 As for myself, I only have one class left, called "directed reading." For this class all that needs to be done is read one book for the quarter and then write a lengthy paper with a prompt the professor provides. That's what three years of summer school will get you, the ability to get ahead in school and have a light load your last quarter of college.
But enough about school, let me share with you what I promised last week, an inside look at my daily routine and the work that needs to be done to prepare for team workouts and eventually the draft.
My day starts at 6:40 AM I know what you're thinking, that's cliché for someone wanting to look like they are working harder than everyone else. Trust me, if I could start my day in later, I would. I have to start the day early because I cook a little breakfast to prepare myself for an 8 AM workout. I also have to get up that early because my workout is about a 25-minute drive, with traffic, to the city of Carson.
At 8 AM I have lifting and agility at a place known as the Home Depot Center (an MLS team, the LA Galaxy, play here). At the HDC, my agent hooked me up with an establishment known as Athletes' Performance. This place does everything from strength and conditioning, to physical therapy, to deep tissue massages, and even nutrition.
I've been with the group a little over a month and have enjoyed it all so far. They have nice facilities all over the HDC, with weight rooms, lounge areas, rehab rooms for physical therapy, and even full size NBA basketball courts where I do my on court basketball workouts.
After agility/movement work and lifting, the workout usually ends around 10 AM After that, I have a half-hour to chill and drink a protein shake before my on court workout at 10:30 AM.
My basketball trainer is
Miles Simon
, a former Arizona Wildcat, 1997 NCAA National Champion, Final Four Most Outstanding Player, and former NBA and overseas pro. I've known Miles for a couple years now and he's always been good about working me out whenever I've been home from Stanford.
The workouts are pretty tough, there are lots of guys who work with Miles only once and are never seen again. Along with me, Michael Roll, a shooting guard from UCLA, does my same daily routine, starting with Athletes' Performance, and then on court stuff. I've played Mike ever since high school and obviously all through college.

Mike, to me, is a much different player when he is able to get outside of his school's system. While at UCLA, a lot of his game was restricted and he was almost strictly a shooter. After working out with the guy for a few months now, let me tell you, he is not just a shooter. His excellent basketball IQ definitely broadens his basketball ability, he is a great passer, a solid defender, a big time competitor and a very underrated ball-handler.

Being able to work out with him everyday has definitely allowed my game to grow in many ways; we both hate to lose, so we turn everything during the workouts into a competition.
Miles' workout starts with a quick 5 to 10 minute warmup to get our bodies loose. After a light routine and stretch, we start with ball-handling. Every day this switches; some days it might strictly be stationary ball-handling with one and two balls, or we might do some full court ball-handling or even ball-handling consisting of different moves starting at each of the wings.
After that, we take that ball-handling and transition into moves with screens and finishes around the basket; long pro lay-ups with both hands, runners and floaters with both hands, Euro-steps with different footwork, reverse finishes, post moves, practically anything you can think of, we do. Once we get things done close to the basket, we will add work with the mid-range; transition pull-ups, numerous dribble moves into pull-ups, and even moves where we shoot right after an up-fake.
After that, you guessed it, we take it to the NBA three-point line. All the same pull-up stuff and shooting behind screens we already did in the mid-range. After every segment, we shoot free throws and then grab a quick drink.
After individual movement shooting, we start competition shooting with dribble moves or even stationary shooting; stuff like, "first to ten makes" or "how many makes in a minute" kinds of things.
After all the movement and skill work we play. Everything from 1 on 1, or when there are numerous people in the workout that day, 2 on 2 or 3 on 3. We can do all of this in the half court or full court. After countless games and continuous trash talking, there are winners and losers of the day. It's all good to go out on top, but if you lose, it can sting all night.
Once the playing is done, we end with conditioning. It's not straight running, but rather conditioning where you have a ball and have to make shots and usually transition stuff that takes up the whole court. That workout usually takes a little over two hours to complete. Once it's done, Mike and I go back to the Athletes' Performance lounge area where they provide lunch everyday for us. After an hour lunch break, we come back to the courts for shooting.
In the second session of basketball, it's usually all stationary type shooting where we get up about 300 makes before we call it a day. Once this session is done, we head back to AP again and do some rehab work; we ice bath, which is probably the worst thing you can do to your body with out being considered torture, then shower, and finally, head home. The workouts do change; it's not always the same drills everyday. Miles is good about changing it up so that all aspects of our game are touched upon.
The day start at 6:40 AM, and after three different kinds of workouts, it ends on average at 3 PM At first, the whole routine was extremely tiring, but since I have been on the regimen for a while now, my body is pretty used to it. I guess you can call it being in shape.
It's all fun though; being able to work out with great basketball players and catch a few laughs here and there always equals a successful day. Right now, it's a job that doesn't pay, but hopefully soon, it will.
Next weekend I have my first NBA work out with the Oklahoma City Thunder. So naturally, my next blog will be insight into an NBA workout and what all the draft eligible players have to go through when they start flying from city to city. Should be fun! Catch y'all next week!