24 games into the D-League season, we've likely reached the point where it's safe to begin drawing conclusions about
Latavious Williams
' rookie season of professional basketball, and what that might mean for his NBA draft stock this spring.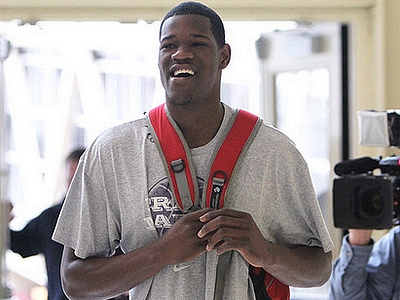 It's been a long road for Williams to reach the point he's currently at, a regular member of the Tulsa 66ers rotation. He's averaging 21 minutes per game since the New Year rolled around, after logging several disappointing DNP-CDs early on in the season.
From what we're told, Williams came into training camp with little to no concept of the nuances of playing professional basketball. He was just asked to "run and jump in high school," and things like half-court spacing, defensive rotations, advance scouting and other basic concepts were largely a mystery to him. Had he shown up in Europe in this state, there is little doubt that he would have been on the first plane back home before the jet lag could even set in.
According to everyone we've spoken with, he's been a very willing student all season long, responding extremely well to coaching and showing an excellent work ethic, two things that definitely bode well for his future.
For a guy like Williams—who obviously wasn't all that interested in the academic side of being a collegiate "student-athlete"—being able to spend all his time and energy on playing, practicing, studying film and working individually on his skill-level probably isn't a bad thing at all, especially since he was a severe long-shot to qualify to play at Memphis in the first place.
The following is an interview we conducted with Williams at the D-League Showcase in Boise this past January:
While the mainstream media lost interest in Williams just about as quickly as they learned his name, there is no doubt that he's improved considerably in his time in the D-League, something that high school players around America should surely take note of.
The most intriguing things that Williams brings to the table clearly revolve around his excellent physical profile. A legit 6-8 with long arms, an excellent frame, and superb athleticism, Williams definitely looks the part of an NBA player.
The place where that shows up first and foremost is on the glass, where Williams impressively ranks
#1 in the entire D-League
in rebounding on a per-minute basis. His combination of length, athleticism and activity level make him an absolute force here, and he gets it done on both the offensive and defensive end.
While there is plenty to be said for the poor quality of the big men that are found in the D-League and the often inflated numbers that are produced for that reason, it's tough to ignore the terrific nose for the ball that Williams shows going up against players often 3-5 years older than him. All things considered, this is something we can probably expect to translate in some capacity to the NBA level.
Other than the work Williams does on the offensive glass, running the floor in transition or on simple dives to the rim, he's largely a limited offensive threat, rarely touching the ball in Tulsa'a half-court offense, and struggling badly to create his own shot when he does. Billed as a potential small forward by some of the high school recruiting services, Williams has spent most of his time at the power forward position, and has even seen some minutes at center. While he shows a nice first step, his ball-handling skills are weak, relegating him to straight-line drives and making it difficult for him to change directions with the ball or execute advanced moves.
He's also not as good of a finisher as you might expect with his excellent physical tools, not appearing in tune with the nuances of knowing how to use his body to shield off defenders, initiate contact, draw fouls or use crafty moves in traffic.
As he gets stronger, smarter and more experienced he will likely improve in this area, but for now he often looks like a 20-year old going up against grown men, seeing his shot blocked at the rim a decent amount, converting an underwhelming (in this league) 48% of his 2-point attempts, and not getting to the free throw line at a very good rate. When he does get to the charity stripe, he makes just 55% of his attempts. His post game is largely non-existent at the moment, meaning he'd be wise to work on his footwork and post-moves down the road.
As a jump-shooter, Williams shows sparks of potential, but still has plenty of room to improve before he can be considered a reliable threat from the perimeter. He's yet to make a 3-pointer at this juncture, only attempting two on the season. D-League rules use the much further NBA 3-point line rather than the collegiate arc, which surely doesn't help matters.
With that said, Williams shows solid shooting mechanics and does not appear to have bad touch on his jumper. In the extensive amount of film we took in thanks to Synergy Sports Technology, we saw him knocking down a number of mid-range and even college range jumpers, making about 50% of the limited amount of attempts—17 in 12 games. The majority of those shots came in spot-up situations where Williams had his feet set and his defender daring him to shoot—hardly the stuff legends are made out of, but probably enough to keep NBA teams intrigued for now.
The interesting thing about Williams is that he does not seem to get caught up in the selfishness that often plagues the D-League. While he surely deserves credit for this, this is just as much a testament to his coaching staff (led by the well-respected Nate Tibbetts) and the entire Tulsa organization, as they refused to just spoon-feed him minutes early on in the year and really made him earn his playing time by doing things the right way. He's bought into being a role player, which is a good sign since that is almost certainly what he'll be if he's able to carve out a niche for himself in the NBA. His feel for the game is still quite limited, but he's not a terribly turnover prone guy and seems to understand his limitations.
On the defensive end, Williams has been fairly impressive considering the circumstances, and shows nice very potential to continue to improve. His excellent physical attributes (body, size, length, athleticism) give him a big advantage here, affording him the versatility to guard multiple positions, or attack the pick and roll in a variety of ways.
Williams shows very nice lateral quickness staying in front of athletic forwards on the perimeter, showing a good activity level in the process. His long wingspan gives him a nice cushion to contest shots while not easily getting beat off the dribble. When his matchup does get by him, Williams' athleticism often allows him to recover in time to come up with an impressive block.
While not the type to shy away from contact, Williams is still much younger and not as physically developed as pretty much any player he's forced to go up against at the D-League level. He'll get taken advantage from time to time in the post for that reason, but still puts up a pretty good fight regardless.
All in all, there is a lot of things to be impressed about when evaluating
Latavious Williams
' first season out of high school, even if he obviously still has a long ways to go. Many will look at his unremarkable per-game numbers (5.5 points, 6.7 rebounds in 17.6 minutes per game) and want to close the book on him, but digging deeper does reveal some intriguing things.
It's unfortunate that (according to the rules) Williams' name will be automatically entered into the NBA draft pool this spring, as he clearly needs another year (if not more) of seasoning before he's ready to be fully evaluated as an NBA prospect. Spending another year in Tulsa wouldn't hurt anyone, but the NBA for some reason feels the need to protect the NCAA's ironclad monopoly on American teenage basketball players, something the NBA Players Association should definitely look into in the next round of negotiations for the new Collective Bargaining Agreement.
Regardless, Williams could be an interesting player for an NBA team to take a gamble on somewhere in the second round, as his upside is likely higher than the usual crop of seniors and automatically eligible Europeans we typically find in that range.
The fact that he turns 21 in March does damper our enthusiasm a bit (he's the same age as most college juniors, not really a freshman), but clearly he's not an experienced guy. Asking him to then spend another year in the D-League without taking up a coveted roster spot would be an ideal solution, but that's something that Williams and his camp would have to agree to in advance.
Either way, there will be plenty of high school players, parents and NBA agents looking to see how this situation unfolds, as it could provide an interesting alternative to the NCAA for some players, since most smart European teams obviously have no interest (or benefit) in simply renting a pet project for a year. There's no question that this is the route that
Renardo Sidney
, for example, should have chosen from the very start.