The day that a high school athlete commits to a college or university is always an exciting moment for him and his family. For
Maarty Leunen
and his family though, the day he decided to attend the University of Oregon was more exciting than for most. With the decision to become a member of the Ducks 2004 recruiting class, Leunen became the first member of his family to attend college. Rather than viewing his basketball scholarship as an opportunity to bask in his own achievements, Leunen viewed his accomplishments as a chance to pave the road for others.
"I've got three younger brothers, and just being the oldest, and going through that whole experience, I felt like I got to be a good role model for them," he said. "I was able to show them, hey I can do this; I'm some small kid out of Oregon, but if you keep on working hard, you can do it."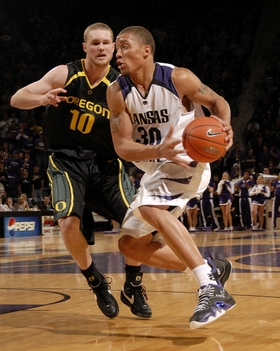 For Leunen, the decision to attend Oregon came down to his gut feeling. After a decorated prep career in which he was named the Oregon Gatorade Player of the Year in 2004 and was rated the 60th best prospect in his class by Rivals, Leunen found programs such as UCLA and Gonzaga beckoning for his services. Despite the interest from several nationally recognized schools, the Redmond native decided he would be better served as the local product attending his state school, which is not chopped liver either mind you.
Leunen's freshman year was a somewhat difficult transition despite being so close to home. Despite being the top high school player in his home state, he wasn't the crème of the Oregon recruiting class, as the Ducks also brought in
Malik Hairston
and
Bryce Taylor
, both top 50 recruits, including Hairston who was ranked as the 7th best player in the country. After getting used to being the one of the biggest players in high school, Leunen suddenly had to put on weight and get stronger to handle the rigors of playing inside at the Division 1 level.
In addition to the physical changes that Leunen had to make, he also had to deal with a smaller role than he had seen in high school. His numbers that first season were modest, 5.6 points and 4.3 rebounds in 19.6 minutes of playing time. The most frustrating part of that season though was the losing, as Oregon struggled to a 14-13 record, including a 6-12 finish in the Pac-10.
"Things weren't necessarily going how I was used to them going," Leunen said. "Overall, though, it was a great experience that first year, and I learned a lot that helped me get to where I am now."
The lessons Leunen learned early on in his career he clearly took to heart, as his progression on the court over the next three years would leave him as one of the top players in the Pac-10 as a senior. The versatile power forward finished in the top ten in the conference in scoring, rebounding and was second in three-point field goal percentage.
"Everybody dreams they can have that one year, or a couple of years, that puts them over the top and allows them to have a career that people will remember. I was able to step up and overcome the adversity I faced in my first few years here, I was just really happy I was able to put it all together this season for my senior year and help our team get better"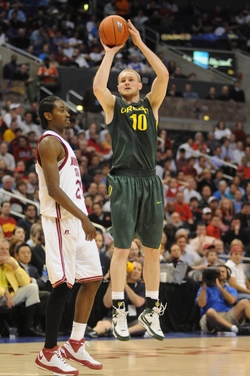 Perhaps the most eye-catching part of Leunen's senior season was his 49% shooting from beyond the arc. At 6'9", he is much taller than most other sharp shooters at the collegiate level, but according to Leunen he had been a good shooter since his days at Redmond High.
"I just always had ability to shoot the ball; in high school I was the primary ball handler for my team. I used to get the ball off the glass on one end and bring it up the court to start the offense. I was always a perimeter type player who took threes, and it's just something I've been able to further develop."
The combination of this perimeter shooting ability with his overall statistical output as a senior has certainly been enough to catch the attention of NBA scouts. Leunen stated that his numbers show that he can play with the best players around because "the Pac-10 is the toughest conference in the country."
Despite a tremendous senior season that fully showcased his abilities on the court, Leunen's career at Oregon would end in disappointment. After a run to the Elite Eight in 2007, the Ducks fell this year in the first round to the Mississippi State Bulldogs. The loss would leave a bitter taste in Leunen's mouth, after a positive four years with the program.
"It was extremely tough, because that's the only thing that I really regret from my senior year, that we didn't go further. I got a great taste of success with the run last year. I guess that's why you play the games though, you can't win them all. I really just wish that we had ended my senior year on a better note."
Things haven't slowed down since the season ended, as Leunen jumped right into the pre-draft process. Unlike many other players, he didn't have to worry himself with finals after the season ended, as Leunen graduated a semester early with a degree in economics. Leunen credits an abundance of courses taken during the summer months for his early finish at Oregon. The added free time has allowed him to get an early jump on the draft process, signing with agent Greg Lawrence of Wasserman Media Group.
Leunen is currently in Los Angeles working out with several other players, including Brook and
Robin Lopez
,
Anthony Randolph
, and
Davon Jefferson
who Leunen has been rooming with during training.
"It's been good to go against longer athletes since I'll probably be seeing guys like this at the next level."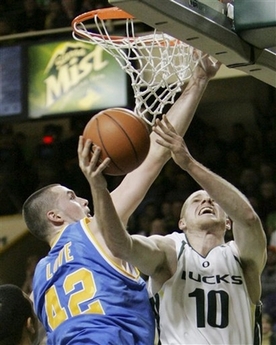 While the majority of his time at Oregon was spent playing inside as a post player, Leunen knows in order to make it in the NBA he will have to earn his stripes as a more perimeter oriented player. He stated that he can improve his offensive game as a whole; he highlighted ball handling and the range on his shot as the areas that need the most improvement. Leunen is quick to point out that his versatility will be a major selling point for NBA teams when draft day arrives.
"I think [versatility] is huge no matter what level you play at; but especially at the next level, where it's so important to take advantage of mismatches. I can score against bigger players whether it's in the post or using my quickness; I can also score against smaller players by using my size and shooting over them. So I think versatility is key for any player, but especially at the next level.
A major comfort for Leunen during this fast paced, hectic time, has been his former teammates
Bryce Taylor
and
Malik Hairston
, both of whom are preparing for the draft as well.
"It's always good to know that I can give Bryce or Malik a call just to see how they're doing, because we're all in the same boat, we're all going through this together."
The relationships that Leunen has forged with Taylor and Hairston are just another part of the four year journey that has taken the small town kid from the local courts in Redmond to the brink of the NBA.
"I'm looking forward to moving on to another chapter in my life. I'm excited to be done with school and at the prospects of starting a pro career; I'm just looking forward to the next step."
Leunen has already taken one step that changed the course of his and his family's life, now with less than two months until the draft, he has the chance to take another.