Recapping the ten most impressive performances from day two of the competitive action at the NBA Combine, including Jaron Blossomgame, Cheick Diallo, Michael Gbinije, Chinanu Onuaku, Patrick McCaw, Marcus Paige and more.
---
NBA Combine Competitive Action Recap: Day One
---
Top NBA Combine Performers Statistically (Value Added) Overall
Ben Bentil (see
day one write-up
)
Jaron Blossomgame
Cheick Diallo
Michael Gbinije
Chinanu Onuaku
Robert Carter (see
day one write-up
)
Patrick McCaw
Pascal Siakam (see
day one write-up
)
Marcus Paige
A.J. English
Worst NBA Combine Performers Statistically (Value Added) Overall
Marcus Lee
Malik Newman
Nigel Hayes
Melo Trimble
Josh Hart
Justin Jackson
Troy Williams
Isaiah Cousins
Jarrod Uthoff
Daniel Hamilton
Dedric Lawson
Caleb Swanigan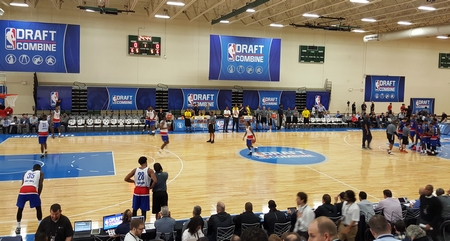 Individual Recaps
– Some of the most impressive performances from the second day of the NBA Combine in our view included the following. Note that we are using observations from both days of Chicago, especially for those prospects who did not get a write-up on day one.
Jaron Blossomgame, Junior, SF/PF, Clemson
16 points, 10 rebounds, 0 assists, 1 turnover, 2-3 2P, 3-3 3P, 3-4 FT, 24.4 minutes
At 6' 7" with a 6' 10" wingspan, a projectable 214-pound frame and impressive leaping ability, Blossomgame was on the NBA radar during his time at Clemson with one major question: can he make shots? Blossomgame answered some questions during his junior year by knocking down 45-of-102 threes, yet given the sample size and his low release point, Blossomgame still had some questions to answer coming into the combine.
During Friday's game (and the shooting drills) the Alpharetta native certainly did everything he could to prove that his stroke is far from broken and could turn into a weapon in time. Blossomgame knocked down all three of his 3-point attempts, two of which were heavily contested. The ball came out of his hand smoothly with a slightly higher release point than we've seen in the past.
Blossomgame also did a solid job attacking in a straight line both in the half court and in transition. He's not much of a ball handler, and isn't comfortable pulling up or distributing on the move, but the shooting stroke and straight-line slashing was certainly encouraging for the 22-year-old redshirt junior.
Blossomgame has the tools to play some small-ball four and defend multiple positions. He checked three different positions on Friday with mixed results, but it's hard to find guys with his size, length, frame and bounce who can make an open shot. He's a plus-rebounder for his position and does some of the little things you like to see from a potential role player.
Blossomgame certainly has to continue to prove that he can shoot the ball consistently (he also threw up a bad miss early in the clock on Friday) and get better as a ball handler/playmaker, but there's no question he helped his cause as a second round prospect.
From what he reportedly told NBA teams during interviews, it's unlikely he will return to Clemson if he's assured a NBA roster spot next season. With the recent premium we're seeing on multi-positional defending combo forwards in his mold, he looks to have done enough to show he's worthy of that.
Cheick Diallo, Freshman, PF/C, Kansas
9 points, 10 rebounds, 0 assists, 0 steals, 2 turnovers, 2 blocks, 4-8 2P, 1-1 FT, 22 minutes
While similarly rated prospects elected not to participate at the NBA Combine this week, Cheick Diallo told us that simply wasn't an option for him after the season he had warming the bench at Kansas. Diallo backed that up in a major way with a strong showing in Chicago, rebounding, blocking shots and finding ways to score a little more often than you might expect considering his raw skill-level.
Diallo is clearly undersized at 6'7 ½ barefoot and just 219 pounds considering the role he'll be expected to play in the NBA, but that didn't stop him from being extremely productive in almost every minute he was on the floor. His energy-level was outstanding, as he runs the floor and covers ground incredibly well, and is seemingly always around the ball looking to make plays and get his team extra possessions.
Diallo's offensive polish and feel for the game are still at an early stage of development, as he tries to do a little too much at times, but his better than average touch gives him a chance to develop into a serviceable option as he continues to figure out his role on the floor. In the meantime, his propensity for protecting the rim and crashing the glass with his 7'4 ½ wingspan could help earn him minutes as he adds strength and begins to figure out the best way to put his tools to use.
After a difficult season, Diallo did a great job of making the best of his time in Chicago, and seems to have boosted his stock firmly into the first round provided he continues the momentum he built into private workouts.
Michael Gbinije, Senior, SG, Syracuse
17 points, 2 rebounds, 4 assists, 4 steals, 0 turnovers, 5-8 2P, 2-4 3P, 1-2 FT, 27 minutes
The Syracuse guard helped himself on Friday by using his athleticism to fly around on both ends of the floor, digging in defensively, attacking the rim and making enough shots from the perimeter to keep the defense honest. Gbinije played both on and off the ball and defended multiple positions with success. He's very physical at 6' 7" 205 pounds and got into the body of his opponents on the defensive end. Gbinije is a bit of a streaky shooter, especially from the NBA line, as he has a wide base and the ball doesn't always come out smoothly or at the top of his jump. With that said, he was able to knock down a corner three, make an off screen three and use his physicality to get into the paint. Gbinije also finished a tip dunk and did some damage in transition. While the near-24-year-old was productive on Friday, he's not quite great in one area and struggles a little bit to create high percentage shots at the end of the clock. Gbinije isn't loaded with upside but he has positional size, solid athleticism and enough shot-making ability to make him an acceptable option for a team picking in the second round.
Chinanu Onuaku, Sophomore, PF/C, Louisville
10 points, 3 rebounds, 0 assists, 3 steals, 3 blocks, 0 turnovers, 5-7 2P, 0-0 3P, 0-0 FT, 21 minutes
The recipient of a
lengthy writeup
after a strong showing in the first day of competitive action, Chinanu Onuaku had another solid outing in the second and last day of the NBA Combine as well, doing many of the same things we previously reported.
He was a solid presence on defense, beyond the three steals and three blocks he accumulated, protecting the paint nicely while making the right rotations and doing a nice job of communicating with his teammates. He also was able to score by drawing deep post position and backing down weaker defenders, while hitting a short range jumper out of the post and catching a lob in transition.
His perimeter defense was again somewhat of a mixed bag, as he is often late to step out on closeouts, and will bit on pump fakes at times. He's clearly more of a center than a power forward at 6'9 barefoot, even if his 7'3 wingspan and 245 pound frame helps.
Onuaku has a tough decision ahead of himself now, as he clearly helped himself over the week in Chicago, but probably is still very much on the bubble as far as his first round prospects go. If he's content being a second round pick (possibly an early one) then he should be able to find a spot for himself in the NBA next year, but at only 19 years old, there's a chance he could continue to improve his standing with a better junior season at Louisville. He has all the makings of a future NBA rotation big man regardless, especially if he can find a way to keep his intensity level high at all times.
Patrick McCaw, Sophomore, PG/SG, UNLV
14 points, 3 rebounds, 4 assists, 0 turnovers, 2 steals, 4-5 2P, 1-4 3P, 3-3 FT, 22.1 minutes
After a fairly pedestrian performance during Thursday's five on five session, Patrick McCaw bounced back with a strong game on Friday, as he shined defensively, slashed and facilitated as a primary ball handler, and knocked down a pair of jumpers to boot.
At 6' 7", 181 pounds with a 6' 10" wingspan, McCaw is one of the more raw prospects in attendance, and it showed both Thursday and Friday as his compete level was a bit inconsistent and his jump shot was far from polished.
With that said, on Friday the St. Louis native showed why he's one of the more intriguing long-term prospects to participate in the five on five games. McCaw's immediate impact comes on the defensive end where he sits down in a stance, has elite lateral quickness, fast-twitch instincts and the length to contest jumpers or bother shots around the rim if he gets beat. He defended point guards both Thursday and Friday and showed the ability to force turnovers as an on ball defender in the passing lanes.
Offensively, McCaw has a ways to go, but he looked fairly comfortable operating as a secondary playmaker out of pick and roll situations as he found the roll man with a nifty left handed feed on one possession, and used his quickness to get into the paint and finish at the rim shortly after. McCaw's jumper is a bit slow and unreliable, but he did knock down a three off of a dribble hand-off and a long two from the corner, and could be a tweak or two away from turning his jump shot into a weapon.
The 20-year-old sophomore showed a little bit of bounce in transition (particularly off of his right leg) and has all of the tools to continue to develop as his game matures, especially considering he wasn't exactly in the best developmental situation at UNLV. McCaw is a ways away from producing at the NBA level and has a very wide draft range, but he has the upside of a first-round pick and could turn into a versatile, two-way guard down the road.
Marcus Paige, Senior, PG, North Carolina
16 points, 0 rebounds, 5 assists, 0 steals, 0 turnovers, 3-7 2P, 3-4 3P, 1-1 FT, 23.5 minutes
Marcus Paige wrapped up a solid and steady week at the NBA Combine with a strong outing in his final game, putting the ball in the basket prolifically, while playing mistake free-basketball and competing nicely on defense.
He showed little issue translating his perimeter shot out to the NBA line, even seemingly enjoying the added spacing that comes with the much further line, hitting 5/9 attempts in two days, some of which came off the dribble out of the pick and roll.
Paige is not the most impressive prospect from a physical standpoint, possessing just an average frame (164 pounds) and ordinary explosiveness, but he really makes the most of what he has with his ability to operate at different speeds, while using crafty footwork and off-hand floaters with soft touch. He only got to the free throw line once in two games, though, which is not out of line with what we saw from him over the course of his UNC career.
While Paige doesn't have great size at just 6'0 ½ without shoes, he did measure a 6'6 wingspan, which is
above average
from an NBA standpoint at his position. He's turned himself into a more than adequate defender over time, thanks to his quick hands, strong feel for the game, and excellent competitiveness level. He had a number of impressive possessions at the Combine on that end of the floor, which is really important considering how much of a factor that will play in his ability to carve out a role at the NBA level.
Paige has added only put eight pounds of weight onto his slender frame in the last five years according to our measurements database, which raises some concerns about his ability to hold his own physically against bigger and stronger guards at the NBA level. While he may not blow you away with his upside, his strong blend of scoring and playmaking, particularly in terms of his shooting range and knowledge of the pick and roll, combined with his excellent intangibles, give him a good case to be made as a NBA backup.
As is often the case with players in his mold, Paige will need to have some things break his way to earn a roster spot and keep it, and that may involve some time in the D-League, where he'll be highly coveted next season. There are a number of players with similar profiles currently seeing minutes as backups in the NBA today, though, so it shouldn't surprise anyone if he ends up carving out a niche for himself.
Kay Felder, Junior, PG, Oakland
12 points, 0 rebounds, 3 assists, 2 steals, 1 turnover, 6-9 2P, 0-2 3P, 0-2 FT, 23.5 minutes
The recipient of a
lengthy writeup
after a strong showing in the first day of competitive action, Kay Felder had another solid outing in the second and last day of the NBA Combine as well, doing many of the same things we previously reported.
Felder continued to play strong defense, which is notable as we previously mentioned due to his lack of size and the often average intensity level he displayed on that end in college. He did a nice job of harassing Melo Trimble this time, doing a great job of keeping the ball contained while using his body well to not get overpowered, and finishing the Combine with six steals in just 47 minutes.
He showed his prowess on the pick and roll today, hitting pull-up mid-range jumpers and finding teammates nicely in a variety of ways. His 3-point shot was again not really present as it was during the season, as he didn't really look to showcase that part of his game and may still be adjusting to the length of the NBA line. It was interesting to see how little issue he had creating offense inside the arc all Combine long, though, looking to attack relentlessly in transition or the half-court, and finishing creatively around the basket, while making 10 of his 15 two point attempts in two days.
Felder did a great job of showcasing his strengths in Chicago and likely won himself some fans with the way he played. He's probably in a better position to get drafted now, and should at the very least have a strong chance to earn a NBA roster spot.
Joel Bolomboy, Senior, C, Weber State
10 points, 9 rebounds, 2 assists, 1 turnover, 4-5 2P, 2-2 FT, 23.1 minutes
The Weber State senior put together a solid two-day camp as he excelled in a lot of the same ways that helped him become the 2016 Big Sky Player of the Year. As he did in college, Bolomboy manned the boards on both ends of the floor showing impressive pursuit despite not having the best overall basketball instincts. His main value at the NBA level is as an energy rebounder and he continued to show that skill can translate against better competition.
Offensively, Bolomboy was a bit of a mixed bag. While he knocked down a trail jumper (foot on the 3-point line) with solid elevation and can make occasional shots from the perimeter, he's by no means a 'shooter'. That aspect of his game is a bit underrated and has potential to grow, but he has somewhat of a hitch and shoots on the way down at times. He'll have to continue fine-tuning his stroke to turn it into a reliable weapon. He struggles a bit to make quick decisions on pick and pops and isn't all that comfortable attacking a closeout as he's a bit mechanical in his movements. He did show value as a roll man as he finished a couple of times acrobatically with his left hand out of ball screens. Bolomboy also finished a tip dunk in traffic.
On the defensive end, Bolomboy proved that he still has some work to do in terms of awareness and timing. He's by no means a stiff and does a great job ending possessions with defensive boards, but he isn't a natural rim protector in terms of instincts and doesn't quite have the size and length to make up for it.
Bolomboy isn't an overly polished prospect and that certainly showed on Thursday and Friday, but he has a couple of skills that he can hang his hat on and could potentially hear his name called in second of the 2016 NBA Draft.
Sheldon McClellan, Senior, SG, Miami
22 points, 2 rebounds, 3 assists, 1 steal, 3 turnovers, 2-4 2P, 3-5 3P, 9-12 FT, 31 minutes
After a somewhat quiet first day, Sheldon McClellan bounced back with a much more aggressive performance in day two, taking advantage of an injury to Cat Barber to play 31 minutes and put the ball in the basket effectively all game long.
A 41% 3-point shooter as a senior, McClellan was very effective spacing the floor in Chicago, knocking down four of his six attempts. He's very reliable with his feet set, particularly from the corners, and also showed some ability to create separation in the mid-range area as well.
McClellan's aggressiveness moving off the ball and attacking in a straight line got him to the free throw line 12 times in the second game. He had one particularly impressive play getting low with his dribble, changing speeds and finishing at the basket with a foul, and was also able to get to the line off straight line takes in transition or the half-court as well. He had some avoidable turnovers trying to force the issue with behind the back dribbles or difficult passes to teammates as well, as he's a lot more effective as a scorer than he is creating for others.
Defensively, he was a mixed bag, getting caught up on screens, losing his focus off the ball and being a split-second late to get out on closeouts, as his average physical tools (6'5 barefoot, 6'7 wingspan, 198 pounds) don't help in that regard when combined with his sometimes lackadaisical approach.
The last player invited to Chicago, McClellan showed he was more than good enough to be on the initial list of invites, which isn't surprising considering his second team All-ACC status. He'll have to continue to play well during the pre-draft process to hear his named called on draft night, but is a strong contender to make a NBA roster regardless considering the premium teams place on athleticism and perimeter shooting.
Isaiah Cousins, Senior, PG, Oklahoma
8 points, 7 rebounds, 8 assists, 2 steals, 3 turnovers, 1-7 2P, 2-2 3P, 0-0 FT, 21 minutes
After somewhat of an uneven first outing, Isaiah Cousins bounced back and had a strong final game, showcasing the versatility that has made him a fast riser in this pre-draft process. The intrigue around him starts with the excellent size he brings to the guard position, measuring 6'3 ¼ without shoes with a 6'6 ¼ wingspan, and solid athletic ability. His tools, coupled with his toughness allows him to defend either guard spot.
Cousins is still figuring out the nuances of the point guard position, as he tends to overdribble at times and can get somewhat wild with the ball in his hands, but he does show some flashes in this area. His size allows him to see over the top of the defense and uses both sides of the floor, particularly in drive and dish situations, where he's fairly solid, using his strong footwork and frame to create space inside the arc, as well as some nifty change of speed moves. Tightening up his ball-handling will help him become even more effective in this area, as will improving his timing and creativity in the pick and roll.
Cousins' improved perimeter shooting ability, going from being a complete non-shooter as a freshman to hitting 41% of his 3-pointers as a senior, is another point of interest. He doesn't have the prettiest mechanics, but showed the ability to knock down looks both with his feet set and off the dribble at the Combine, as he did all year at Oklahoma.
Few players have helped their draft stock more in the pre-draft process thus far as much as Isaiah Cousins, as solid outings at both the Portsmouth Invitational Tournament and NBA Combine have shown NBA teams why he was such an integral part of a Final Four Oklahoma team. He ticks a number of boxes with his size, shooting ability, toughness and defense, and plays a role a number of NBA teams are looking to fill at the moment as a versatile backup guard.