Ben McLemore is off to a fast start this season, quickly emerging as one of the best shooting guard prospects in all of college basketball. We analyze his progress with a video and scouting report.
Ben McLemore, 6-4 ½, Shooting Guard, RS Freshman, Kansas
Scouting Report by Jonathan Givony, Video Analysis by Mike Schmitz
A classic late bloomer,
Ben McLemore
was considered an undersized power forward early on in his career, not emerging on the national level in a major way until the summer before his senior of high school. Playing with
Bradley Beal
in AAU with the Saint Louis Eagles and later transferring to Oak Hill helped increase his notoriety, even if recruiting analysts still had question marks about his skill-level and aggressiveness, as he only ranked as the 39th best prospect in his class according to the RSCI.
McLemore's college career didn't get off to the best start, as he was ruled academically ineligible for his freshman season. His high school was shut down by the state of Missouri and he was dismissed from Oak Hill for violating team rules, forcing him again to transfer, this time to Christian Life Center. Once on campus, McLemore was arrested for failing to show up to a court case for possession of alcohol as a minor.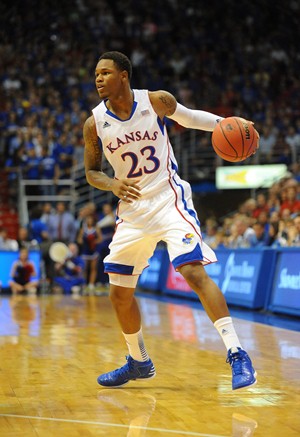 Able to begin practicing with Kansas starting in January, he gained valuable experience against the likes of
Thomas Robinson
and
Tyshawn Taylor
, learning Bill Self's system, working on his outside shooting, and improving his frame substantially in the weight room.
A bit undersized for a shooting guard at 6-4 ½ in shoes (measured at the 2010
LeBron James
Skills Academy), McLemore has a solid but not incredible 6-7 wingspan to go along with a chiseled frame and outstanding athletic ability. Boasting some of the best leaping ability of any player in college basketball, McLemore is a highlight reel play waiting to happen and has very good quickness as well.
Still a work in progress as far as his skill-level is concerned, McLemore sees most of his possessions as a transition finisher, spot-up shooter, and cutter in Bill Self's highly disciplined offense.
An outstanding weapon in the open court due to his speed and explosiveness, McLemore gets out in transition regularly, although he struggles at times when forced to lead the break himself.
He sports excellent shooting mechanics, being very reliable with his feet set, and showing solid range. Blessed with the athleticism to elevate and create separation from defenders, he's capable of coming off curls and getting a clean look off, even if he's still working on the consistency of his release point. This shows up primarily in his struggles shooting the ball off the dribble this year, where he's been far less effective than he has with his feet set. All in all, McLemore is not yet a knockdown shooter at this stage of his career, but he shows all the potential to get there down the road if he continues to put the work in.
Defensively, McLemore similarly shows excellent potential, with his quick feet, decent length, solid frame and ability to cover ground quickly. He is very elusive getting over the top of screens, and can stay in front of even the most athletic shooting guards he matches up with his strong lateral quickness. At the same time, McLemore is still figuring out how to maximize himself on this end of the floor consistently, which is a common problem with young players making the transition from high school to college basketball, especially those not known as fiery competitors. His positioning, awareness and focus leaves a bit to be desired at times, as it occasionally looks like he's only going at half speed and will get lost off the ball. With the tools he shows, though, there's little doubt that he has the ability to be a terrific option here, as long as he puts his mind to it.
As a ball-handler, McLemore is still very much a work in progress, as he struggles to create high percentage shots for himself in one on one situations in the half-court, especially when forced to dribble or finish with his off (left) hand. McLemore has an outstanding first step, but is not very fluid with the ball in his hands, struggling to change speeds and directions, and rarely getting all the way to the rim in the half-court, instead being forced to settle for floaters from 5-8 feet out, which are much lower percentage shots. He doesn't deal very well with contact around the rim, and doesn't do a great job drawing fouls inside the paint, not always getting to the free throw line as often as you might hope.
A very small portion of his offense comes in pick and roll and isolation situations, which are staples of a starting NBA shooting guard's repertoire and an area he'll have to improve in to take advantage of his outstanding athleticism and reach his full potential.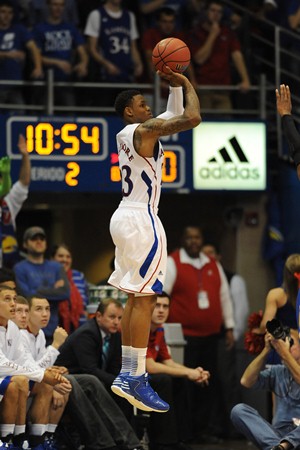 To McLemore's credit, he does a good job staying within himself and not forcing the issue, as he appears to be an unselfish player who is very willing to make the extra pass. On the other hand, McLemore has been criticized on occasion for being somewhat passive, as he at times looks a little too comfortable blending in.
"He's as talented as just about anybody we've had come through here," his coach Bill Self told the Lawrence Journal World. "Now, he doesn't know how to plug himself into a game yet and be aggressive all the time. He's so unselfish. He reminds me a lot of Brandon (Rush) in that regard, but we struggled with Brandon being aggressive if you guys remember. So that is one thing that Ben is going to have to be good at."
Lately, there's been very little to criticize McLemore about, as he's averaging 20 points per game in his last five outings, shooting 58% from beyond the arc. On a team with very little in the way of creative options, Bill Self has done a great job of finding ways to get McLemore the ball in position to score, and he's been delivering for him in a major way.
Long term, the question is what type of role McLemore can grow into in the NBA. Is he a "3 and D" player, meaning a spot-up 3-point shooter, transition finisher and defensive stalwart, or can he be more than that? Most starting shooting guards in the NBA need to be able to function in pick and roll and isolation settings, which is something he doesn't do at Kansas very often (under 10% of time according to Synergy Sports Technology). It really depends on what the expectations from him well be, which will be decided in large part on where he ends up being drafted.