Every year seemingly, a new NBA draft prospect comes out of the woodwork playing for a school that is hardly known for producing lottery picks. Our best candidate this year so far might be
Charles Garcia
at Seattle University.
Never heard of Seattle U? That's not a shock, considering that this is only their second season playing Division I basketball. Although this is the alma mater of
Elgin Baylor
, the school is stuck in limbo as they make the transition from Division II, meaning not having any conference affiliation and being ineligible for the NCAA tournament until 2013.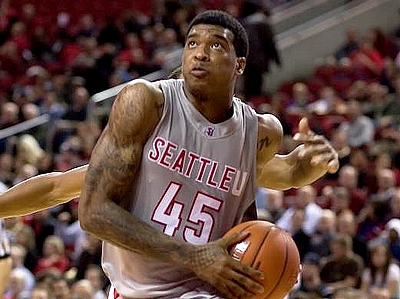 Helping ease the transition significantly is the presence of one
Charles Garcia
, a junior college transfer from South Central LA who was denied entrance to the University of Washington for academic reasons, and instead decided to follow outgoing assistant coach Cameron Dollar across town to his new gig as head coach of Seattle. Garcia was initially slated to play at Sacramento State out of high school, but again was set back by academic issues that forced him to take the JC route.
Nine games into the season, Garcia ranks as the 3rd leading scorer amongst all NCAA prospects per-40 minutes pace adjusted, and has already helped his team notch solid wins over Fresno State, U.C. Davis and Utah, with the latter two coming on the road.
More impressive is the wide array of skills he's flashed along the way, looking like a real prototype for what the NBA covets from a modern day power forward. The wow factor when watching him play is extremely high—think of somewhat of a cross between
Andray Blatche
and
Lamar Odom
. Garcia plays facing the basket almost exclusively, despite standing 6-10, and is often asked to bring the ball up the floor and act as a pseudo point guard for his team, as we saw on film in the Utah game. He's an outstanding ball-handler who can create his own shot with ease in isolation situations and is incredibly difficult to stop off the dribble, which is something you can hardly about any other big man in this draft class.
Garcia was reportedly a guard until his junior year of high school, at which point he shot up 7 inches, which helps explain the unusual versatility he displays. It's not difficult to see how this manifests itself, as Garcia currently ranks #1 amongst all NCAA prospects in free throw attempts by a large margin, at a ridiculous 14.1 per game.
It's very common to see Garcia snatch a rebound off the defensive glass and bring the ball up the court (quickly) himself, often weaving his way in and out of traffic impressively. He gets extremely low to the ground when the ball is in his possession, oddly preferring to operate with his left hand despite being a natural right-hander—something that Kevin Pelton pointed out already at the beginning of this season. His first step is very solid and he shows impressive footwork and dexterity spinning and pivoting his way through the lane, although he is quite turnover at this stage.
More than just a slasher, Garcia also shows legit 3-point range on his jumper, having already connected seven times (in 23 attempts) on the season in nine games from beyond the arc. He can make spot-up and even pull-up jumpers off the dribble with deep range, showing excellent touch and mechanics along the way, although his shot-selection often leaves a lot to be desired. He hasn't shown a great deal of a back to the basket game in the film we've watched, but appears to have a nice little jump-hook in his arsenal he can go to to complement his soft touch. He also appears to have an above average feel for making passes, even if there is work to do in this area as well, particularly when double-teamed in the post.
Garcia's decision making skills aren't up to par with his overall talent level, as evidenced by the fact that he ranks 3rd amongst all draft prospects in turnovers per-40 pace adjusted. He's extremely aggressive looking to make things happen offensively, which can at times get him into all kinds of trouble. He tends to make lackadaisical passes and overdribble excessively in the open court, as well as force the issue running into brick walls in the half-court. He clearly favors driving left when attacking his man off the dribble, something that defenses will surely pick up on in time, especially in the NBA.
Seattle plays at a very fast pace and Coach Dollar seemingly gives Garcia unlimited freedom to do as he pleases on the court, which he sometimes takes to an extreme. It would be nice to see him take better advantage of his size against smaller matchups in the post—as he hangs out around the perimeter pretty much all game--or at least try to use his face-up game more in the 12-15 foot area rather than by pounding the ball behind the 3-point line while the rest of his teammates stand around and watch.
Although his frame is quite solid, he could still stand to get stronger and improve his balance, something that would help him finishing around the basket in traffic. While he's an extremely agile and fluid overall athlete, he's not what you would call a freakishly explosive leaper, which could become more of an issue down the road.
Defensively, Garcia is mostly a mixed bag, as on one hand he shows great length and instincts getting in the passing lanes (particularly on post-entry feeds) and coming up with deflections. On the other hand, his focus and intensity level seems to waver quite a bit, often looking lackadaisical defending off the ball, not really putting much effort into boxing out his man, and generally showing poor awareness.
He's not as much of a presence as you would expect as a weakside shot-blocker considering his size, length and athleticism—especially at this admittedly poor level of competition-- although it's possible that he might be under orders from coaching staff to save energy and not risk getting into foul trouble considering how heavily they rely on him offensively. He shows a lot of potential as a rebounder, but the fact that he hangs outside the 3-point line almost exclusively limits his effectiveness on the offensive glass.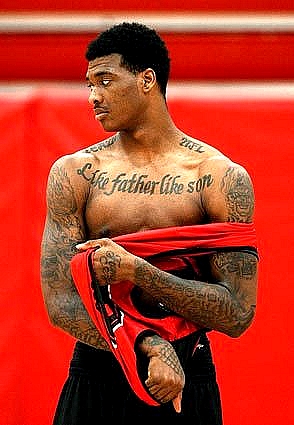 As many NBA scouts are quietly beginning to realize, Garcia is a prospect that needs to be taken seriously. There may not be another player his size in college basketball with quite the same skill-level, which makes him extremely unique. NBA teams will want to research his background, particularly the academic issues,
the less than stellar impact
he made on the Junior College level, and the notion that he's not always quite dialed in. We'll also need to see if he can continue to play as well as the season moves on, but it's safe to say that Garcia has established himself as a legit first round prospect, if not much more than that. Some NBA types we talked to and trust already swear by him.
He's already rocketed up our draft board, and we're sure the same will happen with the other draft outlets once they get the word.