Jimmer Fredette
is the No. 1 scorer in college basketball, and not by a small margin. That's undisputed, regardless of [url=http://www.draftexpress.com/stats.php?year=2010/11&league=NCAA&per=pergame&qual=prospects&sort2=DESC&pos=all&stage=all&min=20&conference=0&sort=6 the
metric
you're working with.
What is very much under dispute is how that success will translate to the NBA level, a dispute that has resulted in an infinite amount of articles, tweets, blog entries, TV segments and debates around the water cooler.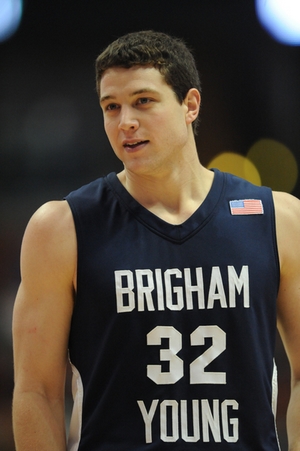 Fredette's skill level is incredibly high, as evidenced not only by his production, but also the way he gets baskets.
He creates a huge chunk of his offense (68% according to Synergy Sports Technology) on his own, be it in isolation situations, in transition or in pick-and-roll sets—in that order. He's an excellent ball handler who is capable of dribbling with either hand and is very adept at splitting screens. And he's as shifty as they come, given his ability to play at different speeds.
Fredette shows excellent quickness, outstanding footwork and incredible creativity with the ball in his hands. He creates space to operate about as well as any guard in college basketball not named
Kemba Walker
, and he is a more complete scorer than Walker in terms of his offensive polish.
His best asset is clearly his shooting ability, which borders on outrageous when it comes to the difficulty of shots he is capable of making.
Fredette's range extends well beyond the NBA 3-point line. Unlike most shooters, however, he's just as effective making off-the-dribble jumpers as he is with his feet set. He elevates high off the ground, squaring his shoulders instantaneously and balancing himself perfectly in mid-air. He's capable of pulling up on a dime from unbelievable distances with his lightning quick release.
He has supreme confidence in his shooting ability, taking jumpers that would be viewed as absolutely horrendous if attempted by anyone else. For him these are good looks, though, as evidenced by the rate he converts these off-balance, contested 25- to 30-foot attempts. He's shooting 44% from beyond the arc for the second straight season, even though he's arguably the most closely guarded player in college basketball right now.
Fredette shows little emotion throughout the game, except when occasionally working the officials or expressing mild disappointment in missing an impossible shot by clapping his hands together. He's never rattled, even in the most pressure-packed moments of an intense game, showing a cool and calm demeanor at all times. This bodes well for his transition to the next level.
Fredette is much more than just an outside shooter, though. He also gets to the free throw line at a nice rate (7.2 attempts per 40 minutes) and is generally effective scoring inside the arc at the college level. His pull-up jumper translates well to the mid-range area, and he has a very strong frame and outstanding touch, which he uses to finish around the basket, often utilizing the glass in impressive fashion.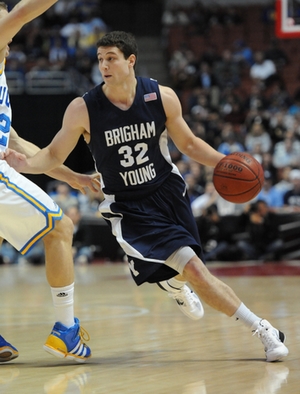 Despite his ability to convert circus shots in the paint, there is some concern about how effective a finisher Fredette will be around the rim in the NBA because he's not a particularly explosive leaper. Teams with strong help-side defenses can throw him off somewhat with long and athletic big men inside the paint, which is something to keep an eye on for the future.
Another question mark about Fredette revolves around the role he'll play at the next level. He's able to operate with unlimited freedom as the end-all, be-all solution in BYU's offense, but he's not a particularly prolific passer. Amongst the 19 point guards currently in our Top 100 Prospect rankings, Fredette rates toward the bottom in both assist to turnover ratio and Pure Point Rating.
Fredette plays mostly off the ball in BYU's half-court offense and unselfishly shows the ability to get teammates involved. He has a high basketball IQ and displays terrific creativity. When he has the ball in his hands, he's first and foremost looking to score, though; something that has been the case throughout his college career. With more talented teammates alongside him in the NBA, Fredette will probably need to alter his game somewhat, something it seems he's capable of doing.
The biggest concern about Fredette's transition to the NBA clearly lies on the defensive end. He is a poor defender, even at the college level, showing average length, heavy feet and unimpressive lateral quickness. He rarely gets into an actual defensive stance, fails to get a hand up on shooters and shows little interest in trying to fight through screens. The same laid-back approach that makes him so difficult to get off-kilter offensively is a serious detriment to his work on the other end, potentially making him a liability in the NBA.
With all this in mind, one of the biggest factors in determining the type of success Fredette will have in the NBA is the team he ends up on. In a fast-paced offense predicated on getting shots early in the shot-clock and a coach willing to live with defensive lapses, Fredette will be an incredible weapon. Put him in the wrong system, though, with a team that likes to grind it out and a coach who demands perfection on every defensive possession and we could be looking at a disaster.
The good thing is that Fredette does not look like the type of player who will have a problem coming off the bench, especially in a winning situation. He has the perfect temperament for this type of role, in fact. He's a team player who is "hot" as soon as he steps on the floor. It's not difficult to see him coming in and changing the complexion of a game with his shooting range and his prowess in late-game situations and from the free throw line. He'd be a terrific option to have on your team in the clutch.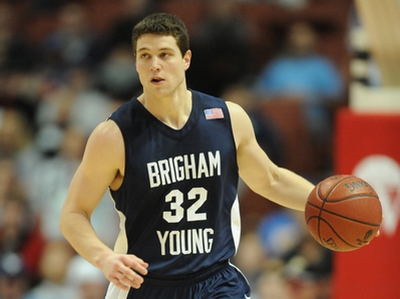 One of the reasons Fredette has become such a popular figure with fans and NBA scouts alike is the way he carries himself on the floor. Never one to pump his chest, despite the incredible manner in which he produces, he lets his play on the court speak for itself. Incredibly poised and humble, he's a true competitor who plays with a self-confidence that borders on cockiness.
Even if his physical attributes don't like ideal, and there are few successful players in the NBA in his mold, there is clearly something special about Fredette that sets him apart. We've learned not to bet against players like this in the past. As the ground-swirl of excitement grows, and with it his draft stock, so do the expectations about what type of career he'll need to have to be labeled a success.
How long will Fredette wait to hear his name called on NBA draft night? That's a question every person in America will likely have an opinion on, especially as we approach March, where he'll likely be a central figure.
Edited by
Patrick Crawley
, Sports Editor for
Neon Tommy
and Managing Editor of
Basketball Fiend
.