Marcus Morris
was going to have a breakout season.
All the signs were there. He was the most efficient scorer on a Kansas team that sent
Sherron Collins
,
Cole Aldrich
, and
Xavier Henry
to the NBA. His summer was constructed to take his game to the next level, featuring a stint with the USA Men's Select Team and a dominant week at the adidas Nations Tournament. With his confidence at an all-time high, the biggest question was how high the skilled, versatile power forward could push this Jayhawks team in his first season as its go-to scorer, and where that would place him on the NBA radar.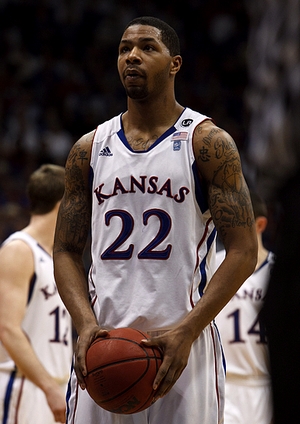 Showing off a truly unique blend of versatility, strength, skill, and touch for a power forward at the college level, Morris has seamlessly assumed a leadership role and become the star first option Bill Self's team needed. Making the most of the touches Collins and Aldrich left behind, Morris
ranks 12th
amongst NCAA prospects in points per-40 minutes and
seventh in effective FG%
.
Keying the Jayhawks to a likely number one seed in the NCAA tournament, Morris has managed to improve his offensive efficiency in a season that saw his usage increase and his role expand to include more perimeter touches. While most players tend to do less with more and can't scale their production when they go from being a fourth option to a first option, Morris has broken that mold, doing more with more.
Though Morris' efficient 59.7% shooting is impressive at face value, the fact that his shot selection is distributed almost equally between jump shots, finishing opportunities at the rim, and post-ups makes it that much more remarkable. Ranking in the 83rd percentile amongst all college players in terms of points per jump shot and in the 95th percentile or above in points per shot around the glass and as a back to the basket post-ups according to Synergy Sports Technology, his skill level puts him on a tier above the rest of the power forwards in the college game, along with
Derrick Williams
.
Capable of facing up or turning over either shoulder in the post, Morris uses his sturdy frame, sound footwork, good body control, and exceptional touch both as a jump shooter and finisher to dominate defenders down low. He is extremely fluid with the ball in his hands, and does not rely on any one move in the paint. Able to score effectively in so many different ways with his back to the basket, Morris is just as confident and effective from the mid-post as he is from the block. He'll inevitably need to make some adjustments to overcome his lack of size and strength to score over bigger power forwards in the NBA, but the tools are there for him to find some level of success, if not a great deal of it, as broken down in the following video we compiled:
Marcus Morris Strengths/Weaknesses Video

Watch in full screen mode by clicking button in upper right hand corner of video
Stepping away from the rim, Morris has grown up in a hurry, showing a mature floor game that in many ways matches what he brings to the table in the post. Knocking down 40% of his catch and shoot jump shots and 12 of the 21 off the dribble jumpers he's attempted this season, Morris has consistent form and the ability to put the ball on the floor with both hands to create space for his smooth pull up jumper. Though he could still stand to improve his range and become more consistent from the charity stripe, Morris's shooting ability allows him to space the floor for his teammates by drawing defenders away from the rim –which certainly adds to his value as a prospect.
Despite his high usage, Morris manages to play a very low-mistake brand of basketball, as evidenced by his 1.7 turnovers per-game. He may not be looking to create very much for his teammates with the ball in his hands, but he makes some timely passes out of the post and does not take selfish shots.
When he doesn't have the ball in his hands, Morris does a great job getting up the floor in transition and won't hesitate to make rugged plays on the offensive glass. Though he is not relying on his ability to be opportunistic as thoroughly as he was playing next to
Sherron Collins
, he's still making his presence felt with his effort level, not just his skill level.
With the increasingly diverse roles power forwards play at the NBA level, Morris offers intriguing potential due to how complete a player he is at this juncture. While he could certainly stand to get stronger, is a bit undersized for the four position, has a short wingspan, and is not a freak athlete, he has the potential to play a
David West
-type role in if he continues to polish his game offensive and works on his weaknesses. That would be especially true if he's able to complement a dominant interior scorer such as
Al Jefferson
from the high-post or perimeter, or provide a prolific offensive punch off a team's bench a la
Al Harrington
.
Defensively, Morris is an effective defender on the college level. Showing good lateral quickness, solid intensity, and a willingness to mix it up down low, Morris allows Kansas to switch on screens out on the perimeter and does a nice job defending his position away from the rim. He shows good toughness in the paint, but lacks the length and leaping ability to be a factor when he rotates over from the weak-side.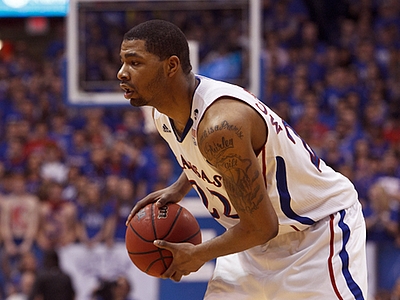 The biggest question-marks regarding Morris's NBA potential are based on his ability to compete on the glass at the NBA level and effectively mix it up with the bigger, stronger, and more athletic matchups he'd be facing on a nightly basis defensively. Pulling down just 6.6 defensive rebounds per-40 (a career high), Morris provides just an average presence on the glass, lacking the size, length and explosiveness to go out of his area regularly for extra possessions. With
Cole Aldrich
moving to the NBA, scouts surely would have liked to see Morris become a more prolific rebounder in his absence.
Standing just 6'9 and possessing a wingspan which measured shorter than his height, Morris has some limitations that will require him to make some adjustments to defend and rebound adequately at the next level, but if he makes an effort to maximize his physical potential, his approach to the defensive end will go a long way towards helping him overcome those deficiencies.
Much of Morris's success will be determined by the role he's asked to play early in his career. He's a fairly finished product at this point, and if he's put in a position where he can utilize all the facets of his game, he's going to do some damage offensively if he can stay as dialed in as he's been this season for Bill Self—something that may have been a cause for concern earlier in his career.
Morris's skill level is clearly a cut above that of most players at the college level. If he can convince a team that he can translate his terrific production and skill-set to the NBA, he'll be a very popular name during the pre-draft process.