One of the most productive freshmen in the country is St. John's forward
Moe Harkless
. What kind of prospect is he and what is the likelihood of him entering this year's draft?
Maurice Harkless, 6'8, SF/PF, Freshman, Saint John's
Kyle Nelson
St. John's came into this season with the third best recruiting class in the country, anchored by three top-shelf wing prospects in Dominic Pointer, Amir Garrett, and Moe Harkless.
While that recruiting class
eventually fell apart
, Harkless has emerged as the gem of that haul, and has eagerly risen to the challenge of being a first option after St. John's
lost Nurideen Lindsay
to transfer.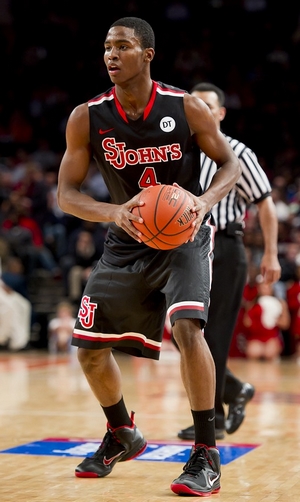 Harkless definitely looks the part of a NBA player from a physical standpoint. Standing somewhere around 6'8 with an excellent wingspan and a wiry frame, he has ideal size for the NBA small forward position. He must continue to get stronger, but should have no problem doing so in time as he matures and his body fills out. He is a very good athlete as well, looking fluid and explosive around the basket, and showing a solid first step and excellent quickness in transition. Furthermore, Harkless is a scrappy player, with solid energy and aggressiveness, which allows him to capitalize on his athletic potential.
Though he is a very raw player in terms of his skill-set, Harkless has managed to have a very productive freshman season, playing nearly 36 minutes per game,
tops amongst all freshmen
prospects. St. John's has little depth in their frontcourt, so Harkless has had games where he hasn't seen even a second of rest on the bench.
On this undersized St. John's team, Harkless spends most of his time at the power forward or even center position. While he lacks the strength to establish great post-position or back opponents down with his back to the basket, he shows some solid footwork, which combined with his elite quickness and explosiveness, allow him to do some damage inside the paint.
Not a prolific shot-creator, Harkless gets a good amount of production moving off the ball intelligently in St. John's half-court offense. His teammates do a good job of passing him the ball in open spaces, where he can use his terrific length and leaping ability to finish above the rim, often in impressive fashion.
Harkless' perimeter shooting is very raw at this stage and may be the main thing hampering him from making a full transition to the small forward position at this time. He is making just 24% of his nearly three 3-point attempts per game on the season, and 66% of his foul shots. On film, inconsistent shooting mechanics and release points are definitely a concern, as Harkless rarely shoots the ball the same way twice. He is a solid shooter in rhythm, but it takes him too long to plant his feet and get his shot off, which sometimes results in in a rigid, truncated release when he's not completely wide open.
Harkless is also a limited ball-handler at this stage, mostly being relegated to straight-line drives. He shows intriguing potential in this area from time to time, but will have to add more advanced moves to his arsenal to become a more prolific shot-creator on the perimeter.
His terrific first step and rangy strides allow him to handle the ball in transition and beat opposing big men off the dribble in the half-court at this level of competition, but that might not be quite as easy early on in the NBA being guarded by small forwards.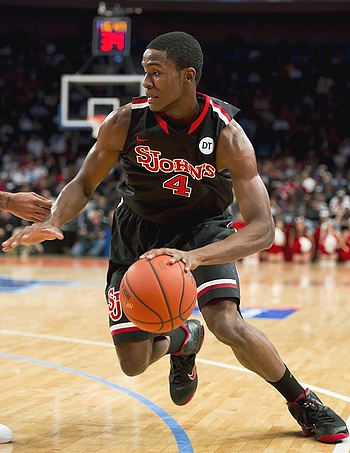 Harkless finds ways to make up for his limitations as a ball-handler and shooter in other ways, namely with the high energy level he brings to the offensive glass and the way he runs the floor. He's also a solid passer and shows a good overall feel for the game, hinting at excellent things that could be in store for him once his skill-level increases.
With his terrific size, length and athleticism, Harkless has considerable upside as a perimeter defender. It's tough to get a great read on this part of his game, though, as he's primarily asked to defend big men due to his team's lack of height, as well as the fact that they play mostly zone.
His lack of strength does him few favors here, as he struggles to deny his man, can't easily hold position on the block, and seems to lose his focus easily. Harkless fills up the stat sheet with steals, blocks and rebounds and clearly has the physical tools to develop into a very good option down the road, but he'll need plenty of experience and good coaching before he's able to get there.
Scoring
a record
32 points on 14-17 shooting in his Big East debut, followed by 21-point and 10-rebound performance against Georgetown and a 23-point and 13-rebound performance against West Virginia, Harkless showed that he's ready to be discussed as a legitimate prospect.
Although he's clearly nowhere near ready to contribute in the NBA at this stage, Harkless is reportedly heavily considering entering the draft this spring to gauge his professional options. Given St. John's tumultuous season and
the uncertainty
surrounding Coach Steve Lavin's future with the team, that might not come as a surprise, as it doesn't appear that much will change next year in regards to the way he is utilized on the interior.
Harkless' per-game numbers (16 points, 9 rebounds, 2 blocks, 2 steals) will impress some teams on first glance if ignoring the gaudy 36 minutes he sees per contest. So will the fact that he's still only 18 years old, one of the younger players in his class.
If he does elect to turn pro, he'll need to get very lucky to fall to the right organization and hope they are in turn patient enough to develop him for a few years until he's ready to contribute, but there's plenty to work with.
While by no means a finished product, Harkless obviously has a great deal of upside, and could be viewed by some as a
Trevor Ariza
-type prospect in the late first or early second round.