One of the most unique and versatile players in college basketball, how does
Royce White
stack up as a NBA prospect?
Walker Beeken
Royce White
has proven to be one of the most unique and versatile big men in all of college basketball this season, currently leading his Iowa State team in points (14), rebounds (9.5), assists (4.5), steals (1.2), and blocks (1.2) per game, while leading the Cyclones to a somewhat surprising 16-6 start to the season, including 6-3 in Big 12 play and a win over #5 ranked Kansas last weekend.
As a 20 year-old sophomore who will turn 21 in April, this is actually White's first season playing college basketball, after being a top 30 recruit in 2009. He originally went to Minnesota to play for his home-state Golden Gophers, but legal issues prevented him from ever seeing the court, and he ended up quitting the team and transferring to Iowa State, which forced to him to sit all of last season.
On top of his legal trouble and past behavior, White's
recently chronicled
anxiety disorder adds another wrinkle to his story that NBA teams will want to further investigate.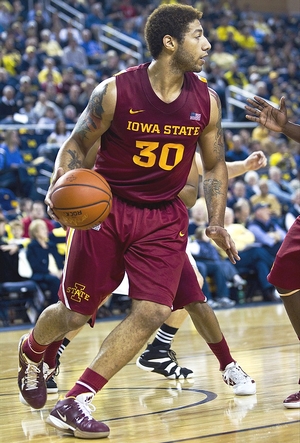 From a physical standpoint, White may be looked at as slightly undersized for an NBA power forward at 6'8", but he makes up for that with a strong, bulky frame. With that said, his poor conditioning level is a concern as he appears to be quite out of shape and overweight, which could be viewed as another red flag regarding his mental approach.
Even with the extra weight, however, White moves very well for a player his size, with excellent mobility and fluidity. He'll need to improve his conditioning to maximize his physical tools and prove his commitment to reaching his full potential on the basketball court.
Offensively, White has shown an incredibly diverse offensive arsenal so far this season, thanks in large part to the freedom he has playing for Coach
Fred Hoiberg
, a former NBA player and executive himself. Hoiberg utilizes White as the team's primary playmaker and facilitator, allowing him to create from different areas of the floor, as evidenced by the fact that almost half of his possessions are made up of isolations and post-up opportunities.
White even brings the ball up the floor and initiates the offense like a point guard on occasion, creating tremendous mismatches and opening up the paint by drawing opposing big men away from the basket. He's able to use his advanced ball-handling abilities and quickness to take his man off the dribble and create for himself or his teammates. He sees the floor extremely well, has tremendous passing instincts, and looks to relish to opportunity of finding the open man for an assist, averaging more assists per-40 minutes than
any power forward in our database
, and
second most
in the past decade.
The downside to White's freedom and creativity is that he's very turnover-prone, getting carried away at times, throwing wild passes, and getting called for offensive fouls. He's coughing the ball up on over a quarter of his possessions so far this season, the highest rate of any frontcourt player in our top 100 rankings. His five turnovers per-40 minutes is similarly the sixth worst rate of any power forward in our database in the past decade.
To go along with his perimeter skills, White is also very comfortable operating in the post, showing the same unselfishness and willingness to find his teammates for open looks, while also being able to create baskets for himself. He displays excellent footwork, with the ability to back his man down or face him up, utilizing spin moves and his quick feet to get to the basket, where he then uses his strong body, soft touch, and excellent body control to finish at the rim.
Improving as a jump shooter would benefit White significantly and add another dimension to his offensive game. He's attempting just over one jumper per game so far this season and connecting on a poor 24% of those attempts, to go along with an abysmal 51% from the free throw line. He actually shoots the ball with solid mechanics, though, and looks to have to potential to turn himself into a reliable perimeter shooter in time if he puts the work in. This could make for a smoother adjustment to the NBA, where he'd likely find himself open for more jumpers, as he'd be spending less time with the ball in hands his making plays.
White is also an excellent rebounder, as he uses his big body well, along with his big, soft hands and very good instincts to grab an impressive 12.5 rebounds per forty minutes pace adjusted.
On the defensive end, White will likely face questions of how he'd fare covering NBA power forwards. His lack of size and elevation may limit him as a defender in the basket area, and his extra weight limits his lateral quickness and ability to step out and defend on the perimeter. He also seems to coast from time to time defensively, which is something NBA coaches would likely have less tolerance for.
White has gotten off to an impressive start on the court this season, displaying his high skill level, tremendous versatility, and outstanding feel for the game in his first season playing college basketball. His unique style and passing ability at his size resembles
Boris Diaw
, who we've seen be a very productive NBA player when focused and when in a situation where he can play to his strengths.
While White may draw the Diaw comparisons in the good and bad ways, he has an abundance of red flags that he'll have to overcome to ever find his way onto an NBA roster, and likely won't be able to play with quite as much freedom as he does in college, which will require some adjustments from his end. From his defensive concerns and poor conditioning level, to his past legal troubles and anxiety disorder, NBA teams will need to do quite a bit research and background checks to determine how likely White is to reaching his potential as a basketball player, and whether or not he's worth rolling the dice on with a selection in the NBA Draft.