NCAA Weekly Performers, 1/3/08-- Part One
JaVale McGee, 7-0, Sophomore, Center, Nevada
13.4 points, 8.8 rebounds, .8 assists, 3.0 turnovers, 3.5 blocks, 50% FG, 59% FT, 25% 3P
Jonathan Givony
Nevada's sophomore big men has made some huge strides from his innocuous 3 point, 2 rebound, 10 minute per game freshman season. Coach Mark Fox has him up to nearly 28 minutes per game this year now that
Nick Fazekas
is off to the NBA, and McGee has responded with an excellent 13.4 points, nearly 9 rebounds, and 3.5 blocks per game.
In terms of pure upside, it's difficult to find that many players in college basketball who are as intriguing as McGee. Standing 7-feet tall, with a pterodactyl wingspan, McGee is already in a class of his own in terms of his physical tools. He's also an incredibly mobile player for his size, showing great fluidity and outstanding quickness, running the floor extremely well, and being super quick getting off his feet to finish around the basket or challenge shots.
More than just a physical marvel, McGee also drops some stunning glimpses of potential from time to time. He can palm the ball like a cantaloupe and swoop around the post to throw in a soft one-handed jumper off the glass, or use his outrageous extension to pull off some circus style dunks. His incredible reach also makes him an outstanding offensive rebounding threat, being able to just outreach everyone else on the floor and tip the ball to himself, sometimes to catch the ball and finish with a terrific put-back dunk, all in one fluid motion. It's hard not to come away extremely impressed by some of the plays he makes from time to time, and you only wonder how good he might become if he can somehow learn to deliver them on a more consistent basis.
Offensively, McGee has nice touch around the hoop, and shows some glimpses of a jump-hook shot or a turnaround jumper. It all comes in very small doses, though, as he lacks the strength to establish (and hold) any real position for himself in the paint, and looks very uncomfortable banging in the post and trying to finish against opposition. His footwork is quite average, and he rushes his shots badly, lacking a great feel for how to set his man up and often preferring to fade away softly from contact rather than go up and finish strong. He's particularly ineffective trying to finish moves from the left block, as his left hand is just non-existent and he makes a mess trying to force up difficult shots with his right.
Even though McGee has a hard time finding good shots for himself in the paint, he's still somewhat of a black hole, as his 0.8 assists compared with 3.0 turnovers per game average might suggest. Once the ball go towards his direction, it's very rarely going to come out, as he is more likely to just heave a bad shot up on the rim rather than survey the area using his height and maybe kick the ball out.
Despite being 7-feet tall, McGee looks pretty comfortable facing the basket, showing surprisingly good ball-handling skills putting the ball on the floor to create his own shot, and shooting range that extends all the way to the 3-point line. These are incredibly intriguing skills that could be developed into real weapons down the road, but for now, McGee has no idea what his limitations are seemingly, and sometimes does more harm than good with his forays out to the perimeter. His shot selection is poor, and he often overdoes things with his dribbling, making him a true feast or famine type of player who follows up one good play with one bad one. It doesn't seem like he's completely resolved to the fact that he's 7-feet tall and not a guard, at least based off some of the moves he tries to execute at times. It wouldn't be a stretch to say that his basketball IQ is questionable, and he surely lacks a great deal of high level experience. He's shooting only 50% from the field (pretty poor for a 7-footer), and just 59% from the charity stripe, which is usually a sign that he'd be best served working on his free throw shooting before he tries to impress with his 3-point stroke (where he is 4 for 16 so far on the year).
Defensively, McGee has game-changing potential thanks to his combination of size, length and athleticism. He also has pretty good timing on top of that, making him quite a force at times with his shot-blocking. He's had three games this year for example with 6 blocks or more, and is averaging three per game on the season in under 28 minutes.
With that said, McGee has a long ways to go on this end of the floor as well, blocks and steals aside. His lack of strength is a hindrance when trying to deal with physically developed players, and he often gets pushed around in the paint with his obvious lack of bulk and toughness. McGee suffers from the same problem that a lot of young shot-blockers do—he gives up excessive space in the post thinking he'll be able to compensate with his length and quickness to send the shot back as soon as it goes up. This is sometimes indeed the case, but at the next level it won't be as easy, and he already has a tendency to bite on pump-fakes and get caught with his hand in the cookie jar. We're often lacking a certain degree of activity from McGee, as he shows poor awareness on the defensive end and doesn't always play as hard as one might hope. He gets outhustled occasionally going after rebounds, and doesn't fight back at times when smaller players are pushing him around.
All in all, McGee is a superb prospect who is in dire need of a great deal of maturing and developing (and playing time) before he can even begin to think about the NBA. He could probably get drafted in the first round solely based off his potential, possibly this year already, but sitting on the bench for a few years is probably the worst possible thing you could wish upon a player like him. He reminds of somewhat of a mix between
Brandan Wright
and
Patrick O'Bryant
at this point in his career, but is obviously getting better day by day and still has a huge amount of upside left to tap into. It will be very interesting to see how he continues to develop.
Russell Westbrook, 6-3, Sophomore, PG/SG, UCLA
11.7 points, 5.7 assists, 2.9 rebounds, 2.4 turnovers, 51.9% FG, 45.8% 3PT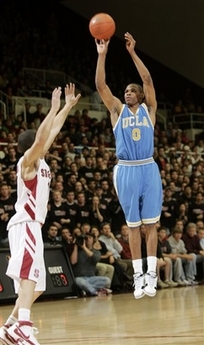 Rodger Bohn
While UCLA has remained one of the nation's truly elite programs over the last few years, they received a major surprise in the form of guard
Russell Westbrook
this season. Westbrook, who was considered a mid-major recruit until late in his senior season of high school, has established himself as not only a formidable backup to
Darren Collison
, but as a legitimate NBA prospect so far in his sophomore campaign.
At 6'3 and 190 pounds, Westbrook fits the mold size wise for a point guard in the NBA. Being blessed with a sturdy frame and long arms only adds to the intriguing physical package that he possesses. The California native owns nice explosiveness and leaping ability to add to his body, leaving little more to ask for athletically out of a potential point guard prospect.
Coming off of the bench this season, Westbrook has been incredibly productive, especially in terms of his playmaking. He is averaging 5.7 assists while playing off of the ball for the most part, leaving one to ponder what he could be able to do with the ball in his hands for the entire game. His court vision isn't spectacular by any stretch, but he does a good job playing within UCLA's system, and finding the many weapons he has around him within their set offense. The explosiveness that he possesses directly translates into his ability to get to the rim, where he has shown no problem converting in transition when presented with the opportunity. In traffic he seems to struggle a bit, though, as he's often out of control by the time he reaches the basket. Even Westbrook's jump-shot, which was a bit erratic, last season has been consistent this time around, shown by his 51% accuracy from the field and 45% shooting from the land of three, although on an extremely limited number of attempts, on mostly wide open shots.
On the defensive end, all of the raw tools are there for Westbrook to be an excellent defensive player at the next level. His long arms, nice lateral quickness, and strong body allow him to keep in front of most opposing guards that he goes against in the PAC-10. This is quite a feat, given that the PAC-10 is the strongest conference in the nation this season and calls itself home to at least 10 future first round draft picks. Westbrook does a great job of anticipating steals and getting in the passing lanes, and picks up quite a few extra possessions for his team by coming up with deflections and getting out in transition, where he excels.
Westbrook is still a bit of an unproven commodity, as UCLA's first 14 games have served as his first real opportunity to show his skills on center stage. His ability (or inability) to keep up his stellar play will play a large part of how he is viewed in the eyes of NBA personnel. In addition the sophomore could use quite a bit more experience playing point guard at a high level, as he was more of a shooting guard at the prep level and could definitely benefit from tightening up his handle. He struggles to create his own shot on a consistent basis, and often looks completely out of control when forced to weave in and out of traffic by the time he gets to the hoop. UCLA's system is doing a magnificent job of masking his weaknesses, since when you break down his skill-set individually, it's quite clear that he has a lot of holes to his game. In addition to his poor ball-handling skills, his mid-range game is fairly poor, and he avoids using his left hand as much as possible. His jumper is still a bit of a question mark, and getting his range out to the NBA 3-point line will obviously take considerable work.
Westbrook is going to be faced with an interesting decision at the end of the season, given that UCLA is bringing in three national top 50 recruits all capable of playing point guard (
Jrue Holiday
,
Jerime Anderson
, and
Malcolm Lee
). He could certainly use another year (or even two) of college basketball to gain more experience at the point guard position, but is in a position that many other draft prospects are faced with in terms of highly touted players coming in who play the same slot. His superior athleticism could raise some eyebrows, but his skill-level probably isn't high enough at this point to warrant coming out early. Any way that you look at it however, Westbrook's play this year has put him on the radar of most NBA personnel and will allow him to receive more attention on the national level.
Joe Alexander, 6-8, Junior, Small Forward, West Virginia
15.4 points, 6.5 rebounds, 2.4 assists, 1.7 turnovers, 1.7 blocks, 48% FG, 88% FT, 31% 3P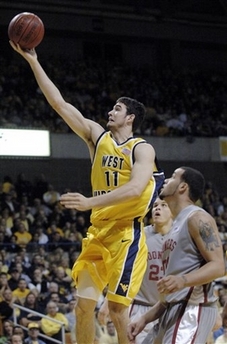 Jonathan Givony
Having broken down Alexander's game in extreme depth just a few months ago, we'd like to offer up a progress report on his development from his sophomore to junior seasons so far. Alexander seems to be making some serious strides as a player and prospect, improving noticeably in a number of categories and emerging as the go-to guy in West Virginia's offense.
The Mountaineers went through a coaching change this past summer, and Alexander most certainly has profited from the newfound freedom he's finding under Bob Huggins. He still is reaping the benefits of the superb basketball education he received playing under John Beilein—a master of spacing, off the ball movement, controlling tempo, passing, and reading defenses within his Princeton style offense. Huggins, on the other hand, is known as an extremely tough-minded coach who preaches superb physical conditioning, hard-nosed man to man defense, and one on one ability, which makes playing for him an extremely different experience than it was under Beilein. To be able to play under two different coaches—both extremely well respected for what they do best—is only going to make Alexander and his teammates much more complete players down the road, which makes him an even more intriguing NBA prospect as well.
This season, compared to last, Alexander looks much more assertive first and foremost. His usage rate is up, but so is his efficiency, as he's scoring quite a bit more (5 points per game) but is also doing so on much better shooting percentages (over 5%). He's also upped his assists while cutting down on his turnovers slightly, and is also shooting 3-pointers far less frequently (1.2 attempts per game compared with 3.6) and getting to the free throw line at a considerably better rate (3.9 attempts per game compared with 1.8), where he's shooting a much better percentage (88% compared with 63.6%)
Physically, Alexander looks much improved as well. He's still the same superb athlete he always was, but now sports a more developed body, having noticeably worked on his strength. He's actually seeing quite a few minutes at the power forward position, and is spending a considerable amount of time in the post rather than hanging out on the perimeter where his athleticism isn't utilized as effectively. West Virginia wants him to either spin off his man and shoot turnaround jumpers here (he likes to kiss the ball off the glass nicely), or use his quickness to get by the big men that are guarding him on his way to the hoop.
Alexander's biggest weaknesses as a prospect were always his mediocre ball-handling skills. And while he isn't
Kobe Bryant
or
Tracy McGrady
quite yet, he has improved considerably in this area. Alexander looks very adept at taking his man off the dribble using either his left or right hand, taking advantage of his superior first step with one or two dribbles before utilizing his explosiveness to finish at the rim. He has a little bit more shake to his game, although he still doesn't look fully under control when forced to create for himself in complicated fashion in tight half-court sets. Still, he appears much more aggressive trying to make things happen this season, as you can probably guess by his free throw attempts, which have more than doubled.
Another big development we've noticed revolves around his mid-range game. He's added a pull-up jumper to his arsenal, and seems to be using it fairly extensively, looking pretty fluid creating separation off the ground and getting his shot off with a nice high release point that makes it very difficult to stop when you take his size into consideration. He's only taken 16 3-pointers at this point (hitting 5), so it's a bit too early to gauge how his perimeter stroke is coming along, but he seems to have nice mechanics and it's probably only a matter of time (next season?) until he starts showing progress here too.
Defensively, Alexander still looks very solid from what we can tell. His combination of size, strength, length and quickness make him quite imposing at the small forward position, but he's also very committed to stopping his man as Bob Huggins demands. He will get down in a fundamental defensive stance and work to keep his man in front of him, recovering nicely if beat and getting an impressive amount of blocks (1.7) in the process.
All in all, Alexander seems to be developing nicely at West Virginia, and should be deemed a pretty interesting prospect by the time he's ready for the draft in 2009. He's likely a role player at the next level, but can surely evolve into a very useful one at that if he continues to progress.
Longar Longar, 6'11, Center, Senior, Oklahoma
13.4 points, 6.5 rebounds, 1.3 assists, 2.5 turnovers, 0.9 blocks, 56% FG, 64% FT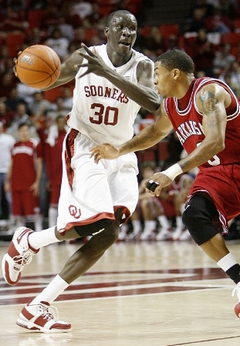 Joseph Treutlein
Longar Longar isn't your typical college basketball senior, as he's 24 years old, has only been in the United States since he moved here from Africa in 1998, and didn't start playing basketball until high school in 1999. He was old for his class to begin with, but he also didn't earn college eligibility initially, forcing him to spend a year at a prep school prior to coming to Oklahoma.

Under former coach Kelvin Sampson, Longar couldn't earn more than eight minutes per game as a freshman and sophomore, but his playing time picked up substantially last season, and has carried over into this season as well. He's shown noticeable improvement in his game, which was extremely raw entering college.

Longar is a decent athlete for a big man, showing pretty good mobility and coordination with nice ability to get up and down the court. He isn't very explosive, and is certainly not an elite athlete by any means, but he does boast very nice length for his size.

Longar has a decent groundwork of skills on the offensive end, but not what you'd expect from someone who will be turning 25 in three months. In the post, Longar has decent footwork and a few moves in his arsenal, though he doesn't show exceptional awareness or many counter-moves. He also has not shown any ability with his left hand, and because of such, vastly prefers working on the right block and turning off his left shoulder, looking very uncomfortable when forced to go the other way. When he is in his comfort zone, though, Longar has shown a mini-hook shot, a drop-step move, a turnaround jumper, and a series of fakes to get past his man. He's had varying success with these moves, but his footwork has been solid and he shows good coordination in getting the moves off.

Longar also has shown the groundwork of a jump shot, though he hasn't had much success with it from the video we've analyzed. He missed on six of seven jumpers from the 15-20 foot range from what we saw, and didn't have much more success in the 8-10 foot range, where he rushed a few contested jumpers. His shooting mechanics are nothing to rave about, as they're not very refined, but he has a high and quick release, and it's something he could possibly develop in time by working with a trainer or coach.

Longar gets a lot of his baskets by getting open near the hoop and finishing on uncontested jams, which he also has a pension for in transition. He doesn't show the same strong finishing ability when matched up with a defender, though, not possessing the strength to go through most defenders, even at the college level. He's put on noticeable weight in his four years at college, but he's still not very thick, and since his shoulders are not that broad, it's questionable how much more bulk he could add at his advanced age.

On the defensive end, Longar still looks very raw, not showing a great base of fundamentals, biting for fakes often, and looking uncomfortable when forced to move laterally on the perimeter. He also doesn't seem to have the greatest concept of leverage in the post, and gets pushed around by larger opposition fairly easily. He can block some shots with his length, but doesn't have the explosiveness to be a real force in that regard. On the boards, Longar gets his fair share by using his size, length, and decent athleticism, but he's inconsistent with boxing out, and can get pushed around by opponents bigger and stronger than he is. He only pulls down 6.5 rebounds per game, which is nothing exceptional for a 6-11 player coming off a fairly weak non-conference schedule.

Longar's an interesting prospect, but it's hard to project him in the draft due to his age and rawness. Some team could take a flyer on him in the second round and hope he still has a lot more learning curve in him, but many teams could be scared away by his age and his less-than-dominant performance in college against players 2-6 years his junior. In all likelihood, he'll need to spend a year or two in Europe or the D-League continuing to develop his game to have a chance to make an impact in the NBA.