Tyler Smith, 6'7, SF, Sophomore, Tennessee
13.3 points, 5.2 rebounds, 3.6 assists, 2.3 steals, 1.6 turnovers, 58% FG, 68% FT, 40% 3PT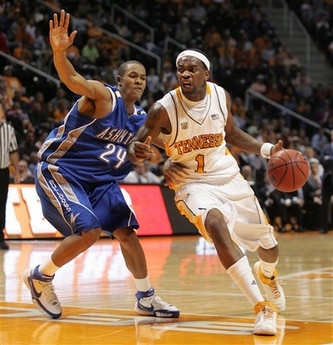 Joseph Treutlein
Tyler Smith has taken very little time to fit in with his new team, quickly getting into stride and putting up very similar production at Tennessee as compared with what he did last year at Iowa State. What's impressive, though, is that he's duplicating that production in eight less minutes per game, and with quite a bit more efficiency.

The 6'7 college combo-forward that projects as more of a swingman in the NBA has had quite a few stat sheet stuffing games so far this season, highlighted by a 22 point, 7 rebound, 8 assist outbreak against Louisiana Lafayette in just 25 minutes of playing time. Smith's versatility has been on full display, as he's been doing anything and everything the Volunteers need him to do, showing flashes of virtually every skill you can look for in a player. He's defended the post, defended the perimeter, rebounded, created offense for teammates, hit mid-range floaters, scored in the post, taken defenders off the dribble, gotten out in transition, and hit shots from behind the arc. And while he's flashing all kinds of skills left and right, he's not making many mistakes in the process, shooting an extremely efficient 58% from the field (up from 44%), averaging 1.7 points per shot (up from 1.2), and averaging just 1.6 turnovers (down from 3.0). As Smith gets even more comfortable with his new team, and if he can get his minutes per game up from 25 per game to the 30-35 range, he'll probably post at least one triple double by season's end.

Coming into the season, Smith's biggest weakness was his outside shot, and despite some good indications early on, that still probably remains true. He's hit four of his first 10 attempts from behind the arc, and his mechanics look a little cleaned up, but he still has a tendency flail his arms to the side on his release. A consistent outside shot is the most notable thing lacking from Smith's offensive repertoire, and adding that would certainly improve his stock as a wing prospect.

One area Smith has looked extremely impressive with in the early going is his passing game, which is outstanding for a small forward prospect. He shows excellent court vision and has good passing skills from all areas of the court. He's made crisp cross-court passes from the post, alley-oop lobs from behind the three-point arc, no-look dishes in transition, and feeds to the post. On one specific play in the game against UL-Lafayette, Smith, a righty, calmly was dribbling the ball at the top of the three-point arc, and he effortlessly made a strong, quick, perfectly placed, left-handed bounce pass under his defender's arm to a cutter in the lane.

Smith uses his athleticism well in all facets of the game, especially attacking the boards. He does a good job heading towards the basket and using his length to pull down rebounds over the opposition. Smith's athleticism is also on display in transition, where he runs the floor and finishes with some explosive dunks.

On the defensive end, Smith is very active and shows very good anticipation in the passing lanes, where he also uses his length and good hands to pick off a lot of balls. He's forced to defend the post on occasion, where he has some obvious problems with larger players, but he's active moving from fronting to playing his man straight up, using his length to cut off passing lanes. One especially impressive thing about Smith's defense is how he always plays both his man and the ball, staying very aware of both and being sure to stay in between them, playing good prevent defense.

Smith has seemed to take his game to the next level this season, which will definitely be more evident if he's given more minutes in Tennessee's rotation as the season goes on. He has a great foundation of skills and has excellent energy on the floor, so there's no reason to think he won't continue to improve those skills in time. He could come out this year and be considered a potential first round prospect, but there's a very good chance he could make significant strides with his game if he spent another year in college, which would possibly put him in the mix to end up as a lottery candidate. There's even a chance that could happen this year if he continues to improve his game and gets more minutes to showcase his skills.
Antoine Agudio, 6-3, Senior, PG/SG, Hofstra
27.4 points, 4 rebounds, 2.3 assists, 3.6 turnovers, 46% FG, 48% 3P, 79% FT
Jonathan Givony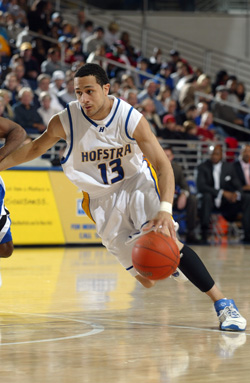 Although he's still very much flying under the radar as far as the national media goes, the #1 scorer in the country at the moment is none other than Hofstra guard
Antoine Agudio
. That fact alone was enough to bait us into taking a closer look, particularly when combined with the outstanding percentages he's shooting so far from the field.
Agudio spent much of the summer working with New York City based trainers Jay Hernandez and Ross Burns, and the early results we're noticing comparing his film from last year with this season's has been fairly substantial. Agudio looks like a more fluid and confident player, stronger, and with some better shot-creating moves in his arsenal. Whereas last year he was asked to share ball-handling duties with one point guard (Carlos Rivera) and another dominant high scoring combo guard (
Loren Stokes
), this season Agudio is basically by himself when it comes to providing leadership and go-to scoring ability for a very young Hofstra squad.
Built very well for a combo guard, Agudio has decent size at 6-3, a nice frame, and a very good wingspan. He's not a freakish athlete by any means, but he does move well around the court, with a certain fluidity and elegance to his game not all that unlike Toronto swingman
Anthony Parker
, albeit a couple of inches shorter.
As you can guess by his astronomical percentages, Agudio is a lights out shooter through and through. He's hitting 48% of his 3-pointers on the season so far, taking over 8 and a half attempts per game from beyond the arc—only a handful of which have come on clean looks. He has picture perfect shooting mechanics, able to set his feet in an instant with outstanding balance and get his shot off in the blink of an eye thanks to his quick release. He can catch and shoot coming off screens, but is particularly adept creating separation and pulling up off the dribble, either from mid-range or beyond the arc—moving left or right or fading away with a hand in his face. Agudio has hit over 300 3-pointers in his career so far, and has never shot less than 42% from that range in any given season. Guys like
Daniel Gibson
and
Damon Jones
come to mind when watching him play, and it's not hard to think that he's going to be given some very serious looks in private workouts this June based off his outstanding perimeter shooting skills alone.
Thankfully for him and his team, though, Agudio is more than just an excellent shooter. He's also a pretty good ball-handler, nothing outstanding (particularly with his left hand), but certainly more than good enough to keep defenses honest. Only 45% of his points at the moment come from behind the arc (very similar to last year), so it's clear that he can create offense for himself in other ways besides just with his shooting stroke. Agudio has good body control and a very aggressive mentality, allowing him to get inside the paint from time to time with nice long strides and some slight hesitation moves, and either draw contact or finish craftily with a floater or short pull-up jumper. He's not the greatest finisher in the world from what we can tell (his left hand needs a lot of work here), but he's tough enough to get to the free throw line nearly 7 times per game this season (4.8 per game last year).
Standing 6-3, most NBA teams are going to want to see Agudio show more point guard skills than he's probably been able to display at Hofstra so far. He plays mostly off the ball, but will bring the ball up the floor from time to time and get his (very uptempo) team into their offense. For being such a prolific scorer, some might expect Agudio to be a bit on selfish side as many mid-major combo guards are. The fact of the matter is that he's anything but that, appearing to be nothing short of an outstanding teammate, and a real facilitator when presented with opportunities to create for others. He clearly has a very high basketball IQ, and looks committed to making good decisions and making big plays for his team, either himself or by setting up a teammate. The problem is that he doesn't have much talent around him (to put things lightly), so in order for his team to have any real chance at winning, he needs to shoot the ball 20 times or more every game, and even that sometimes isn't enough. Something that was very telling in the Charlotte game from this past weekend that we analyzed was the fact that during the last 5 minutes of the game, it was Agudio the one that played the point for his team almost exclusively, acting as the team's leader and floor general throughout.
Part of the reason for that is the fact that most opposing teams' number one gameplan to beat Hofstra is to keep the ball out of Agudio's hands. We saw plenty of Box and Ones, traps off pick and rolls, shameless double-teams, and plenty of face-guarding by various opponents trying to slow down Agudio. What's sad is that that often works, as his very young teammates often struggle to find a way to take advantage and put the ball in the basket themselves. Agudio has to work incredibly hard to get every shot he ends up taking, at times looking pretty exhausted out there on the floor. That's what makes his outstanding percentages this season all the more impressive, as you can only imagine how well he'd be shooting if he actually got some more clean looks from time to time.
Defensively, Agudio looked very solid in the minutes we evaluated him. He seems committed to stopping his man and playing good team defense, also acting as a bit of a floor general on this end of the floor, particularly when his team is playing zone. He might not have the greatest lateral quickness, nor does he look like a very dangerous threat playing the passing lanes, but the focus and fundamentals are clearly there, and at this level that's usually enough to get the job done. He also seems to do a good job hitting the glass.
So where does that leave him as far as this year's draft is concerned? That's a good question. If Agudio can find a way to keep himself at the top of the scoring ranks and still manage to shoot a high percentage from the field, he's going to be in very good shape. Either way, he'll surely be invited to show his stuff at Portsmouth, where he will be able to show that he can hold his own with high-major athletes and then move onto the pre-draft camp, which will be a big test for him. Agudio appears to be one of the best shooters the college game has to offer, and that alone will get him plenty of looks. Whether that translates into an NBA roster spot is still very much up in the air, but he should get his fair chance to show that he belongs.
James Harden, 6'5, SG, Freshman, Arizona State
16.5 points, 5.3 rebounds, 2.3 assists, 1.9 steals, 2.3 turnovers, 55% FG, 84% FT, 42% 3PT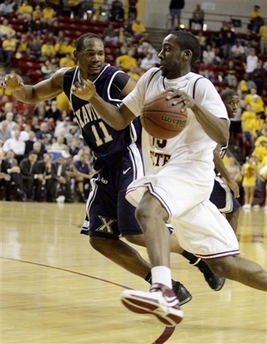 Joseph Treutlein
After scoring just six points in 22 minutes in his collegiate debut, Harden has really come into his own, reaching double-figure scoring in eight of his next nine games. Standing 6'5 with long arms, a well-built frame, and solid athleticism, the left-handed Harden brings a lot of skills to the table for a freshman, and has already helped lead his team to strong wins against LSU and Xavier, which was ranked 17th at the time of the game.

Harden's game starts on the offensive end, where he can stroke it from behind the arc or take the ball to the basket, but not do much in between. Harden has been efficient with his spot-up outside shot in the early going, hitting 42% of his shots, but has taken only 19 attempts, and has had very inconsistent results. His shooting form is very solid, but he needs to get more consistent with the results.

Harden uses the threat of his shot well to fake and get past his man, often taking the ball to the basket from behind the three-point arc with ease. He has a strong left-handed dribble and is respectable with his right, though he takes extremely long strides with the ball, getting him to the basket very quickly even though he doesn't possess elite athleticism. Harden has shown some nice stop-and-pivot drives along with the ability to adjust and take contact in mid-air, looking outstanding on some occasions, but sometimes makes peculiar decisions in the lane, not reading situations well and making poor choices of what moves to use. These are likely typical freshman mistakes as he acclimates himself to the new level of competition, as at times he's shown great flashes of awareness.

Harden is also a pretty good passer for a wing, showing good court vision, especially in transition, though he doesn't seem to have any point or combo guard in him. He doesn't tend to dribble a lot on the perimeter or in transition, just using his dribble when he needs to get to the rim. Harden also makes his presence felt on the boards, attacking the rim on both ends of the court, already having three 8+ rebound games.

On the defensive end, Harden uses his length very well to disrupt, picking off passes from the weakside or contesting and blocking shots on the perimeter. He is very active and aware while showing a good defensive stance, though his lateral quickness hasn't been extensively tested with Arizona State playing a lot of zone defense.

Harden still has a lot to work on with his game, improving the consistency on his outside shot, reading situations better on drives, and adding a mid-range game to his repertoire, but he's off to a good start to his collegiate career. He has adequate size, strength, and athleticism for an NBA shooting guard, and has a good foundation of skill to go along with it. It's too early to accurately project what kind of prospect Harden will be considered by the time he comes out in a few years, but he is certainly in a good situation to showcase himself getting great playing time in the Pac-10 with Arizona State.