Tyreke Evans, 6-4, Freshman, PG/SG, Memphis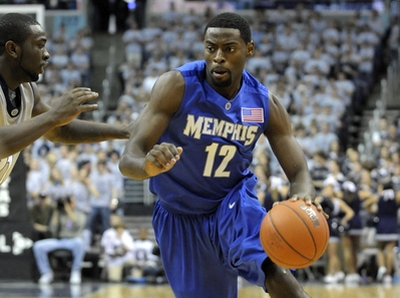 Jonathan Givony
A mid-season position change that seems to have changed the complexion of his team's season is certainly a good enough reason to revisit the topic of one of the NCAA's most talented freshman.
Tyreke Evans
was asked to handle the point guard duties for Memphis full-time after a home loss to Syracuse that dropped his team out the top-25 for the first time in over three years, and his team is undefeated since. They are currently ranked 5th overall in the nation, and Evans in turn is gaining steam for being awarded national freshman of the year honors.
It's not quite clear why analysts (or his coaching staff for that matter) are so surprised at the success he's found at the point—it was after all the only position we've ever saw him play from watching him in high school, prep school and the AAU circuit over the last three years. Clearly he is not "learning the position from scratch" like many have suggested.
Playing on the ball full-time, Evans has improved his efficiency while developing into the #1 scorer in this freshman class—putting up a terrific 23 points per-40 minutes pace adjusted. He also ranks as one of the top rebounding guards in college basketball, pulling down over 7 per-40, and is also one of the top ball-thieves at 3.1 steals per-40. His productivity in those categories is terrific all things considered. The problem is that he's almost amongst the NCAA leaders in field goal attempts and
turnovers
(at a dismal 4.5 per-40), highlighting one of his biggest flaws—his shoot-first mentality.
It's pretty obvious what Evans offers as a prospect, as he's one of the premier shot-creators in the country, despite being only 19 years old. His combination of strength, aggressiveness and scoring instincts is almost unparalleled at this level, and should translate to the NBA level effectively when you consider his terrific footwork, body control, and hesitation moves. He does an excellent job pushing the ball up the floor in transition, can create (and finish) with either hand almost equally as well, and is an absolute bulldozer slashing his way through the paint and creating contact at the rim. While not an incredible leaper, Evans knows how to get to the free throw line, which helps minimize the fact that he's not an incredible finisher percentage wise (just 50%). He's also become pretty effective at finding teammates off the dribble, which has helped him rack up a decent amount of assists.
Defensively, Evans has gotten better as the season has moved on, particularly on the ball. His terrific wingspan helps him tremendously in terms of contesting shots on the perimeter, and his excellent knack for getting in the passing lanes makes him a true nuisance with the way Memphis likes to press. Evans loses his focus from time to time in the half-court and tends to get out of his stance, also not doing a great job fighting through ball-screens. His potential on this end is impressive, though, and it wouldn't be shocking to see him be able to defend both guard positions in the NBA when it's all said and done.
As a point guard, Evans has been mostly a mixed bag. On one hand, he obviously possesses excellent basketball instincts and has a great sense for making plays for himself and others. Memphis is running a lot more pick and roll than they did last season, and Evans shows great potential in this area. The problem is that he's an incredibly ball-dominant point guard, often looking like a fish out of water when he's forced to give up the rock for more than a few seconds. Memphis' offense often looks quite stagnant, with Evans over-dribbling the ball at the top of the key as his four teammates stand around and twiddle their thumbs. He can be pretty sloppy with the ball at times, displaying questionable decision-making skills and incredibly poor shot-selection, which wouldn't be as much of an issue if he was able to make shots at a respectable rate from the perimeter.
With his poor shooting mechanics (he fades away unnecessarily on every attempt) Evans is very streaky with his feet set in catch and shoot situations, and downright dreadful shooting the ball off the dribble. He only converts a dismal 25% of his jump-shots according to Synergy Sports Technology, but the problem is that he settles for them on a regular basis—they make up about 40% of his possessions, often with a hand in his face and early in the shot clock no less. While his skill-set may develop in time, Evans' mentality looks extremely questionable—it's hard not to come away with the impression that he's a pretty selfish player. He's likely going to have to revamp his shooting stroke entirely if he's to ever become even a decent threat from the NBA 3-point line, something he's been unwilling to do up until this point.
There a couple of crucial judgments which will be made individually by each and every NBA team that will play a huge role in where Evans' draft stock ultimately lies. The first would be his likely position at the next level, point guard or shooting guard. The second would be whether he projects as a starter or backup at that position. The third would be whether he fits into what that team already possesses in terms of ball-handlers and outside shooters, as Evans clearly won't fit into every system. It would be very difficult to play him alongside another guard who is also not much of a threat from beyond the arc, as that would make things very easy on the defense. With the right teammates, though, and in a sparkplug/instant offense role, Evans could be very effective.
If Memphis is able to go on a deep run into the tournament, it wouldn't be shocking at all to see Evans' stock rise dramatically when it's all said and done.
Austin Daye, 6-10, Sophomore, SF/PF, Gonzaga
13.4 points, 7.2 rebounds, .9 assists, 2.1 turnovers, 2.1 blocks, 47% FG, 40% 3P, 73% FT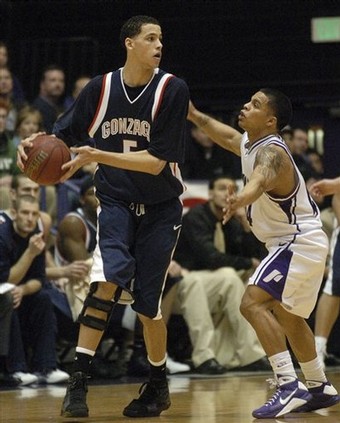 Kyle Nelson
Austin Daye
is one of the NCAA's most fascinating prospects, with an outstanding combination of height, skills, and versatility. Coming off of an ultra efficient freshman year that had scouts salivating about his potential at the next level, Daye had a disappointing offseason, a summer filled with setbacks including a partially torn ACL and a bone bruise. Thus far, Daye's season has hardly met the lofty pre-season expectations, as he is scoring less on slightly lower percentages and is getting to the free throw line at a lower rate. In greater minutes, however, Daye has had the opportunity to put his game's positives and negatives on full display as one of the focal points of Gonzaga's offensive attack.
Standing at what looks to be a legitimate 6'10, Daye possesses excellent size for an NBA wing, not to mention a gigantic wingspan. Taking his brittle 190-pound frame into consideration, however, somewhat hinders his potential, as he lacks the bulk to compete alongside of the bigger and stronger opponents both at this and at the next level. Getting stronger is absolutely essential for a player like Daye to cash in on what looks to be a bright future, although there are concerns about just how much weight his poor frame can put on. Athletically, question marks also exist, as he is noticeably a step slower following his eventful off-season. He was not an elite athlete to begin with and considering the unknown status of his recovery process and the massive knee brace he has sported throughout the season, the extent to which his injury has permanently affected his athleticism is something that teams will need to look at closely.
Whether as a result of his off-season injuries, his lack of strength, or merely because expectations were too high in the first case, Daye's offensive game has not taken off in the ways that many scouts thought. For one, despite getting three more possessions per game, he is not getting to the foul line as often as he did last season, and when he gets there; he shoots a respectable 72.7%, down from 88.1% last year.
Daye's jump-shot, where he gets over a third of his offense is still very nice, boasting very good form including fluid motion and a consistent, not to mention high, release point. Though his release is not the fastest and he does not get a tremendous amount of elevation on his jumpshot, his size and length should allow him to develop into a very good perimeter shooter at the next level.
Most impressive, however, is that Daye's ability to create shots for himself has seemingly improved, showing a tighter handle that could definitely stand to improve, but has allowed him to expand his mid-range game with a variety of crossovers, fakes, and jab steps. The fact that he is a 6'10 player with lethal ability operating out of the triple threat position makes his increased versatility that much more valuable at this level. While sometimes it seems as though he defers to his mid-range game instead of taking the ball to the basket, which likely accounts for his sub-50% shooting percentage, he is a very effective scorer with the ball in his hands with the potential to be even better if he can start taking the ball to the basket more often.
Aside from his noticeable athletic deficiencies post-knee injury, his offensive game is most stunted by his lack of strength. It hurts him off of the dribble, where he cannot absorb contact around the rim, but it also makes him fairly ineffective in the post. This is unfortunate because his combination of size, solid footwork, and fluidity could allow him to be an inside-outside threat at the collegiate level and allow him to better exploit the mismatches that he creates almost every time that he is on the floor. Basically, adding strength looks to be the key to opening up his offensive game even more and a major concern shared by scouts in terms of evaluating his potential at the next level.
His lack of strength and his athletic concerns have not helped him on the defensive end, either. His lateral quickness looks below average and he gets beaten off of the dribble on the perimeter and out muscled in the paint. It's not rare to see him being pushed around inside by marginal college big men, either backing him down in the post or stealing offensive rebounds from him. This deficiency naturally leads to foul trouble, usually in the form of frustration fouls, which has been a bigger problem this season than in the last. He does use his length effectively, though, often blocking shots from behind his man, and showing solid anticipation while blocking shots in the post.
One area that does seem immediately repairable, however, is his body language, which at the present moment leaves much to be desired. Whether it's appealing to referees after every call made against him, sulking if things aren't going his way, or complaining to his teammates, Daye doesn't look like the most mature player on the floor. With scouts watching his every move, particularly how Daye lets the flow of the game get inside of his head, it is essential that he prove that while emotional, he can step up and deliver in the clutch.
Thus, Daye is a complicated prospect, showing flashes of excellence alongside of many potential areas of improvement. He has the size and offensive game of an NBA wing, but needs to get much stronger and prove to scouts that his knee injury is a thing of the past on both ends of the floor, primarily on defense. NBA teams we've talked to report that he is expected to at least put his name in the draft this summer, for better or worse. With Gonzaga back in the top 25 and looking to make a deep run in March, there should be plenty of opportunities left this season for him to prove himself.
Patrick Mills, 6'0, Sophomore, PG/SG, Saint Mary's
18.7 Points, 3.9 Assists, 2.5 Rebounds, 2.4 Steals, 3.0 Turnovers, 42.4% FG, 36.2% 3FG, 88.2% FT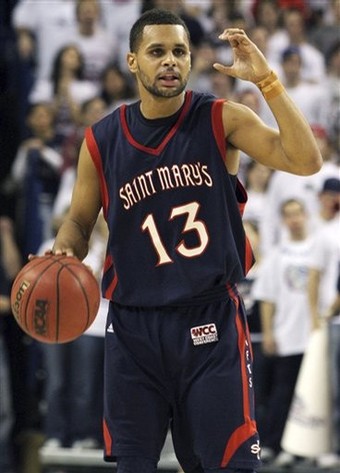 Matt Williams
After spending last summer playing for the Australian National Team,
Patrick Mills
returned to Saint Mary's facing high expectations. Unfortunately for the Gaels, Mills went down with an injury to his shooting-wrist in a loss at Gonzaga on January 29th, a setback that will keep him out of action until the tail-end of the season and limit him until it is over. Though he's been helped lead his team to an 18-2 record when he's in action, Mills' draft stock isn't too far away from where it was this summer, and could even be considered a little weaker.
Before we look at what parts of the game Mills has struggled with, let's look at some of the things he does well. His most attractive asset as a prospect is his tremendous quickness and explosive first step. Mills may not be the fastest player from end to end in the NCAA, but he pushes the break as well as anyone and turns the corner at well against most defenders in the WCC. In addition to his nice athleticism, Mills also has textbook form on his jumper, displays solid ball handling ability, and
produces as many steals as almost any qualified player in our database
per 40-minutes pace adjusted. He's also improved his free throw shooting by over 10%, making him an ideal player to have on the floor late in games.
While each of those qualities helped Mills become one of the WCC's top players, they haven't helped him improve his inefficiency as a scorer. Last season, Mills took over half of his shots from beyond the arc –a habit that he's only improved on slightly this season. Though he's increased his 3-point percentage from 32.3% last year to 36.2% this year, his tendency to force shots from the outside takes away from his efficiency and
lands him amongst the least efficient point guards
we'll see in upcoming drafts in terms of true shooting percentage.
In fact, according to Synergy Sports Technology's Quantified Player Report, Mills takes twice as many jumpers from the outside as he does shots from in close –an indication that he isn't putting the quickness that garnered him a lot of attention at the Olympics to good use in half-court sets. On top of that, his efficiency as a catch and shoot player and jump shooter off the dribble are not dramatically better than they were last season. It isn't surprising that Mills has improved his scoring average since he is using a much larger percentage of his team's possessions, but he hasn't made many adjustments in how he is scoring.
When Mills does take the ball inside, he proves to be a solid finisher, but he has a lot of room for improvement in that area as well. He shows good touch around the basket at times, but struggles when defenders slide over to contest his shot since he hasn't developed a reliable floater –something that is going to be a necessary tool for him on the next level considering his lack of size and strength. The fact that Mills tends to avoid contact at the rim hurts his finishing ability and ranks him
amongst the least likely players to get to the line
amongst all prospects we have projected to go in upcoming drafts in terms of free throw attempts per possession. For a player that is as quick as he is, Mills would benefit greatly from improvements to his short-range game and discipline around the rim.
For a player with first round aspirations, Mills has not shown the development that would have built on his Olympic performance and made him a surefire first round pick. His point guard skills, while improving marginally, still position him as a combo guard with the potential to be a good floor general –which is not a good thing considering his size and how many players cut from a similar mold are projected to declare this spring. While the season isn't over yet, there is a strong chance that Mills will find himself firmly on the bubble should the Gaels not extend their season into the NCAA Tournament, and will need to either return to St. Mary's or show well in workouts coming off of his wrist injury to solidify his stock.
Da'Sean Butler, 6'7, Small Forward, Junior, West Virginia
18.3 points, 5.8 rebounds, 1.5 assists, 2.2 turnovers, 1.5 steals, 46% FG, 77% FT, 39% 3PT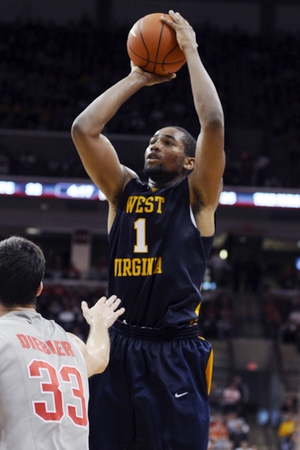 Joseph Treutlein
After playing a complementary role for the Mountaineers his first two seasons, Da'Sean Butler has stepped up firmly into his role as the team's focal point this season, leading his team in scoring with 18.3 points per game on solid efficiency (57% TS%), doing it all while he's playing a more perimeter-oriented game that will help his long-term growth.

Standing 6'7 with a strong frame and good length, Butler passes the look test for a small forward at first glance. Athletically, Butler has good coordination and mobility, but he's lacking in explosiveness at this stage, specifically vertically, which would make him a below average athlete at the small forward position in the NBA, even if it's possible he could improve with more lower body strength.

Looking at his game, Butler does most of his damage with his jump shot, which he's improved noticeably this season, as he's doubled the amount of jumpers he takes per game according to Synergy Sports Technology, while also improving his efficiency from both the three-point line and the free-throw line. Butler's jump shot is fairly unorthodox, as he brings the ball slightly overhead with a bit of a forearm hitch before he releases the ball and has a slight fade away on most of his shots, however with his elevation and extension he has a very high release point and pretty good quickness on his shot as well. In space, Butler is deadly, showing very consistent form as well as consistent results, and he also shows the ability to hit contested shots, though he's sometimes prone to opening up his form when rushed. Off the dribble, Butler is also strong in space, and he shows a decent command of shot fakes and step-back moves to gain separation, however he looks uncomfortable shooting off the dribble when closely guarded, not showing much fluidity between his dribble and shot, which shows in the results.

Butler's ball-handling abilities have always been a question mark with his game, but he's showing signs of improvement this season, even bringing the ball up the court for the Mountaineers at times. In the half court, Butler doesn't have a very quick first step, though he compensates with a good command of ball fakes and rip moves to get his defender off balance. On his drives, he's still mostly a straight-line driver, however he'll show flashes of spin moves and stepbacks in the half court, though his advanced ball-handling is still very much a work in progress.

In the lane, Butler shows good body control and the ability to pull-up from mid-range, making good use of the backboard on pull-up shots, though he's not a great finisher in traffic. At the rim, Butler is efficient when not bothered by a weakside defender, but with his lack of vertical elevation, he struggles when dealing with rotating defenders, not having the explosiveness to power over defenders, being very much a below-the-rim player in the half court.

Defensively, Butler looks comfortable defending on the perimeter, being consistently matched up with small forwards in games, showing a very strong stance, a good grasp of fundamentals, and very good anticipation and attentiveness. Laterally, Butler would be below average for an NBA small forward, but he makes up for it at this level with his other strengths, doing a good job to stay in front of his man while consistently getting his hands up to force tougher shots.

Looking forward, while Butler is having an outstanding season in one of the toughest conferences in America, he still has some work to do if he wants to find a long-term place in the NBA. Butler's ball-handling and shot creation should be a point of emphasis for him this offseason, while he should also do everything he can to maximize his explosiveness, which will be a likely point of concern for talent evaluators.