Nick Johnson, 6'2, Junior, Shooting Guard, Arizona
---
-P.J. Hairston Scouting Report and Video Breakdown
-Zach LaVine Scouting Report and Video Breakdown
-Artem Klimenko Scouting Report and Video Breakdown
-Tyler Ennis Scouting Report and Video Breakdown
-Rodney Hood Scouting Report and Video Breakdown
-Doug McDermott Scouting Report and Video Breakdown
-Andrew Wiggins Scouting Report and Video Breakdown
-Elfrid Payton Scouting Report and Video Breakdown
-Marcus Smart Scouting Report and Video Breakdown
-NBA Draft Prospect of the Week: C.J. Wilcox (Video Scouting Report)
-NBA Draft Prospect of the Week: T.J. Warren (Video Scouting Report)
-NBA Draft Prospect of the Week: A.J. Hammons (Video Scouting Report)
-NBA Draft Prospect of the Week: K.J. McDaniels (Video Scouting Report)
-NBA Draft Prospect of the Week: Deonte Burton (Video Scouting Report)
-NBA Draft Prospect of the Week: Noah Vonleh (Video Scouting Report)
-NBA Draft Prospect of the Week: Nik Stauskas (Video Scouting Report)
-NBA Draft Prospect of the Week: Aaron Gordon (Video Scouting Report)
-NBA Draft Prospect of the Week: Clint Capela (Video Scouting Report)
-NBA Draft Prospect of the Week: Thanasis Antetokounmpo (Video Scouting Report)
-NBA Draft Prospect of the Week: Shabazz Napier (Video Scouting Report)
-NBA Draft Prospect of the Week: Bogdan Bogdanovic (Video Scouting Report)
-NBA Draft Prospect of the Week: Joel Embiid (Video Scouting Report)
-NBA Draft Prospect of the Week: Julius Randle (Video Scouting Report)
-NBA Draft Prospect of the Week: Jabari Parker (Video Scouting Report)
-Revisiting Giannis Antetokounmpo (Video Scouting Report)
-Revisiting Damian Lillard (Video Scouting Report)
-Revisiting Nikola Mirotic (Video Scouting Report)
-Revisiting Alexis Ajinca (Video Scouting Report)
---
Matt Williams
Nick Johnson's Arizona career came to a somewhat disappointing end in a 64-63 West Regional Final loss to the second seeded Wisconsin Badgers, as he was called for an offensive foul with 3.2 seconds left with the Wildcats down one. A consensus First Team All-American, Johnson took a major step forward as a junior, averaging 16.3 points and 4.1 rebounds per-game, solidifying himself as a legitimate NBA prospect in the process.
Though Johnson took a big step forward in terms of productivity and emerged as a leader for one of the nation's best teams, his primary weakness as a prospect remains unchanged. Standing just 6'2.5 with a 6'5.5 wingspan, he is undersized for the shooting guard position. Not a natural playmaker, Johnson will face legitimate questions as to where he fits in at the NBA level throughout the draft process, but has done some nice things in other areas to give himself a fighting chance at carving out a niche.
Aside from his lack of size, there's quite a few things to like about Johnson on both ends of the floor. First and foremost, he's an absolutely phenomenal athlete, with rare explosiveness and the competitiveness to use that to his advantage, especially on the defensive end. A first team All-Pac12 Defensive Team honoree, Johnson is an energetic defender who gets out of position defending dribble penetration at times, but seldom gives up on a play. Though he's a bit smaller and is not as instinctive with his feet as Avery Bradley, Johnson's physical tools give him upside in a similar niche to the one the former Texas guard fills as a defensive-minded guard, should he dedicate himself similarly on that end of the floor.
On the offensive end, Johnson's efficiency dipped as a junior as he took on a bigger role for the Wildcats offensively. Sean Miller relied heavily on Johnson and his sometimes reckless tendencies for scoring due to Arizona's lack of experience and reliable offensive weapons. Using 26.3% of Arizona's possessions, Johnson shouldered that responsibility well relative to his peers as his 20.3 points per-40 pace adjusted and .99 points per-play rank just below average among shooting guards in our top-100. Scoring .637 points per possession in Arizona's losses and 1.055 points per possession in their wins, there's no understating how valuable Johnson was to his team.
Not truly elite in any one area offensively, Johnson is most effective in the open floor, where his speed and leaping ability make him a threat to finish emphatically on run outs. Capable of pushing the ball himself or getting up the floor to finish from the wings, the Pac-12 player of the year looks most comfortable in track meet type settings.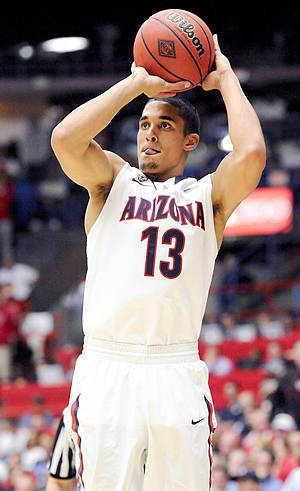 In the half court, Johnson does most of his damage in catch and shoot situations, which accounted for a quarter of his total shot attempts. Playing primarily off the ball both this season and last, he gets tremendous lift on his jump shot and his 38.4% three-point shooting on those attempts reflects his ability to spread the floor and hit spot-up shots from range with some consistency.
Only an average ball-handler, Johnson's ability to elevate allows him to get a shot up in a pinch off the bounce, but his 33.3% shooting on pull-up jumpers is reflective of his heavy usage, lack of prolific shot creating ability one-on-one, and less than steady shooting on the move. Johnson is most effective creating his shot in the two-man game where he can get a head of steam and attack dribbling downhill, or simply stop and pop in space if the defense doesn't respect his range. Looking out of control and forcing some difficult shots from the midrange and around the rim, Johnson may benefit from taking on a lesser role at the next level as he works to improve his shooting consistency and ability to create separation in the half court.
A capable passer who is adept at finding the roll man in the two man game, Johnson is a natural shooting guard, but he could provide some value as a secondary ball-handler in time if he can improve his handle and develop the ability to drive and dish more effectively.
Johnson's size and lack of point guard skills play against him, but his athleticism, coupled with his competitive nature and ability to make set shots could inspire some confidence that he can carve out a niche as a role-player, especially on teams that play up-tempo and are looking to add toughness and explosiveness to their backcourt.