Part One: The Guards
Kyle Singler, 6-9, Small Forward, committed to Duke
8 points, 5 rebounds, 1 turnover, 3-5 FG's 1-2 FT's, 1-3 3-PT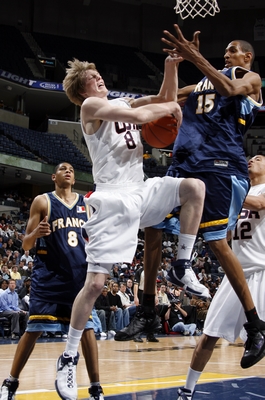 If you somehow missed out on the
Adam Morrison
maelstrom last season, don't worry. You'll get your chance to watch "the next
Larry Bird
" this fall. And trust me,
Kyle Singler
isn't the next
Larry Bird
. He's "the next
Larry Bird
", in that he's tall, white, and displays that near-supernatural feel for the game which we all know from previous "great white hope" incarnations nearly makes up for that trademark awkward movement style. After his first 30 point game at Duke, which could happen as early as his first game at Duke, the comparisons will begin in earnest. This is a virtual inevitability, just like the backlash that will follow from those tiring of every tall, white finesse player being compared to Larry Legend.
The first thing to note about Singler is that at the college level, he is much more than just a shooter. He certainly can shoot the ball, but his all-around ability and feel for the game stand out more than anything else. Singler hasn't scored a whole ton of points on the "all-star game circuit", but has still managed to impress with an assortment of intelligent passing, opportunistic board work, commitment to defense and generally intelligent play. Singler is already a master of utilizing pump fakes and body contortions to get himself looks in the lane, much in the same way a certain other west coast star did last March. But while Morrison eventually got caught up in trying to force his own offense a bit too much, Singler appears content to play within the context of the offense even in the all-star game setting, only regularly pushing the issue for his own offense in a transition or defensive breakdown situation which affords him a bit more space.
Singler still has some work to do as a shooter, especially from beyond the college 3-point line. There were few opportunities to see him create for himself in the midrange even in the practices, but the few instances we did observe confirm that he is going to be one phenomenal college scorer. He has no problem shooting off balance or with a hand in his face, and is lethal from ten feet in with his ability to do just about anything once he gets the space. It appears that the range on his shot will come with time, as the form is there and his outside shots look great – but the Oregon native just isn't as comfortable spotting up from deep as he is closer to the basket, even on the move.
As far as athleticism goes, Singler has enough of it to be considered a serious NBA prospect right now. He isn't ever going to be that blow-by athlete, but he had no problem keeping up with anybody in the competitive action we saw at the Hoop Summit. At 6'9 he handles smaller defenders with ease, and is very comfortable handling the ball in transition.
The game itself provided more of what was seen in practice. There was one stretch of fabulous play, highlighted by a 3-pointer, a handful of beautiful passes, and several hustle plays in transition. But foul trouble limited Singler's minutes, and he was content to meld into the team concept the rest of the way.
---
Donte Greene, 6'10, SF, committed to Syracuse
10 points, 8 rebounds, 1 block, 4-10 FG, 0-2 3P, 2-2 FT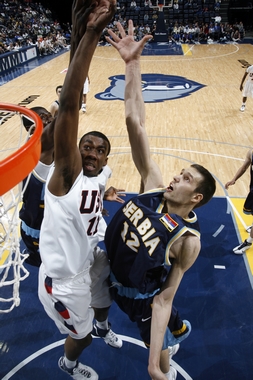 Syracuse-bound Donte Green was clearly the least polished player on this Hoop Summit team, but that isn't necessarily a knock on him. He also has the highest learning curve, as a 6'10 teenager attempting to make the transition from post player to full time wing. His frame is absolutely immaculate, his athleticism and body control first-rate, and his offensive skill clearly coming along at a solid clip. There may be some question about how soon he is ready to emerge at the NCAA level, but Greene is clearly a player that is going to turn heads sooner rather than later.
The first thing you notice about Green is the smooth athleticism in the open floor. Very rarely do you see a 6'9 player this young with such a natural gait, and he isn't exactly a string bean either. Greene should fill out very nicely by the time he is in prime at the NBA level, and has the body control to continue playing on the perimeter even if his quickness begins to abandon him someday. Greene has work to do as a ball-handler, but is capable in the open court and actually displayed some impressive court vision in the Hoop Summit game.
Greene has the basics of a very nice jumper and clearly has the feel of a natural shooter, but is still working getting a consistent release down. He also appears to be a bit shot happy at this point, which is where the main issues with his game come in. Because for all the gushing about Greene's body control and skill in the open court, he is still at his best using his athleticism and length around the rim. There were moments in the game where his ability to get to the rim for a loose ball or flush with downright scary ease. But he is a player that sometimes has a tendency to float on the perimeter, and clearly doesn't want to typecast himself as a post player. Greene's effort was a bit inconsistent throughout the week of practices as well, as you could see him kick it into a higher gear the moment the game started, and even higher when he was within immediate range of a dunk or easy bucket.
2007-2008 Outlook:
It should be interesting to see how Jim Boeheim chooses to utilize Greene next season. The Orange are low on bodies and experience in the paint, but Greene is clearly a player focused on developing his perimeter game for the next level. It remains to be seen if he would be satisfied with playing more of a
Hakim Warrick
, skill-oriented 4-man role as opposed to that of a traditional wing. Boeheim might have more depth than he'll know what to do with on the perimeter, and Greene could be a year away from blowing up on the college level. Nonetheless, it would never be smart to bet against a talent like
Donte Greene
. He certainly doesn't have to invoke the freshman year ghost of Carmello at the Carrier Dome to get drafted in the first round in 2008, and if I were a Syracuse fan I wouldn't get my hopes up for year two.