Who showed up?
As we've found out over the past few years, a roster isn't a final roster at Portsmouth until everyone gets off the plane and is fully accounted for. Unfortunately, this year was especially bad in terms of last minute pull-outs, to the point that most of the intriguing prospects we had pegged coming in did not end up making it.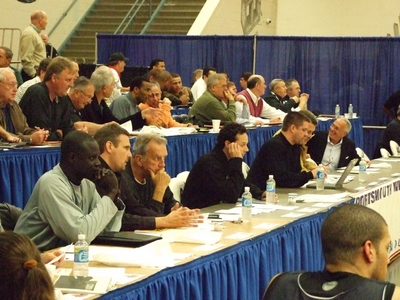 [c]Larry Bird,
Larry Brown
, and others taking in the action[/c]
What's ironic is that it was one of the last minute alternates that stole the show in Day one, as Wright State's
Dashaun Wood
played an almost flawless game in establishing himself as the best player at PIT so far.
Here are the players who accepted their invites, but ended up not making it to Portsmouth when it was all said and done. We did some investigative reporting to find out what their excuses were for not showing up.
D.J. Strawberry
- Officially told the organizers that he needs to attend an uncle's funeral, but another person we spoke to claims that his agent told him that he "does not need to play here". We're not sure what the truth is here, except for the fact that he absolutely needed to play at the PIT. Replaced by
Jeremy Hunt
(Memphis).
Jeremy Hunt
- Hunt was supposed to replace Strawberry and was even listed on the official PIT rosters at one point, but in the end decided not to attend, claiming an "injury." If he's healthy like many here suspect, this move can't be classified as anything but absolutely idiotic. Replaced by Romeo Travis (Akron).
Quinton Hosley
- Didn't beat around the bush and just called to inform the organizers that he's "not coming." Again, this appears to be an incredibly bad decision by a player who will have to kick and scrap to have a chance at being drafted. Will be interesting to see if he gets invited to Orlando now. Replaced by
Justin Cage
(Xavier).
Engin Atsur
- He was legitimately injured with a bad hamstring in the ACC tournament and it's not a shock that the doctors told him not to participate. Replaced by
Dashaun Wood
(Wright State), the MVP of day one.
Reyshawn Terry
- Pulled out claiming to still be suffering from the strep throat that hampered him during the NCAA tournament. Replaced by Carl Elliot (George Washington).
Trey Johnson
- Pulled out of the NABC game and Portsmouth after complaining of back spasms. Replaced by Keith Simmons (Holy Cross).
J.R. Reynolds
- Got injured in the second round of the NCAA tournament against Tennessee and reportedly has still yet to recover. Did not bother to notify the committee of his decision, though. Replaced by Drew Williamson (Old Dominion).
Ron Lewis
- Had a fairly legitimate case not to play, as he just finished up his season less than 48 hours ago with Ohio State. Handled his decision poorly, though, by just not getting on the plane without bothering to notify anyone. His teammate, Ivan Harris, did make it. Replaced by Aaron Nixon (Long Beach State), who was called at the last minute and told to make his way over from the West Coast.
Chris Richard
- Again had a legitimate case not to play, as he just won the national championship less than 48 hours ago. He did not beat around the bush and informed the committee that he prefers to stay in Gainesville to celebrate with his teammates.
Aaron Brooks
- Pulled out a few days ago
Lamont Hamilton
- Declined invite, citing injury.
Jared Jordan
- Accepted invite and then pulled out.
Mario Boggan
- -Declined invite.
The Fallout
NBA people we spoke to sounded disappointed in the decisions that some agents made in deciding to decline their clients' (or sometimes potential clients) invites to Portsmouth. This year,
with the new rules that have been established regarding cutting down the days allowed to conduct private workouts
, and the pressure that will be put on essentially every underclassmen that enters the draft without an agent to participate in the pre-draft camp, it stands to reason that there will be
much less workouts to go around for 2nd round and undrafted senior prospects
.
Unfortunately many agents don't seem to have caught on to this new reality yet, and it will be their clients that suffer as a result when they don't get the type of opportunities they need to showcase themselves to NBA teams. So instead of seeing less than the 4-5 pullouts we saw last year, we instead saw double that, which makes absolutely no sense, especially when you add in the fact that this year's draft is exponentially stronger that last year's.
Most NBA people we spoke with believe that next year agents will catch onto the new reality they face in regards to the workout and pre-draft process, but it's a shame that certain players will have to be scapegoats this year in order for people to learn that.
Game One: Holiday Inn 110- Tidewater 71
Dashaun Wood, 5'11, PG, Wright State
18 points, 9 assists, 6 rebounds, 3 steals, 7-11 FG, 3-6 3PT, 1-2 FT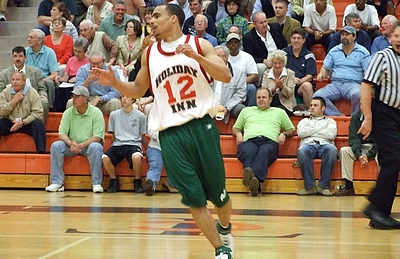 Joseph Treutlein
Dashaun Wood undoubtedly had the most impressive performance here in Portsmouth on Day One, and a few days ago, he wasn't even going to be invited here. Lucky for him, many players withdrew their names from the tournament, and he was chosen as an alternate.

Wood played a tremendous game in both scoring and distributing the ball, while also playing solid defensively as well. He scored in the game both by getting to the hole and shooting from behind the arc, looking equally impressive in both regards. In shooting from behind the arc, Wood scored both by pulling up and spotting up, looking very impressive pulling up, exhibiting excellent body control and consistent form while on the move, keeping his accuracy up even while moving at high speeds.

In taking the ball to the hoop, Wood showed the ability to drive with both his right and left hand, and he changes directions and speeds extremely well to take his defender off balance. Wood went in and out of the defense effortlessly all game long, finding seams to dribble through and then quickly finding seams to make a pass through, making quick and smart decisions consistently. Wood looked a lot quicker in person than he did the last time we saw him, in his NCAA tournament game, which we viewed on television. He looked especially impressive with his ability to accelerate quickly after making turns or coming off a screen, allowing him to easily get the first step on his defender.

Wood's floor management and passing in the game were perhaps more tremendous than his scoring, as he dished out beautiful assists both in the halfcourt and transition, finding the seams in the defense and threading the needle on more than a handful of occasions. He kept all of his teammates involved and his team ran their plays to near perfection when he was on the floor, looking nothing like a team that's only been together for a few hours. Wood finished well at the hole, though most of his opportunities were uncontested after he got the first step on his man, and he didn't show off any extremely creative moves around the hoop, though he didn't necessarily need to, as he got the job done efficiently scoring the way he did.

Defensively, Wood played strong, in-your-face defense for most of the game, using his relatively strong frame for his size to throw the opposing ball-handler off balance and keep them from getting to the hole from stand-still isolation situations. Wood played the pick-and-rolls exceptionally well, always making the right reads and keeping the ball-handler from getting to the hole while also not giving enough space for the open shot. He communicated well with his teammates on pick-and-roll plays and displayed excellent awareness of how to defend the play that is a staple of most NBA offenses. Wood did show some struggles in some areas defensively, though, struggling when chasing his man off screens without the ball and also struggling to get in front of his man in transition, often losing the first step early and not being able to recover.

At 5'11, Wood faces an uphill battle in trying to make it in the NBA. He doesn't really remind of any current back-up point guards in the NBA, so it's tough to make a projection or comparison for his potential, though he could probably make a case that he'd be as good or better than some teams' third options, if he continues up the stellar play he's shown here at Portsmouth and in his sole NCAA tournament game. Wood has a lot of things going for him, and size aside, he possesses the complete package one looks for in an NBA point guard, with the quickness and driving ability, outside shooting ability, passing ability, court awareness, and the wherewithal to balance all of these skills as a point guard should. It will be very interesting to see Wood in the remainder of the Portsmouth tournament as well as in Orlando, which he should absolutely be invited to if he continues anything close to his current level of play. While a bit early to talk about the second round in the draft, Wood should definitely get an opportunity to make some teams in summer league, where he could find a role as a third point guard, possibly even elevating to a second-string point guard over time.
---
Zabian Dowdell, 6-3, Point Guard, Virginia Tech
22 points, 2 rebounds, 1 assist, 3 turnovers, 2 steals, 9-14 FG, 0-1 3P
Jonathan Givony
The only player to show up for the Tidewater Sealants in day one was their point guard
Zabian Dowdell
. Everyone else was absolutely awful, and it clearly affected how much Dowdell was able to show as a point guard as well.
Dowdell initially tried to run the team like a true point guard, passing up some scoring opportunities to make the extra pass. He showed terrific hesitation moves getting into the lane and kicking the ball out to open shooters or making post entry passes…the problem was besides him the team only shot 20-54 on the day. When the realization began to kick in (somewhere around 21-3 in favor of the opposing team) that he is all by himself in this mess, Dowdell began to take the game over himself and show off his individual skills. He made a living all game long with his mid-range game, using a pick to get by his man and then pulling up smoothly off the dribble for a beautiful jump-shot. He did this again and again, both in transition and in the half-court, and made a very strong impression doing so.
Speaking of transition, Dowdell was excellent as he always is here, pushing the tempo of the game and making excellent decisions. One concern we had with him, his quickness and overall athleticism, seemed to pass the eye test in day one, as he did not seem to have any problem getting to any spot he needed on the floor. He had an epic battle with day one's MVP Dashuan Wood of Wright State, certainly the highlight of Portsmouth for us so far.
Dowdell will need to get some more help from his teammates around him to come away with anything from this tournament, but regardless he's a sure-fire bet to play in the Orlando pre-draft camp based off his senior season and more.
---
Craig Bradshaw, 6'10, PF/C, Winthrop
13 points, 7 rebounds, 2 turnovers, 6-17 FG, 1-4 FT
Joseph Treutlein
Craig Bradshaw came to Portsmouth with the right mentality, to play more assertively than he'd shown at Winthrop, but he failed in the execution, making a lot of foolish decisions with the ball and not playing one of his better games. Bradshaw did manage to score 13 points on the game, with three of his field goals coming in the way of long spot-up two-pointers, two coming from easy scores around the basket, and one coming on a putback offensive rebound. For most of the rest of his attempts, Bradshaw put up ill-advised, contested fade-away jump shots and showed a very poor touch around the rim on his post moves, not what we're accustomed to seeing from him. At times he looked like he was feeling his way around in the post, getting a good feel for how his defender was defending him, but he went on to throw up poor missed shot attempts.

To Bradshaw's credit, he really did a good job trying to step out of his normal comfort zone by trying to use his scoring abilities more frequently in the game, but he was just plagued by poor decision-making in this game. He should continue to play with the same aggressiveness in the rest of the tournament, but just do a better job with taking his time in the post and not forcing the issue when he doesn't have a good shot opportunity. He also would do himself well to focus on getting his feet beneath him on all his perimeter shot opportunities, not fading away or shooting with a hand in his face as he did frequently in this game. Bradshaw's a very skilled scorer for a big man, and if he can find the right balance of using his scoring abilities and being aggressive here at the camp, he could help himself come up in late second-round pick discussions.
---
Russell Carter, 6-4, Shooting Guard, Notre Dame
14 points, 4 rebounds, 5 assists, 4 turnovers, 3 steals, 6-12 FG, 1-2 3P, 1-1
Jonathan Givony
Another of the top performers from day one,
Russell Carter
translated his skill-set and production perfectly from Notre Dame over to the Holiday Inn-Portsmouth. He did a terrific job shooting the ball all game long, hitting a number of college 3-pointers that do not count for 3-pointers in the stat-sheet since they weren't made from beyond the NBA line. Most of his shots were contested with a hand in his face, but all came within the flow of the offense and not forced. In transition he did a good job either using his strength to finish around the basket, or spotting up from mid-range. For the most part he did not look very good putting the ball on the floor today, particularly showing off his weak his left hand is. His team used him at the point guard spot regardless, and Carter did a nice job making the extra pass and being unselfish, really over the course of the entire game. The farthest he got towards the basket within the half-court sets were pulling up off one or two dribbles, though.
Defensively, Carter also had a solid outing, using his body to keep his matchup out of the paint and being very aggressive looking to step in to take the charge. NBA people around us commented that they were very impressed by the way Carter played, despite the obvious deficiencies he possesses in his ball-handling skills. Some were worried about his lack of size, though.
---
De'Angelo Alexander, 6'5, SG/SF, Charlotte
25 points, 5 rebounds, 1 block, 1 steal, 9-14 FG, 5-9 3PT, 2-2 FT
Joseph Treutlein
De'Angelo Alexander had a strong showing to start off the Portsmouth Invitational Tournament, playing within himself and off the extremely strong play of point guard
Dashaun Wood
to the tune of 25 points, including five NBA three-pointers on the game. Pretty much all of Alexander's points on the game were scored in one of two ways. Aside from the five spot-up three-pointers, the rest of Alexander's points came on lay-ups either in transitions or off cuts. Alexander only got into trouble on the game when he tried to create his own offense, pulling up for shots from deep when he didn't have his feet completely set, as he did on all the spot-up opportunities created by teammate
Dashaun Wood
.
Alexander possesses a strong frame for his size and he possesses pretty good athleticism as well. He showed these qualities off on the defensive end by playing in-your-face defense and keeping his man in front of him on most possessions. He made a steal defending his man on one occasion that he took the length of the court to convert for a transition lay-up. Alexander could have an outside shot of making the NBA as a role player, though he would do himself well to continue playing within himself, showing off his outside shooting stroke and more strong, aggressive defense.
---
James Hughes, 6-10, PF/C, Northern Illinois
11 points, 5 rebounds, 1 block, 21 minutes, 5-10 FG, 1-1 FT
Jonathan Givony
Although he probably didn't blow anyone away with his performance in day one ,there is a pretty good chance that
James Hughes
at least opened up some eyes with the way he played. Hughes is a 6-10 big man with solid athleticism, an excellent frame, and a very solid wingspan, which oftentimes is enough to draw some intrigue. Hughes ran the floor well, did a good job intimidating around the rim, and hit a few shots around the basket to keep scouts interested. He's not necessarily the smartest or more polished senior here, but he does seem to have more upside than that the average player here. We're looking forward to seeing what he can do in his next two games.
---
Game Two: Portsmouth Sports Club 74 - Beach Barton Ford 70
Ayinde Ubaka, 6-4, Guard, Cal
9 points, 6 rebounds, 7 assists, 4 turnovers, 4-9 FG
Eric Weiss
Ubaka played a solid, but a-typical game that showed his overall skills well. Ubaka has always been noted for his small flashes of brilliance and he certainly had a solid inaugural showing at the PIT in his first game. Ubaka is a combo guard in its truest sense, he's not a pure passing point guard, but he has the eye and the court awareness to make the routine and the occasional spectacular play. Watching Ubaka play tonight it was easy to tell that he was trying to show those in attendance just how well he could harness his game and show his ability to make smart decisions and run the point.

The continuity in these games is lacking because of the short time-period that the players have to get accustomed to one another and the first day at the PIT displayed this to its fullest. But although the overall rhythm and consistency of the game was lacking, Ubaka was still able to make a number of plays that stood out. Ubaka moved the ball smartly and set up a number of his teammates off of penetration into the lane with fundamental drop offs and kick outs. In transition Ubaka was able to add a bit of flare to his passing, at one point no-looking a pass behind his back to the left-side cutter on the 3 on 1 break.

Defensively, Ubaka was efficient if not spectacular. He moved his feet well and stayed in front of his man when on-ball. Ubaka didn't stand out with his team defense, but he was aware of his teammates and ready to push the tempo when his team secured the ball. More active pressure on the ball-handler would serve him well for the next two games as Ubaka doesn't have superior footspeed and would benefit from picking up his assignment at halfcourt and forcing his man to use up clock or give up the ball.

Offensively, Ubaka was fairly restrained. He has had a number of explosive offensive games during his career at Cal, using a variety of in-between shots to fill up his stat lines. In today's game, Ubaka didn't show any of his motion shooting skills. On a number of possessions Ubaka passed up a relatively easy 10-12 foot floater or foul line extended pull-up jumper in favor of setting up a teammate. It was clear from his play that Ubaka was focused on showing scouts his ability to run a team and in some ways this took away from his full ability. Still, it was nice to see Ubaka hunker down and attempt to harness the fundamental elements of his game, something that speaks to his intangible qualities.

It'll be interesting to see if Ubaka can build off this solid performance and mix in some of the more impressive plays in his arsenal. Consistency has always been a question with Ubaka, but he's had games where his skills have certainly impressed. Overall he has a long way to go before he puts himself on the NBA radar, but this was a solid start.
Others
Sean Marshall
scored 22 points on 9-23 shooting. He ran the floor extremely well, played very hard, pulled down 5 offensive rebounds and was about as aggressive as you could ask for. Although his shot selection wasn't the best, Marshall came out here to make a strong impression and did a nice job in day one.
Dan Nwaelele
scored 10 points in 18 minutes, shooting the ball efficiently and doing a nice job minimizing mistakes. His stroke is amongst the purest of any players here, but he clearly needs to work on his quickness and ball-handling.