Los Angeles Clippers president Andy Roeser and other NBA executives fielded questions during a conference call after the ping-pong balls bounced in his team's favor.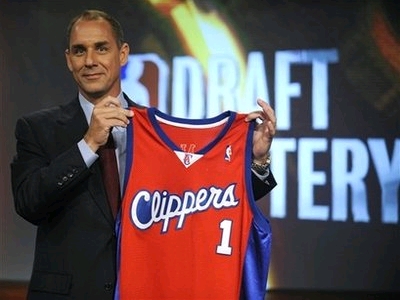 Andy Roeser:
We're excited, especially for our fans. I haven't had a chance to talk to Coach Dunleavy but we're going to be on the phone soon. Just feels great to get a player that's going to help us in the long-run.
Question: Take us through your mindset the last few minutes, especially when they went to that long commercial break. It must have seemed endless to you.
AR:
When Memphis popped up in the top three of course, when they popped out of place, I thought I just don't want to hear them say our name. And so, it was a long break, but it all worked out.
Q: Can you talk about Blake Griffin and how there's a lot of expectations that he's probably going to be your guy? I'll assume you guys will do your due diligence as well.
AR:
We're going to do our due diligence and we're going to pick the best player in the draft, and a lot of people think that that is
Blake Griffin
. Again, I would certainly like to at least sit with Mike [Dunleavy] for a minute before we make that decision, but he's a terrific athlete, strong, a terrific person, and I think any franchise would be happy to have
Blake Griffin
for a long time. I also think a lot of people are going to be happy with the other players in the draft, like
Ricky Rubio
, Thabeet. I think the teams that pick those guys are going to end up being pretty happy in the long-run.
Q:How many times have you seen Blake play away from TV, what are his major assets?
AR:
Well, he's just athletic as can be. I think you should talk more to some of our basketball people, Coach Dunleavy, Neil Olshey, who have seen him a lot more than I have. You know our scouts have seen him a ton this year and they just rave about him athletically. He's strong, he's quick, he jumps, he helps change games for you, and they think he's going to be an impact player.
Q:I guess it is not a good problem, you have a lot of bigs as well.
AR:
No, it's not a good problem, it's a great problem. Any problem that we have today is a great problem. We had a little bit of a rocky season; I know the lottery is always the first step into next season. Today is a great day for us. We're starting next season today. We starting off in the position we want to be in: controlling the draft. We'll take the best player, and we'll see how that impacts the rest of our team going forward.
Q: With the best player, if healthy, how good can you guys be?
AR:
Well, I think we can be a very good team next year. I think we need to do some things differently. Baron Davis didn't have a particularly good season. He knows that, we know that. I talked to him the other day. He's determined to make sure he comes back and has a better season. I think that will help our team. I think Mike [Dunleavy] is talking about doing some things differently that will help make us a better team. With the best player in this year's draft, I think we're in a pretty good spot.
Q: Did you have a chance to meet Blake when he was in Los Angeles accepting the Wooden Award?
AR:
I didn't. I think I was out of town when he was in town.
Q: Are you a superstitious person? Did you do anything special; bring anything with you to bring you some luck?
AR:
I'm not a very superstitious person. I just had a very, very good feeling. I had a chance to talk with Donald and Shelly [Sterling] before I left and they had a good feeling. We all kind of shared a good feeling. My wife did give me my coat with a number one in the lining, so she had a feeling that we'd be getting the number one pick too.
Q: What are the chances you have [Zach] Randolph, [Marcus] Camby, and [Chris] Kaman on your team when next season begins?
AR:
I haven't even had a chance to think about those types of things yet. We like the nucleus of our team, and that's something that we and the basketball staff need to sit down and talk about with Coach Dunleavy who is over in Europe. He's on his way home in the next day or two. I haven't had a chance to talk with him tonight about what those implications are. That's something that we're going to answer pretty quickly and figure out.
Q: What do you think, other than this pick, is the biggest question facing the Clippers?
AR:
Your question is how do they all play together? I think the first thing you do is get basketball players on the team. Get some players that can play and you worry about positions after that. Again, that is something for Coach Dunleavy to look at and we'll figure it out.
Q: When do you really want to hone down on this pick, a week before the draft?
AR:
It shouldn't take us that long to figure out what we want to do with it. We'd like to get together and share that with the owner before we share it with the world.
Q: You can see it on your face how much this meant to you. How much do you need this after what you guys endured last season?
AR:
We had a tough season. There's no hiding from it. Not only did we have a tough season, but we didn't perform well. What makes it all the more frustrating is that we had enough talent to do better than we did. Now we have more talent and that's a good thing for us. We needed some good news, and this was a good day for us.
Q: What do you think the chances are that you would trade the number one pick?
AR:
I will look forward from hearing from all 29 teams before we likely keep the pick. In terms of percentages, you never know. You never know what our crazy partners in this business will do, but the likelihood is that we'll keep the pick.
Q: What would it mean for the franchise to have that marquee player, a star, especially in that market?
AR:
Stars don't come along that often, and when they do, you have to realize how fortunate you are to have gotten one, so it means a lot to the franchise for the long-haul.
Q: A few years ago, when the Bucks got the number one pick, in between then and the draft they fired their Head Coach Terry Porter. I'm just curious if Mike Dunleavy is definitely going to be opening camp for the Clippers this year.
AR:
We have every intention of opening camp with
Mike Dunleavy
this year, but I think we have every intention of approaching some things differently to. He and I have had quite a bit of time to talk since the season has been over. I think he'd like to see us play a little more up tempo than we did last season, be a little more active scoring. I think it will be a much more entertaining brand of basketball for our fans.
Q: Are you guys going to have a Summer League team? Vegas I presume?
AR:
Yes, Absolutely.
Q: Are you planning on making the pick public before the draft?
AR:
I'm just thinking about how to enjoy this fabulous evening.
Q: What will you be doing?
AR:
Probably talking to Donald and Shelly Sterling and returning a bunch of e-mails, phone calls and talking to
Mike Dunleavy
and Neil Olshey as well.
Q: Are you stealing the spotlight from the Lakers tonight?
AR:
A minute ago they were down by 15, now they're only down by 6, so I'm not sure we've stolen the spotlight. A couple years ago we were playing in the playoffs while the lottery was being conducted, and quite frankly, I'd rather be in their position today than ours. Our goal next year is to be playing when this lottery takes place. It is just a good day for us and a good day for our fans.
---
Sam Presti, Oklahoma City Thunder
Executive Vice President
Third Overall Pick
Q: What are your thoughts on the evening?
Presti:
We're excited to have the opportunity to add another player to our team that can grow with our group. And we feel like they'll be a great opportunity to add a key piece. It's going to be imperative that our players come back better. We're confident that we've been able to accumulate guys that like to be in the gym, and we'll try to add somebody else that will fit with that group.
Q: What does this mean for Oklahoma City?
Presti:
It's great for our fans. Our fans have been unbelievable. They've been incredibly supportive of our team and our vision for the organization, and I'm sure they'll be thrilled as we go through this process leading up to the draft, and excited to welcome someone else into the Thunder family.
Q: Is this an exciting time for you?
Presti:
Sure. I'm very fortunate to do what I love to do. Every aspect of my job is exciting. Sometimes there are days that are tougher than others. But, we're all very lucky to do what we do, and the draft is an exciting time. It's a chance to get better and that's what everybody in the NBA is after.
Q: Do you have your heart set on making this pick, or is a trade an option?
Presti:
Anytime you go into any draft, you have to keep your options open. We wouldn't be doing our jobs if we didn't. We'll continue to evaluate the players and have discussions about the pick. But, we also feel that we'll be able to get someone who'll be a good fit for our organization.
---
Scott Brooks, Oklahoma City Thunder
Coach
Third Overall Pick
Q: What are your feelings about getting the third pick?
Brooks:
I'm very excited. It's a great day for our team. We are going to add another good young piece to a team that is going to get better, going to improve.
Q: What are the Thunder's needs?
Brooks:
Like most NBA teams, we need more shooters. We could use some guys that can block shots. We feel that our number one need, and I told the guys in our exit meetings, that they have to get better. We have to come back better players. If they do that we will be a much better team next year.
Q: Any good luck charms?
Brooks:
My daughter is eight and she loves making silly things that I have to wear. She gave me the opportunity to bring a bracelet and it says Daddy on it, which is great. When you're away from family the way we are its good to bring a little piece of your children with you.
---
Chris Webber, Sacramento Kings
Legend
Fourth Overall Pick
Q: Do you think the Lottery system works since four or five years in a row the team with the worst record doesn't get the top pick?
Webber:
I love the system. The worst team shouldn't always get the best player. You could do a lot of losing for that. I really like the system. I think our system is very fair. It's just unfortunate that I didn't get what I want today as a Sacramento fan and Oklahoma didn't get what they want, but I think the system is fair.
Q: Do you look at it and say, that's how the year has gone for us?
Webber:
The Kings asked me to come and I told them that I didn't know what I could do about it. With these drafts, it really has to just be your year. The Clippers have had their year a few times and as a basketball fan, I hope they make the most of this year.
Q: You got to watch a lot of college basketball. What do you think of Blake Griffin?
Webber:
I love Griffin's game. I was just talking to Jay Bilas about him and he was telling me his height is what it is listed and he is a hard worker. I love big guys. You know KG [Kevin Garnett] is one of my favorites and Tim [Duncan] and those guys, and I think he is cut from that cloth. We'll see how it goes. He has a lot of pressure on him, but I like the kid and hopefully he has a fun career.
---
Allan Houston, New York Knicks
Assistant to President of Basketball Operations
Eighth Overall Pick
Q: How did it feel to represent your team tonight at the Draft Lottery?
Houston:
It was an honor to represent the Knicks, seeing that we're in a stage where people are excited again. People are excited to come back to Madison Square Garden again and this is a part of that process. I'm excited to be a part of that.
Q: What position will your team look to fill with this pick?
Houston:
The good thing about being here is that you're going to have some very good players that are going to be available, especially at the eighth pick. I think everyone projected at this position are all good quality players, so that's the thing that's exciting to me.
---
Rod Thorn, New Jersey Nets
President
11th Overall Pick
Q: Last year you picked 10th and wound up with Brook Lopez. That worked out pretty good. What are some of the difficulties of picking in this range?
Thorn:
Well, it's different, although I do think this year, other than maybe the first pick, there's a difference of opinion among a lot of teams as to who they would take. Somebody that we may think is the fourth or fifth player in the draft may drop to 11 based on differing opinions about different players.
Q: Is power forward a definite need for your team?
Thorn:
Not particularly. We've got a couple of good, young power forwards who had some good moments for us last year. We're certainly hopeful that they'll continue to get better.
Q: Was this kind of what you expected?
Thorn:
Well, I was expecting to get into the top three, and it didn't work that way. I'm just happy we didn't fall to lower than 11. It was interesting, in that, until Golden State at seven, form held, and then it went crazy.
Q: You've said you've already done a lot of work on this draft. How far along do you feel you are at this point?
Thorn:
We're pretty far along. We still have a month to go and a lot of work to do. But, if the draft were held next week, I think we could make a reasonable pick.
Q: Everyone seems to think that this draft isn't as deep as it was last year. Do you have confidence that you can get a guy who makes an impact?
Thorn:
Well, Brook (Lopez) made a big impact. He started for most of the year and ended up doing really good things. Hopefully you get a guy who can make that kind of impact, but that doesn't normally happen every year. Some player picked at 11 or even lower will be a really good player in the NBA. That's the way it always works.
---
D.J. Augustin, Charlotte Bobcats
Player
12th Overall Pick
Q: How was this experience for you?
Augustin:
It was a great experience. I got the chance to see what happens behind the scenes at this event, and all the hard work that goes into putting it together. It was fun.
Q: Your team has a good, young nucleus. Are you hopeful of adding another piece to that equation?
Augustin:
I have faith that Coach (Larry) Brown, Michael Jordan and Rod (Higgins) are going to make the right pick for our team, and that we'll get a player that will help us out a lot.
Q: How would you describe a Larry Brown type player?
Augustin:
A Larry Brown player is a guy who's going to play hard and will accept teaching. It's someone that's going to work hard and want to learn.
---
Larry Bird, Indiana Pacers
President of Basketball Operations
13th Overall Pick
Q: What are your thoughts on tonight's outcome?
Bird:
We had less than a one percent chance of winning, but a lot of it is luck. It's unfortunate for Sacramento, having a 25 percent chance, moving down to four, but that's the way it goes.
Q: What position will your team look to fill with this pick?
Bird:
We know what group of guys is going to be there and we're going to get a good player, so we're not really concerned about it.