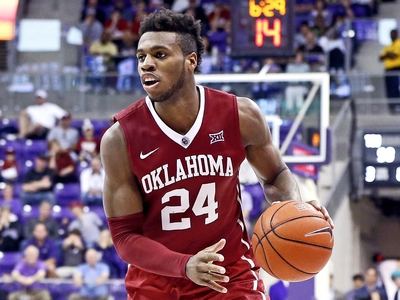 Presented by Powerade
It doesn't take more than a few minutes of watching a NBA playoff game to realize how important outside shooting has become to the way the game of basketball is evolving these days. Great shooters open the floor for their teammates to operate and make the offense flow much more smoothly. Though many of them play far different roles, it isn't hard to identify the NBA's best shooters. It is a far tougher task to project which players in this upcoming draft class will reach the upper echelon of perimeter marksmen, as evaluating their pedigrees, mechanics, and upside is a highly subjective proposition.
Players who can sit in the corner and knock down open shots are valuable commodities in today's NBA, but without teammates who can actually create those looks, their value would be diminished into almost nothing since the defense would have no reason to actually leave them open. Every NBA game you watch is a chess match, a give and take of opposing strategies and decisions with adjustments made on the fly based on what coaching staffs and their trusted playmakers are seeing on the court on every possession.
The best creators in the NBA are not only great athletes who can get to the rim at will, but also are capable of pulling off the dribble and punishing the defense. This is arguably a much more difficult and important skill to have – it's incredibly difficult to slow down a great off-the-dribble shooter with a quick release who can create an open look in a flash.
With that said, how do we evaluate who the best shooters available in this draft class are, and what are some of the parameters we should consider when ranking them in an objective way? Here are some of the measures we came up with, with an explanation for why we isolated each stat, along with a look at the top five players in both the NBA, and the 2016 NBA Draft in each category.
Please note that this is not an exhaustive study including all of the best shooters in college basketball or even in the 2016 NBA Draft Class. The only players included in this subset are those deemed to "draftable" NBA prospects. Players like Max Hooper (6-6, SG, Oakland, 3.3 3s made per game, 46% 3P%), Max Landis (6-2, SG, IPFW, 3.8 3s made per game, 46% 3P%), Bryn Forbes (6-3, SG, Michigan State, 3.2 3s made per game, 48% 3P%) for example were excluded, amongst others.
For the purpose of this article, we also only honed in on those who ranked at top of the various categories we studied, which is why you won't see many mentions of the likes of Marquese Chriss, Malachi Richardson, Wade Baldwin, Timothe Luwawu and to a lesser extent Brandon Ingram, who weren't incredibly efficient, prolific or well-rounded this past season, but are still likely to get drafted in the top-20 in part due to their potential as shooters.
Brandon Ingram Season Shot Chart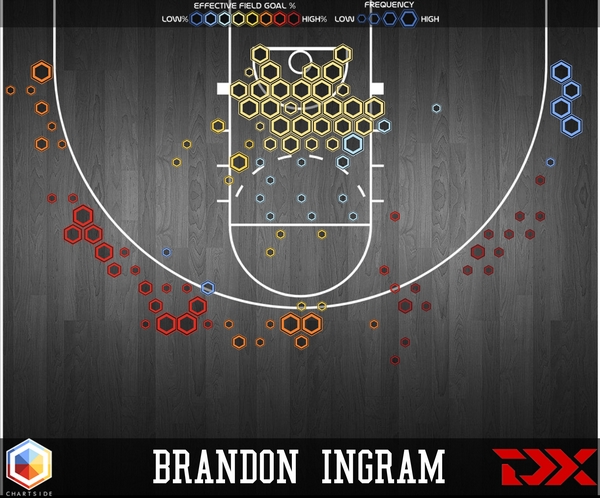 Data Sources: Synergy Sports Technology, and DraftExpress Blue
3-pointers Attempted Per-40 Minutes
Methodology:
Any player can go out and jack up a million 3s without conscience, but if that strategy doesn't prove to be effective for winning games, there is little doubt that the players' teammates and coaching staff would quickly pivot away from it. As we can see in the NBA, many of the players we'd consider to be the best shooters in the league are indeed those who heave up the most shots on a per-minute basis. Studies have shown that the volume of a player's attempts in college actually tell us more about what kind of shooter he will develop into than his actual accuracy, which can be swayed easily by the small sample size of the NCAA season.
2016 NBA Draft Leaders:
Buddy Hield - 9.8 (46%)
Denzel Valentine - 9.2 (44%)
Jamal Murray - 8.7 (41%)
Isaiah Whitehead - 8.1 (36.5%)
Timothe Luwawu - 7.1 (36%)
NBA Leaders:
Stephen Curry - 13.0 (45%)
Mirza Teletovic - 10.9 (39%)
Klay Thompson - 10.0 (43%)
Damian Lillard - 9.2 (38%)
J.R. Smith - 8.5 (41%)
Buddy Hield Season Shot Chart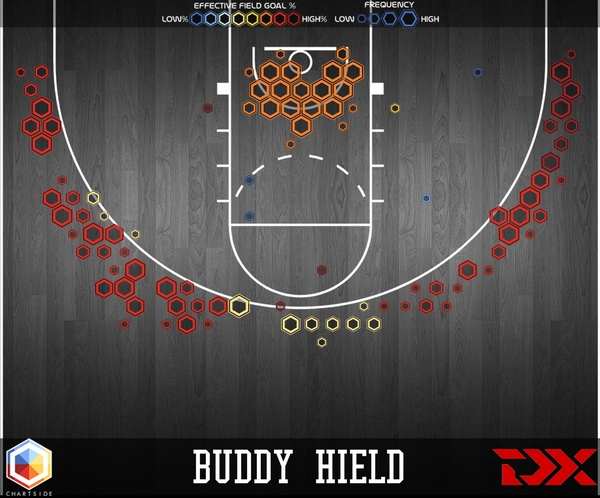 3-Point Percentage
Methodology:
While per-minute attempts is an interesting stat, it's important to realize that not every player is in position to heave up a huge amount of outside shots because of their role on the team, style of play, or perhaps a lack of confidence in their ability to make 3s. In a perfect world, we'd be looking for a player who can hit a barrage of outside shots at a great clip (hey, Buddy), but NBA teams also like players who know their role and are willing to play within the confines of a system. In parenthesis, you'll find the player's 3-pointers attempted per-40 minutes this year.
Brannen Greene – 49% (6.8)
Buddy Hield – 46% (9.8)
Caris LeVert – 45% (5.5)
Denzel Valentine – 44% (9.2)
Kyle Wiltjer – 44% (6.9)
NBA Leaders
J.J. Redick – 47% (8.0)
Stephen Curry – 45% (13.0)
Kawhi Leonard – 44% (4.9)
Jerryd Bayless – 44% (6.1)
Klay Thompson – 43% (10.0)
Brannen Greene Season Shot Chart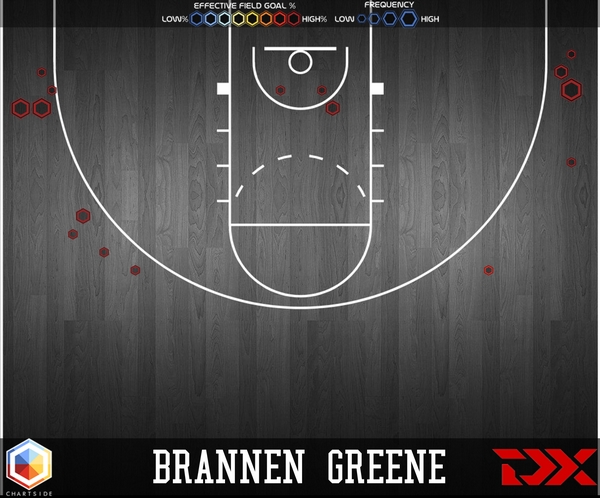 Free-throw Percentage
Methodology:
While it may seem strange to isolate a player's ability at the free-throw line and attempt to extrapolate it to their overall shooting prowess as a whole, there is certainly a method to the madness here. Historical draft studies consistently show that a player's free-throw percentage in college tells us just as much about a prospect's shooting acumen, if not more, than his 3-point percentages do. The explanation here again revolves around sample size (some of the prospects in this study shot only around 100 3-pointers this season), as well as the fact that shooting form, touch, hand/eye coordination and other factors that many great free throw shooters have overlap quite neatly outside the charity stripe as well.
Malcolm Brogdon (90%)
Buddy Hield (88%)
Cat Barber (86%)
Tyler Ulis (86%)
Kyle Wiltjer (85%)
NBA Leaders:
Stephen Curry (91%)
Chris Paul (90%)
Kevin Durant (90%)
Dirk Nowitzki (90%)
Damian Lillard (89%)
Catch-and-shoot points per-40[
Methodology:
This stat tells us a bit about the different prospects' role on their former team, as well as their readiness for operating within the confines of an NBA system. These players mostly had narrowly defined duties as floor spacers for their respective teams. For good measure we threw their points–per-shot average in parenthesis, to give you a better idea how accurately they were able to accumulate the scoring numbers they put together in catch-and-shoot situations.
Jamal Murray - 8.3 (1.36 PPS)
Furkan Korkmaz - 7.8 (1.33 PPS)
Brannen Greene - 7.7 (1.42 PPS)
Dragan Bender - 7.5 (1.18 PPS)
Brandon Ingram - 6.6 (1.24 PPS)
NBA Leaders
Mirza Teletovic - 10.5 (1.13 PPS)
J.J. Redick - 10.1 (1.40 PPS)
Klay Thompson - 9.9 (1.21 PPS)
Nikola Mirotic - 8.7 (1.20 PPS)
Dirk Nowitzki - 8.6 (1.01 PPS)
Jamal Murray Season Shot Chart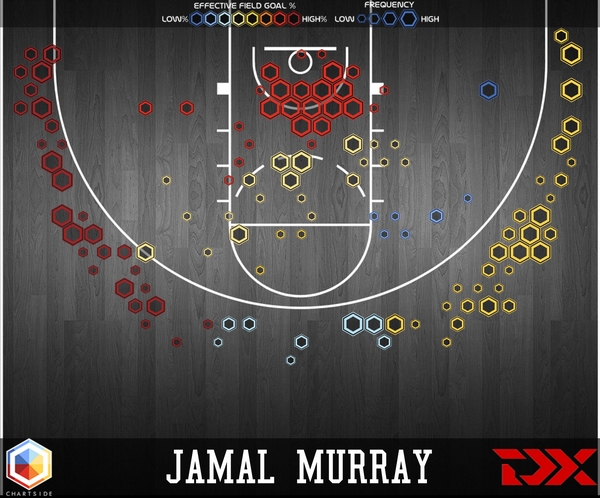 Pull-up jumper points per-40
Methodology:
As we discussed in the intro, it's quite a bit more difficult to score points efficiently when players are forced to create offense on their own. As evidence, the NBA sample set below includes some of the league's best pure scorers, including the absolutely ridiculous Steph Curry, who dwarfs the entire league in this category when taking efficiency into account. Denzel Valentine deserves special attention for the incredibly prolific and efficient way he was able to make shots off the dribble, as he was light years ahead of the player who scored the most points in this particular sample (Cat Barber) in terms of points per shot (PPS). Interestingly, the player who would have ranked #1 in this category at 6.7 points pull-up points per-40 (1.08 PPS), 20-year old Swedish point guard Ludde Hakanson who plays in the ACB for Seville, elected to withdraw from the draft at the deadline last week.
Anthony Barber - 5.6 (0.82 PPS)
Denzel Valentine - 5.4 (1.09 PPS)
Isaiah Whitehead - 5.0 (0.98 PPS)
Tyler Ulis - 4.8 (0.92 PPS)
Kahlil Felder - 4.5 (0.85 PPS)
NBA Leaders:
Chris Paul - 9.5 (0.97 PPS)
Stephen Curry - 9.3 (1.20 PPS)
Kyrie Irving - 7.7 (0.96 PPS)
C.J. McCollum - 7.6 (0.97 PPS)
Damian Lillard - 7.2 (0.93 PPS)
Denzel Valentine Season Shot Chart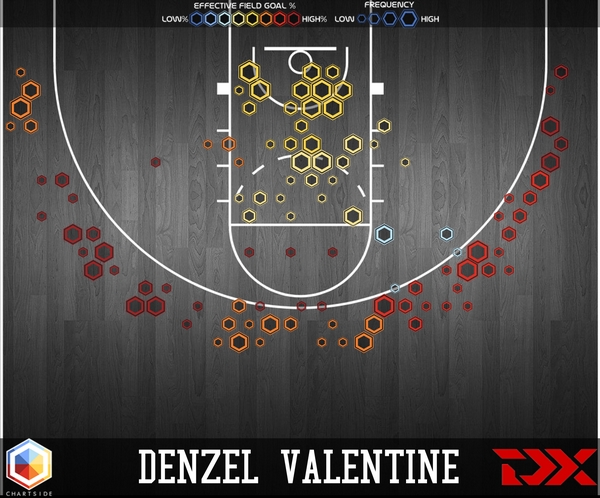 Overall jump-shot points per-40
Methodology:
This is simply an index of all points the different prospects were able to score off jumpers on a per-40-minute basis, be it from catch-and-shoot situations, off pull-ups, and also from what Synergy describes as "early jumpers." These "early jumpers" aren't quite catch-and-shoot jumpers or true pull ups, as they often involve a few seconds of a player sizing up their opponent, possibly with a jab-step or casual dribble thrown for good measure, before heaving up a jumper, and thus don't fit into either category neatly. This is a nice composite look at pure production of the different jump shooters, regardless of how they got their offense.
We get another appearance from Turkish wing Furkan Korkmaz, whose per-minute production and efficiency as a jump-shooter is impressive considering the level of competition he played at while only being 18-years old. Once again, the NBA sample confirms that we are looking at something of great value IF these players were able to translate their jump-shooting scoring prowess to the next level.
Denzel Valentine - 12.1 (1.18 PPS)
Buddy Hield - 11.5 (1.22 PPS)
Jamal Murray - 11.1 (1.12 PPS)
Kyle Wiltjer - 9.7 (1.21 PPS)
Furkan Korkmaz - 9.4 (1.26 PPS)
NBA Leaders:
Stephen Curry - 16.5 (1.26 PPS)
J.J. Redick - 15.4 (1.18 PPS)
Klay Thompson - 13.9 (1.12 PPS)
Chris Paul - 13.2 (0.98 PPS)
C.J. McCollum - 13.0 (1.05 PPS)
Kyle Wiltjer Season Shot Chart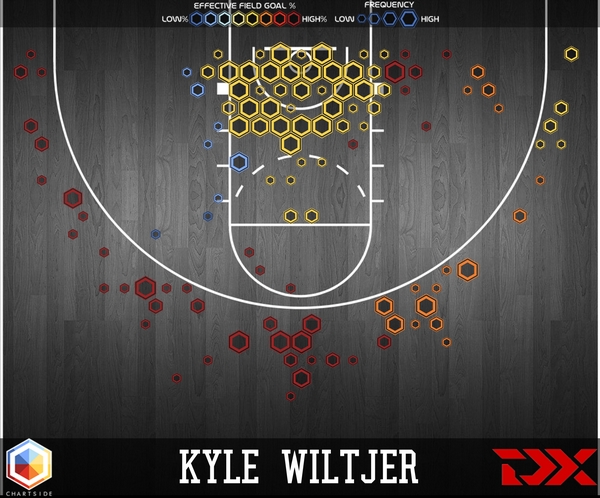 Points per shot on jump-shot attempts
Methodology:
This is a pure efficiency measure, a look at how effectively the prospects in our data set were able to put the ball in the basket in jump-shooting situations regardless of shot type. For good measure we threw in the number of 3-pointers they attempted per-40 minutes, to give you an idea of the volume of shots they took, an important component in evaluating a players' efficiency. Obviously the more attempts a player averages, the more difficult it is to convert at a great clip.
Brannen Greene - 1.32
Furkan Korkmaz - 1.26
Jake Layman - 1.24
Buddy Hield - 1.22
Kyle Wiltjer - 1.21
NBA Leaders (min. 5 attempts per game)
Stephen Curry - 1.26
Omri Casspi - 1.18
J.J. Redick - 1.18
Jerryd Bayless - 1.17
Doug McDermott - 1.14
Jump-shot points per possession over degree of difficulty
Methodology:
This is a unique stat compiled by DraftExpress director of operations Matt Williams, an index composite based on the expected shooting percentage of all the shot types we studied based on the group average of our sample. To compile it, he averaged the efficiency of all the shooters we looked at in the different situations we studied, and then weighted in how they performed with the attempts they averaged. Players who took and made the biggest quantity of high-degree-of-difficulty shots based on how the group as a whole performed rank highest here.
Buddy Hield and Denzel Valentine continue to rank among the top shooters in virtually every category. It would have been very interesting to see Brannen Greene in a different setting, with more minutes and freedom, as he looks extremely impressive in a number of areas, as well as on film, but only played 12 minutes per game.
Buddy Hield +0.24
Brannen Greene +0.21
Denzel Valentine +0.20
Furkan Korkmaz +0.17
Kyle Wiltjer +0.16
NBA Leaders:
Stephen Curry +0.26
J.J. Redick +0.12
Kawhi Leonard +0.10
Jerryd Bayless +0.09
C.J. McCollum +0.07
Overall shooting rankings
1 Buddy Hield
2 Denzel Valentine
3 Kyle Wiltjer
4 Jamal Murray
5 Furkan Korkmaz
6 Brandon Ingram
7 Brannen Greene
8 Dragan Bender
9 Malik Beasley
10 Malachi Richardson
This last ranking is entirely subjective, and takes into account everything we discussed above, as well as additional factors like size, level of competition, role on their team and age, which could leave room for future improvement. NBA teams will also look at other components when ranking prospects in the draft as a whole, specifically defense, which is a crucial element we did not discuss that will play a huge role in whether many of these players will even see the floor at the NBA level.
Malik Beasley Season Shot Chart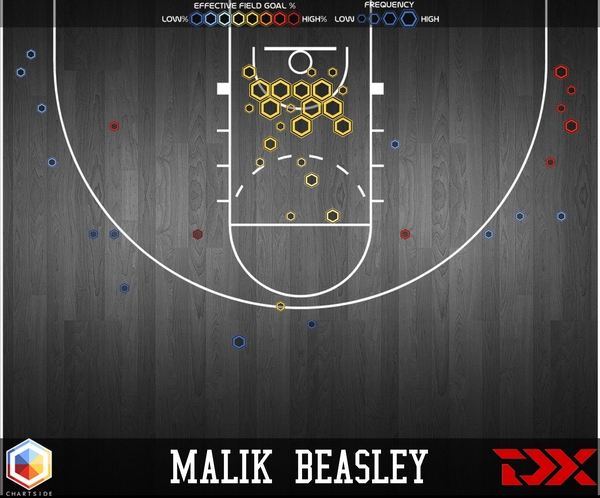 Malachi Richardson Season Shot Chart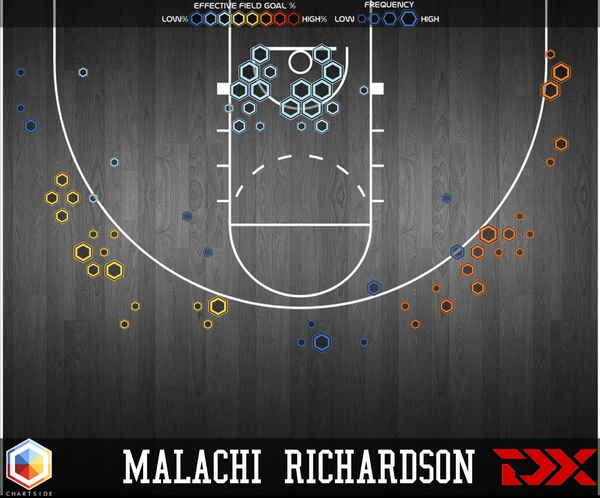 Dragan Bender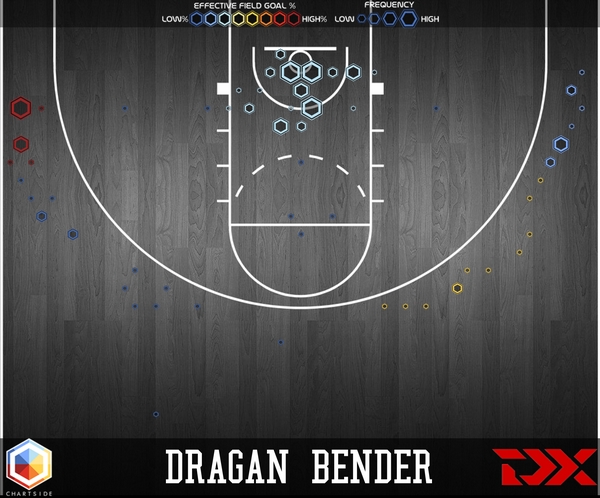 For more basketball coverage be sure to check out Complex's NBA Draft comparisons piece.