Derek Bodner
Bowling Green senior
Richaun Holmes
has come on strong for the Falcons over the last two years. Holmes, who played his freshman season at Moraine Valley Community College, saw only 18.7 minutes per game after transferring to Bowling Green for his sophomore season. After showing some promise during his sophomore year, Holmes' minutes jumped to 32 per night as a junior, becoming one of the better two-way players in the Mid American Conference.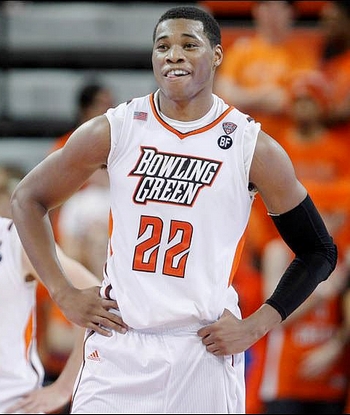 Holmes' improvement on the offensive end over his three seasons at Bowling Green has been the most stark change in his standing as a prospect, averaging 20.4 points per 40 minutes pace adjusted during his senior season, the best of his career. When Holmes arrived at Bowling Green, he was a skinny, athletic project with an unrefined back to the basket game and without much from the perimeter. Over the years, that outside shot of Holmes' has improved considerably. Holmes free throw shooting has gone from 62% his sophomore season, to 70.6% as a junior and 71.2% as a senior. Perhaps more importantly for his stock, Holmes has slowly developed three point range on his shot. Holmes shot 30-83 from three point range over his last two seasons at Bowling Green. While that sample size is still very low, it's enough to inspire confidence in his continued development as a jump shooter going forward.
That increased threat as a jump shooter opens up what is perhaps Holmes' most translatable skill on the offensive side of the ball: his threat as a face-up power forward. Holmes is 6'10" and a tremendous athlete, with a good first step and terrific quickness getting off his feet. While his ball handling is still a work in progress, and he's prone to having his pocket picked by guards when attempting to go off the dribble, his ability to beat his man makes him a tough matchup at the collegiate level.
Holmes has also continued to develop his post game, which currently makes up nearly a third of his offensive possessions. He's improved his effectiveness in the MAC, with a good touch on a jump hook over his left shoulder which is tough to guard as a result of how much elevation he gets, and an ability to face-up and take his man off the dribble if the opportunity presents itself. His footwork, counter moves, and post repertoire is still not overly advanced, but what he does, he does fairly well.
More likely to translate to the next level is his ability as a scorer off the ball. Holmes is a strong offensive rebounder, collecting four offensive rebounds per 40 minutes pace adjusted. Holmes does a terrific job of converting these opportunities, as he's very quick off of his feet and has added some much needed strength to his frame over the years to help him finish through contact, although this is an area where he still has some room to grow. Holmes also moves well off the ball and functions as a good pick and dive threat due to his athleticism, although he sometimes struggles to gather the ball cleanly.
Despite the strong strides Holmes has made over the years on the offensive end, his biggest impact is on the defensive end, where he earned the MAC Defensive Player of the Year award this past season. Standing 6'10" with a 7'1.5" wingspan and a 9' standing reach, combined with a 34" no-step vertical, as measured at the Portsmouth Invitational Tournament earlier this month, Holmes has the physical tools needed to make a significant impact defensively.
His length, explosiveness, and quickness off his feet, combined with good instincts and timing as a shot blocker, allowed Holmes to block 3.8 blocks per 40 minutes pace adjusted, tied for the 4th best figure in our database and just below the 4.2 per 40 minutes pace adjusted that Karl-Anthony Towns posted. The level of competition in the MAC, combined with a weak non-conference schedule, has to be factored in here, but Holmes has the physical tools, effort level, and instincts to make an impact on this side of the court.
Holmes other major area of contribution is on the defensive glass, hauling in 7.4 defensive rebounds per 40 minutes pace adjusted, pretty easily the best number in his Bowling Green career. That's once again an above average number for big men in the top-100 in our database. Holmes uses his length well on the defensive glass, doing a good job of boxing out and grabbing the ball at its highest point. He could stand to add more lower body strength, as he can be moved off his spot at times, something that also shows up in his otherwise strong post defense.
Despite transferring to Bowling Green after his freshman season,
Richaun Holmes
is still extremely young for his class, as he does not turn 22 until October, making him one of the youngest seniors in our rankings. His relative youth, combined with his incredible physical profile and the improvements he has shown over the last two seasons suggest there may be a great deal of growth potential left before he reaches his ultimate upside. With a strong Portsmouth Invitational Tournament in his belt (14.7 points, 7.7 rebounds, 3.7 blocks on 61.3% shooting in 25 minutes per game, and the third highest PER recorded in the last 15 years), Holmes has started off the draft process strong, and will likely be in line for an invitation to May's NBA Combine.
If somebody believes that he could continue to refine his perimeter shot and show development as a face-up threat, his defensive tools could easily get him drafted come June, and, if not, he will be firmly in the mix competing for a roster spot in summer league.