Josh Riddell
The
14th ranked player by RSCI
in 2013,
Rondae Hollis-Jefferson
had two productive seasons at Arizona, although they both ended in similar fashion with losses to Wisconsin in the Elite Eight. Being named to the -
Pac-12 All-Conference First Team and All-Defensive Team
, Hollis-Jefferson didn't dominate any single aspect of the box score but his presence was felt all over the court and he was a key piece of the Wildcat team in both seasons.
(Video may not load with Internet Explorer. Use Chrome or Firefox)
Hollis-Jefferson is a great athlete, measured at 6'7" with a long 7'0.5" wingspan with a strong frame as well. He will be able to match up athletically with many wing NBA players, as his combination of strength, quickness and explosiveness will be difficult to match. He complements his athleticism by playing with high energy, going full speed almost all game while bouncing all around the floor.
Hollis-Jefferson isn't a prolific offensive player at this point in his career and his
14.8 per 40 minutes pace adjusted
ranked near the bottom of all players in our top-100. Most of his offense is derived from his athleticism and energy, as he runs the floor well in transition and is constantly cutting to open spaces in the halfcourt to get easy baskets. He finishes well around the rim, at a clip of 56.3% according to Synergy Sports Technology, as he uses his leaping ability to play above the rim. He absorbs contact well and can finish while drawing a foul, with his
7.1 free throw attempts per 40 minutes pace adjusted
ranking as the most of any small forward in our top-100.
(Video may not load with Internet Explorer. Use Chrome or Firefox)
He doesn't create well off the dribble in the half-court as he looks tentative at times catching the ball in an attacking position from the perimeter. When he has a head of steam in transition, he is capable of getting to the rim through a quick, straight-line drive, but he isn't always able to do so against a compact half-court defense. He can make plays off the dribble based on his athleticism alone at times, but struggles when challenged defensively. He isn't great utilizing his off-hand, and he doesn't have great ball-handling skills to get past his defender in tight spaces.
More concerning is the fact that he isn't much of a jump shooter, as his inconsistent form prevents him from being reliable from any kind of range at this point in his career. He made just six of 29 three point attempts this season (20.7%),
the lowest among small forwards in our top-100 rankings
and just 36.3% of all jump shots according to Synergy Sports Technology. His shooting mechanics need serious work, possibly a major overhaul, to turn into any type of shooter opponents need to respect.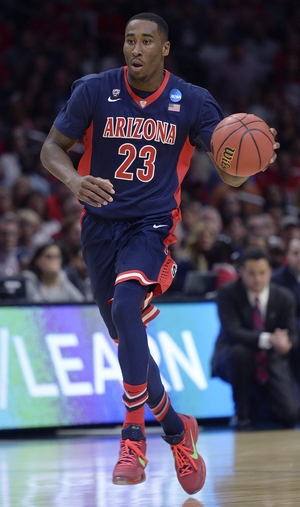 Hollis-Jefferson was one of the best defenders in college basketball, and will need to make his mark on this end of the court at the next level as well. While he guarded multiple positions in college, he was best matched up against wings, where he can match their quickness and bother them with his strength and wingspan. He is locked in on this end of the court, taking pride in shutting down the opponent's best scorer. He moves his feet well to stay in front of dribble penetration and can finish the play with a strong contest of the shot, blocking
1.1 shots
per 40 minutes pace adjusted.
Surrounded by great rebounders, Hollis-Jefferson was able to contribute on the glass on both ends of the court averaging 9.0 total rebounds per 40 minutes pace adjusted,
fifth among small forwards in our top-100 prospects
. He crashes the glass hard, tracking down rebounds outside his area and exploding to meet the ball at its highest point to be first to the rebound.
At the NBA level, Hollis-Jefferson has the potential to be a great role player for a team with his lockdown defensive ability and the energy he will bring. His current offensive tools don't project him to be anything more than a role-player at best, but if he can improve his perimeter skill-set, he could turn into a more well-rounded player. Many NBA teams will be itching to have a player with his athleticism and motor and Hollis-Jefferson should be able to contribute on both sides of the court.