To know
Ben Hansbrough
the opponent is to hate him.
To know the man is to respect him.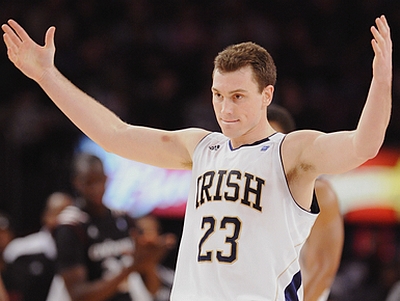 When your own coach – a man who patrolled the sidelines during the early 90's glory days of Duke basketball – compares you to
Christian Laettner
, that's saying something. It's at once being revered and detested. Loved and loathed. Abhorred and admired.
To know
Ben Hansbrough
, is to know these things.
The player dubbed "Psycho B" – homage to his gritty style of play as much as it is to his more famous older brother Tyler (of the Indiana Pacers) – Hansbrough's career has been one born of so many clichéd Hollywood scripts: the overachiever clearing one hurdle after another. Even on the heels of being named the 2011 Big East Player of the Year and leading Notre Dame on a wildly unpredictable ride into the upper echelon of the national rankings, the 6-foot-3 pit bull of a guard remains out of sight and out of mind in many NBA circles following a sprained ankle suffered just before the NBA Combine in Chicago.
Still, he persists.
"People questioned my ability to play at the Division 1 level, but that's part of the game, you're always going to have doubters," Hansbrough says. "It's just fuel for my fire. Ultimately I do this for myself. I want to be the best player I can be. You can do something to prove people wrong, but it really comes down to my drive to want this."
It's easy to be fooled on the surface. Slightly taller than the average man and possessing the kind of boyish charm that harkens back to his high school days in Poplar Bluff, Missouri, Hansbrough's exterior belies the dogged competitor beneath.
"There's a drive and a will to compete on a daily basis which I think is a little freakish," says Notre Dame head coach Mike Brey. "He and Tyler are certainly cut from the same cloth, there's no question about it. You just do not see it in sports or really anywhere, but when you do, you see a really successful guy."
The comparisons are inevitable if not unwarranted. They are vastly different players. Tyler, a gritty, workhorse of a power forward. Ben, a point guard whose game has transitioned from spot-up shooter to scoring facilitator over the last five years. But it is their intensity that has defined them for better or worse.
"It's never just a casual game of pool or casual game of golf with us, we always have to bring it to the next level in some way," Tyler says. "I guess it's just always being around one another and being competitive. I've never been able to pinpoint it; it's just always been that way."
"We always had to try and one up each other," Ben adds. "That's made us who we are today though and I think that's a big reason why we've had the level of success we've had so far."
It didn't come nearly as easy for the youngest of three Hansbrough boys though.
Two productive, but relatively obscured seasons at Mississippi State where he served as a three-point specialist gave way to Hansbrough opting to transfer to Notre Dame. The Irish represented an opportunity to play in the brighter lights of the Big East and in a system that would feature him more prominently as a ball handler, rather than a bail out option on the wing. The early returns were positive.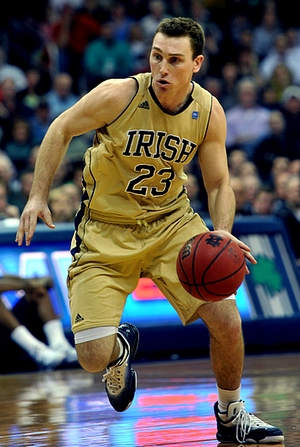 After sitting out a year due to NCAA transfer rules, Hansbrough averaged career highs in points, assists and rebounds as a junior, playing second fiddle to star forward
Luke Harangody
. All the while, Mike Brey was preparing for the 2010-11 schedule when his burgeoning guard would be tasked with filling the void left by one of the most productive players the conference has seen in a decade. The tenacity that made the guard a quick favorite of the coaching staff, also left an understated uneasiness around the program.
"He played way too fast, almost maniacal when he first got to us," Brey recalls. "Everything was 100 miles an hour and he never changed tempo."
Those concerns were quickly laid to rest as Hansbrough's senior season unfolded in brilliant fashion. Four 20-point games in the first month of the schedule served as a mere precursor to the start of conference play in the Big East, which quickly became a proving ground for the headstrong guard. A 26-point showing against St. John's in early January, gave way to 28 versus Marquette later that month. Rutgers and Louisville were handed 25 points each in back-to-back games, before Providence and Villanova both saw him eclipse the 30-point mark in winning efforts for the Irish.
As the point totals continued to grow, so too did the buzz that a second Hansbrough would soon be in the NBA. That remains the case even now with the NBA Draft less than two weeks away – but the concerns for pro scouts linger, perhaps more vividly now than when he was actually playing.
While it's hard to ignore the kind of production the senior saw in arguably the best conference in the country, many question Hansbrough's ability to create scoring chances for himself at the same rate against NBA defenders. Equally as worrisome are the concerns about his ability to defend his position, matching up with players who are bigger, stronger and quicker than those he saw in the Big East. It is in this shroud of doubt that Ben perhaps most closely resembles Tyler – an underappreciated star begging for a chance rebel against his detractors.
In spite of a prodigious four-year career at North Carolina, the elder Hansbrough remained an easy target for many skeptics, honing in on his modest size and athleticism for a power forward. After a coaching change midway through the regular season for the Pacers that saw Tyler move into the starting rotation, he quickly became a valuable contributor for a playoff bound Indiana team. In his sudden rise to respectability at the pro level, he sees a path for his younger brother to follow.
"I can see that," he says. "I think Ben is really going to be able to help a team, he can shoot and distribute the ball well. He's a good quality guy who knows how to carry himself. A lot of people underestimate what he's capable of doing in the NBA. "
"I'll say this," adds Brey, "the respect he had this year was off the charts, in a man's league. He was the ultimate man in a man's league. I think you can count on him to help you right away, he's physically and mentally ready to do that, it's not something you have to wait on with him. I've talked to people and said I think he's an eight-to-ten year guy in the NBA."
"In the NBA they're going to have to lock him out of the gym."
It is in this regard that
Ben Hansbrough
may be the purest of all NBA hopefuls in the 2011 draft class. In a three-month circus saturated with more rumors and falsehoods than hard truth, the Notre Dame senior is a testament to the archetype of the overachiever. While others look to reinvent their games to better suit their physical stature or projected position, Hansbrough continues to bull his way towards another obstacle with reckless abandon – skeptics be damned.
"I think a lot of that just comes from having confidence in my game. Nobody thought I would be the kind of player I was this year and that's just fine with me."
To know
Ben Hansbrough
the man is to respect him.
To know the competitor, demands more.