Updated scouting reports on
Bradley Beal
,
Tony Wroten
and
Drew Gordon
.
-Trending Prospects (12/9) - Doug McDermott, Scott Machado, Henry Sims-Trending Prospects (12/22) - Kris Joseph, Draymond Green, Chace Stanback-Trending Prospects (12/23) - Will Barton, LeBryan Nash and Ricardo Ratliffe-Trending Prospects (12/30) - Mike Moser, Kenny Boynton and Jarrod Jones-Trending Prospects (1/6) - Herb Pope, Eric Griffin, Otto Porter, Quincy Acy
-Trending Prospects (1/12) - Arnett Moultrie, Kevin Jones, Robbie Hummel, Elias Harris-Trending Prospects (1/20) - Andrew Nicholson, William Buford, Orlando Johnson, Tyshawn Taylor-Trending Prospects (1/26) - Jordan Taylor, J'Covan Brown, Ashton Gibbs, Jorge Gutierrez-Trending Prospects (2/3) - Tu Holloway, Maalik Wayns, Rodney Williams, John Shurna-Trending Prospects (2/10) - Terrence Ross, B.J. Young, Darius Miller and Isaiah Canaan-Trending Prospects (2/19) - John Jenkins, Hollis Thompson, Kim English, Elijah Johnson
-Trending Prospects (2/27) - Doron Lamb, C.J. Leslie, Darius Johnson-Odom, Bernard James-Trending Prospects (3/1) - John Henson, Festus Ezeli, Mike Scott, Kevin Murphy
-Trending Prospects (3/9) Dion Waiters, Mason Plumlee, Fab Melo, Marcus Denmon, Alex Young
Bradley Beal, 6-5, Freshman, Shooting Guard, Florida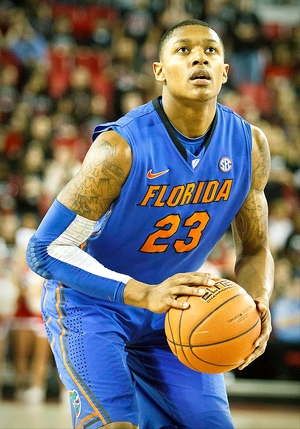 Jonathan Givony
On paper, this has not been a terribly impressive season for
Bradley Beal
, widely considered one of the top freshmen prospects in college basketball.
He hasn't been a very prolific (17 points per-40) or efficient (50% EFG%) scorer, mainly due to his struggles shooting the ball from beyond the arc.
Nevertheless, Beal's draft stock has remained steady all season, as he occasionally shows flashes of being able to make plays that only elite level talents can, but just not consistently yet.
Standing somewhere between 6-4 and 6-5, Beal has decent size for a NBA shooting guard, to go along with a solid frame and average length. While not possessing rim-rocking explosiveness, he's an extremely smooth and fluid athlete with excellent mobility.
Despite being considered one of the best shooters in his high school class, Beal has struggled to hit jumpers consistently all season. Nearly half of his field goal attempts have come from 3-point range, but he's able to connect on just 33% of them thus far. Looking at his mechanics, there's very little not to like about his shooting form, as he gets great elevation, possesses a consistent release point, shows excellent follow-through, and has range that extends well beyond the college 3-point line.
Despite the inconsistent results, it's difficult not to see Beal developing into a very good NBA 3-point shooter in time, especially considering his reportedly stellar work ethic and the fact that this has always been the strongest part of his game. He will need to confirm that in private NBA workouts, but his 33% accuracy rate is likely the lowest percentage he'll shoot his entire career from the 3-point line.
While his perimeter shooting has been a disappointment, Beal's ball-handling and playmaking skills appear to have improved significantly over the past year or so. Extremely effective in transition, Beal can create for himself and others in smooth and effortless fashion off the dribble with his ability to change speeds and put the ball on the floor with either hand.
While able to get all the way to the rim fairly consistently, Beal still needs to improve on finishing more effectively around the basket, as he lacks a degree of strength and explosiveness in traffic at this stage. He does get to the free throw line at a solid rate to compensate, and makes 78% of his attempts once there.
Beal is generally a good decision maker, showing excellent maturity making the extra pass to an open shooter on the perimeter or feeding his big men inside the post, never looking rushed or flustered, which is impressive considering his age and lack of experience. He's obviously earned the trust of his coaching staff, as he leads the team in minutes played, despite being surrounded by a host of guards who are significantly older than him.
Defensively, Beal can be inconsistent at times like his entire Florida squad -- they rank 3rd in the NCAA in offensive efficiency but just 119th on defense—and he doesn't have great size or length for his position. With that said, with his terrific timing, fundamentals, smarts, and all-around approach to the game, there's no reason he can't become a solid piece on this end as he gets stronger and gains experience. He already does an excellent job on the defensive glass, in the passing lanes, and even blocking shots on occasion, showing very nice anticipation skills.
Looking forward, Beal obviously has a very bright future ahead of him, as he already shows excellent fundamentals, a versatile skill-set, a high basketball IQ, and great maturity, despite the fact that he doesn't turn 19 till the day of the 2012 draft. While not oozing with upside, he gets rave reviews from every coach he's worked with, and should continue to improve on his all-around polish in time, making him a relatively low-risk high-reward type prospect to pick in the mid to late part of the lottery.
Tony Wroten, 6-5, PG/SG, Freshman, Washington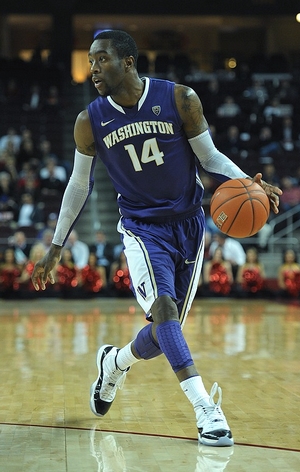 Joe Treutlein
Drawing accolades as one of the most talented young players in America since he was in 8th grade,
Tony Wroten
finally landed on the college basketball landscape and had a solid overall season for the Washington Huskies, prominently displaying both his many well defined strengths and weaknesses all year long. Washington's NCAA tournament hopes ended prematurely with a loss in the Pac-12 Tournament quarterfinals to Oregon State, and it couldn't have happened in a worse way for Wroten, who played a spectacular second half but missed four consecutive free throws in the closing possessions of the 86-84 game.
Standing somewhere between 6-5 and 6-6 with a solid frame, good length, and very good overall athleticism,
Tony Wroten
has a great set of tools for the shooting guard position, and even better one for a combo or point guard. Wroten plays with a very aggressive mentality on the offensive end, taking full advantage of his physical attributes at this level.
Wroten's offensive game revolves heavily on his ability to attack the basket off the dribble, both in the half court and transition. He's a very ball dominant player who sees the majority of his looks in isolations or pick-and-rolls, being a
Tyreke Evans
-esqe force at times lowering his shoulder and barreling his way into the lane.
Wroten has excellent ability to get to the rim at this level, having a strong first step, terrific ability to change speeds and directions with the ball, strong ball-handling ability, great instincts in the lane, and a mean streak going hard to the basket, as evidenced by his excellent 7.8 free throw attempts compared to just 13.1 field goal attempts per-game. His ability to create his own shot is an incredibly coveted skill in today's NBA, and is something that would likely translate over fairly quickly despite his young age.
Wroten does have one major Achilles heel with his dribble drive game, however, and that's his very deficient right hand, which he struggles with when both creating and finishing. While Wroten starts a good deal of his drives heading right, he does so predominantly to set up opportunities to go back left. On the occasions he does go all the way to the basket with his right hand, he invariably attempts to finish with his left, usually with poor results. In isolations charted by Synergy Sports Technology this season, Wroten is scoring a very strong 0.98 points per possession on drives going left compared to just 0.66 going right, a very wide disparity that most coaches in the Pac-12 caught onto very quickly, even if they did not always have the personnel to take advantage of it.
Holding a consistent size and athleticism advantage over most of his matchups at this level and not usually facing NBA-caliber help defenders in the paint, Wroten is able to consistently overcome his one-sided dribble-drive game, but may face more problems in the NBA, especially against well-coached defensive teams. On the other hand, the more well-spaced and isolation/pick-and-roll oriented NBA is also undoubtedly a better fit for his game stylistically, so that could offset some of his other issues.
Wroten's bigger offensive problem projecting forward is likely his dreadful perimeter shooting ability, as he shot an atrocious 0.532 points per shot on jumpers according to Synergy, and an equally unimpressive 58% from the free-throw line and 18% from behind the three-point arc. As was the issue throughout his high school career, Wroten exhibits inconsistent mechanics and poor feel with his shot, never really showing sustained progress in this area of his game. He made just 3 of the 24 jumpers he attempted this season with his feet set, which makes it very difficult for him to play off the ball since the defense does not need to respect his shooting range. Wroten also has troubles with his mid-range game, not showing the ability to pull-up off the dribble consistently (6/27 this season) and being very erratic with floaters and runners in the lane.
Wroten does bring another plus offensive skill to the table, however, and that is his excellent court vision and passing ability, even though this also comes with some problems. While Wroten possesses superb ability to see the floor and make many difficult passes on drive-and-dishes or when splitting double teams, it isn't something he consistently utilizes. While Wroten is averaging a solid 3.6 assists per-game on the season, he's also averaging an awful 3.9 turnovers per-game and 0.22 turnovers per-possession. Wroten is prone to frequently making lackluster passes that are easily picked off, not showing urgency and focus consistently in this area of his game. While Wroten has ample tools to play the point guard position in terms of his size, court vision and ball-handling, he's never consistently shown the ability to run a team's offense and balance his game.
On the defensive end, Wroten has actually had a more consistently positive season, being an effective defender overall having fewer problems than on the offensive side of the ball. With his superior size, strength, length, and instincts, Wroten has spectacular potential on this end of the floor, and is a very effective man-to-man defender at the two-guard spot when he locks in. He's very prone to gambling, be it swiping at the ball in isolation situations or lunging into the passing lanes, but he has excellent anticipation and hands, which leads to a lot of disruptive plays for him, as well as plenty of steals and rebounds. He is prone to letting out of his stance and his urgency level can drop when things aren't going well for him, but overall he has good tools to guard the two-guard or combo-guard spot well in the pros, and could be an excellent defender if he truly commits himself.
Looking forward, Wroten brings some excellent skills to the table with his physical tools, aggressive dribble-drive game, passing ability, and defense, but he also has some notable weaknesses to overcome, all of which will likely become even more glaring at the next level and none of which he's shown much of a learning curve with in his career.
While there's little doubt he could put up numbers on a bad team in the NBA if given the minutes and enough possessions, the bigger question is if he can do so efficiently, within a team concept, and in a way that helps his team win games, something that will likely be dependent on the development of his decision-making, right hand, and perimeter shooting ability. The fact that he was unable to lead his team to the NCAA tournament, even in the very weak Pac-12, is a major red flag, and evidence of his struggles playing winning, efficient basketball at this stage of his career.
At just 18 years old, Wroten still has plenty of time to reach his potential, and his draft stock could vary widely from team to team depending on how they view his likelihood to improve his many weaknesses. Based on talent alone, Wroten is likely a top-10 pick in this draft, but teams will need to factor in how he fits with their current personnel and style of play in evaluating whether they'll be able to take advantage of that, and how long that might take.
Considering his age and the upside of having such a dynamic shot-creating force on the roster, and the weakness of this draft class at the point guard position, the longer Wroten is on the board the more likely teams may be willing to overlook his weaknesses. Teams tend to fall in love with talent in the NBA draft, and Wroten will be one of the more interesting case studies to follow should he elect to put his name in.
Drew Gordon, 6'9, Senior, Power Forward, New Mexico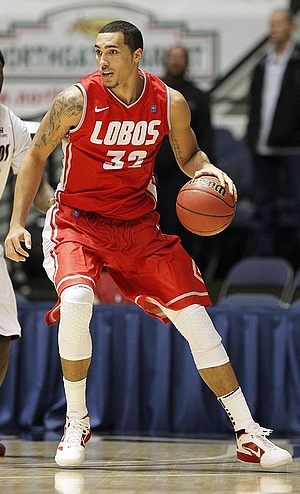 Matt Williams
Finishing his senior year with a MWC Tournament Championship and emphatic NCAA Tournament berth,
Drew Gordon
was terrific down the stretch for one of the top mid-major programs in the country, New Mexico. The UCLA transfer still hasn't developed into a dynamic offensive threat, and has some things to work on moving forward, but followed up a solid showing as a junior with another productive season, showing promising potential as a role-player in the process.
The 6'9 power forward remains the same impressive physical specimen that caught the attention of recruiting analysts during his high school days at Archbishop Mitty (CA). Sporting a long-240 pound frame that still has some room for growth, Gordon has the size and athleticism to play the power forward position at the NBA level, even if he would not stand out in either area at that level.
What allowed Gordon to stand out at the college level, and what is easily his best asset as a pro prospect, is his ability to make the most of his physical tools on the glass. Ranking
3rd among prospects in our database in rebounds per-40 minutes pace adjusted
, Gordon (14.3) rates only a fraction of a rebound behind likely top-5 selection
Thomas Robinson
(14.6) in that category. Using his strength and toughness to box out and rebound his area on the defensive glass, Gordon is just as good at outworking his man for position and diving to the rim aggressively from the high-post to collect caroms on the offensive end.
Gordon has only converted 54% of his put-back attempts this season according to Synergy Sports Technology, but nonetheless, is at his best when he can simply catch, gather himself, and explode to the rim. Shooting 65% around the basket in non-post-up situations, Gordon does not finish every play with a dunk, but can play above the rim when he has a bit of space to work with and shows solid touch within a few-feet of the rim in traffic.
Gordon's finishing ability translated to quite a bit of success in post-up situations as a senior due to the quality of looks he was able to produce with his back to the basket at the mid-major level. Able to establish great possession for most of his post touches, Gordon often looked to make aggressive drop-steps to the basket over both shoulders, using a right-handed baby hook as his go to move. With 35% of his offense coming in the post, Gordon scored 51.3% of his field goals on the block according to Synergy. Gordon would likely have a much harder time scoring in the same fashion against NBA caliber defenders, making his finishing and rebounding ability that much more significant.
Away from the rim, Gordon shows some potential, but doesn't see much in the way of results. He isn't dynamic from the midrange due to his lack of ball-handling ability, but he isn't shy about pulling the trigger from 15-feet, shots that would significantly diversify the roles he could play offensively if he could hit them consistently. Knocking down just 27% of his jumpers according to Synergy, Gordon looks fairly comfortable operating in the midrange, shoots his jump shots with solid rhythm for a big man, and is not lacking confidence, but simply does not have a consistent release point. Shooting 75% from the line, if he's willing to put in the work in the offseason, Gordon seems to have a framework to work with to broaden his horizons offensively.
Defensively, Gordon plays with intensity and offers some versatility thanks to his solid size and athleticism. Using his body better than he did last season to defend the post thanks to improved fundamentals, the California native is able to keep up with face-up fours in the midrange as well. Gordon is a physical defender who contests shots, gets a bit overaggressive at times and could stand to maximize his frame to help him fight his man for position on the block on the next level. His lateral quickness is good, but not great out on the perimeter, and he blocked shots at a respectable rate thanks to his length and motor. Gor
don may
not be a playmaker defensively, but his ability to hold his own at and away from the rim is a plus.
Heading towards a NCAA Tournament date with Long Beach State, making it out of the first weekend and possibly beyond certainly wouldn't hurt Gordon's stock considering that not every GM may have been out to see him playing in the Mountain West Conference. A strong showing at the Portsmouth Invitational Tournament would be a positive as well. Gordon's rebounding ability gives him a skill he can hang his hat on in the NBA, and if he improves his shooting ability before going on the workout circuit, he'll have the opportunity to improve his standing before the 2012 NBA Draft, where he's got a solid chance to hear his name called in the second round.