Brandon Paul is a NBA caliber athlete with excellent scoring instincts, but has struggled to be efficient or consistent throughout his career at Illinois. What type of prospect is he and where can he expect to get drafted?
Brandon Paul, 6'4, Senior, Shooting Guard, Illinois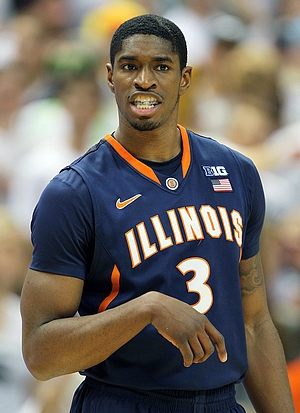 Matt Williams
After requesting feedback from the NBA Undergraduate Advisory Committee at the conclusion of his junior season,
Brandon Paul
opted to return to Illinois to wrap up his career under first-year Head Coach John Groce. Kept out of action for a few weeks last summer after breaking his jaw in a pickup game, the senior showed no ill-effects of the time he spent with his mouth wired shut as he jumped out to a quick start early this season. Garnering MVP honors in leading the Fighting Illini to a Maui Invitational Tournament Championship and keying his team to a victory over Gonzaga in Spokane, Paul was averaged a robust 22.1 points per-40 minute pace adjusted on strong shooting percentages heading in non-conference play.
Earning plenty of attention from NBA scouts with his early play, Paul hit a wall in the Illini's Big Ten slate, shooting just 30% from beyond the arc over 18 conference games. Bouncing back to some extent in March while leading Illinois past Colorado and then giving Miami everything they could handle in the round of 32 of the NCAA Tournament, Paul's body of work on the whole was quite solid, as he showed improvement on a number of fronts, but it did little to eliminate concerns among NBA decision-makers regarding his lack of consistency over the past four years.
Standing 6'4 with long arms and a strong frame, Paul's combination of speed and explosiveness remain a big part of his NBA potential, just as they did early in his career. He may be slightly undersized for a shooting guard, but he certainly has all the other physical tools common amongst two guards at the NBA level.
With
Meyers Leonard
entering the 2012 NBA Draft, the Illini had to rely heavily on their guards this season, and that led to a significant change in what Paul was asked to do on the offensive end. He remained the focal point of the team's offensive attack, but was relied upon heavily to showcase his athleticism and create his own shot compared to his junior season, when spot-ups and off-screen opportunities accounted for a much more significant portion of his possessions.
| Season | %Isolation | %Pick and Roll | %Transition |
| --- | --- | --- | --- |
| 2011-2012 Junior | 14.8% | 18.8% | 5.4% |
| 2012-2013 Senior | 17.3% | 32% | 6.4% |
Paul has always had the ability to put points on the board in bunches with his scoring instincts and aggressiveness. A volume shooter, the 2009 Illinois Mr. Basketball recipient relished the opportunity to dominate the ball as a senior,
finishing the year ranking 7th in points per-40 minutes pace adjusted
among all guards in our top-100.
The key to Paul's productivity over the past two seasons, and one of his more intriguing qualities as an NBA prospect, is his ability to create his own shot. Possessing a quick first step, an explosive burst when attacking off the dribble, and a strong frame to exploit smaller guards, Paul can shake defenders one-on-one and turn the corner operating off ball screens. He's a capable ball-handler, even running the point for stretches this season, but has room to improve on not over-dribbling and become more adept at playing at different speeds to help prepare for the quickness of NBA defenders.
Once Paul finds open space, he's explosive enough to play above the rim and possesses sound shooting mechanics. When he was playing with patience and his shot was falling, he was a handful for opposing defenses to contain at the college level, posting a memorable 43-point outing against Ohio State in 2012 and a 35-point performance against Gonzaga this year. The issue for the talented guard has always been his decision-making and the consistency with which he is able to make plays because of it.
For someone who shoots as many 3-pointers as he does (nearly seven per game, representing over half of his overall field goal attempts), NBA scouts surely would have liked to see Paul hit more than 32% from beyond the arc.
Ranking in the bottom 20 of our top-100 in true shooting percentage
, Paul's shot selection is his biggest weakness and the main culprit of his mediocre scoring efficiency. Nearly 70% of his shots are jumpers, with more than half of those attempts coming off the dribble. Knocking down right around 34% of both jumpers off the dribble and off the catch, Paul limits his shooting percentages by forcing looks from beyond the arc, attempting a large proportion of his spot-up shots with a hand in his face and sometimes passing up a good shot for a more difficult one off the dribble. Part of this has to do with the large amount of offensive responsibility he was forced to shoulder on a team without great individual talent, but this has been a concern with him throughout his career.
When Paul attacks the rim, he similarly settles for difficult shots just outside the paint on occasion, sometimes looking out of control or unable able to get all the way to the rim when he puts the ball on the floor. Converting just 47% of his finishing attempts and 39% of his runners according to Synergy Sports Technology, Paul's inconsistency in the paint was a major factor in his relatively mediocre 48% 2-point percentage, which nevertheless represented the highest mark of his career.
Despite his shot selection, Paul still managed to rank among the most efficient volume isolation scorers in the NCAA this season, scoring 46% of his one-on-one attempts and finishing quite effectively when he was able to make one move and go. He got to the line at a very strong rate, and also excelled in transition, consistently doing his best work when he was able to use his speed to beat the defense to the spot on the offensive end and wasn't putting himself in a position where he'd need to make a decision as to how to score over or maneuver through help.
Paul also managed to cut his turnover rate this season. Though his turnovers per-40 minutes only dropped from 4.1 as a junior to 3.3 as a senior, that dip is notable considering just how often he had the ball in his hands, as he coughed the ball the ball up on 18% of his possessions, down from 23% the year before. Averaging 3.3 assists per-40 minutes pace adjusted, Paul isn't a natural facilitator, but showed some flashes of drive and dish ability.
On the defensive end, Paul has the size and athleticism to compete at the NBA level, but was not always focused enough to make the most of that as a senior. When he was dialed in, he had some impressive moments defending the ball one-on-one and on the pick and roll thanks to his lateral quickness, length, and strength, but he too often loses his man when sagging into help side defense.
For all of his shortcomings, Paul has a number of tools that could allow him contribute as a sparkplug combo guard off the bench in the NBA. With clearly defined weaknesses, Paul could unquestionably improve his efficiency as a pro by way of dialing back his erratic decision-making. Athletic guards that can create their own shot and have the tools to defend are not a dime a dozen, and it would not be at all surprising to see a team invest in Paul come draft day with the hopes that they can mold him into a steady role-player down the road.