C.J. Leslie is one of the best athletes in this draft class, but has seen his stock regress significantly this year due to the lack of improvement he made to his all-around game. Will he be a steal later in the first round, or will NBA teams be too scared about the red flags around him?
C.J. Leslie, 6'9", Junior, Power Forward, N.C. State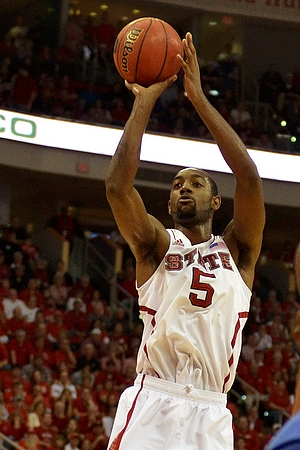 Derek Bodner
Coming into the year with high expectations, both individually and team-wise,
C.J. Leslie
and the North Carolina Wolfpack ended a disappointing season with a loss to Temple in the first round of the NCAA tournament.
On a personal level, many of the questions that hounded Leslie during his first two seasons remain. The lanky 6'9" combo forward maintains a very intriguing physical package, with good length and incredible athletic gifts. His physical profile remains the basis of his intrigue as a draft prospect, and should he develop his skills, show a strong work ethic and maintain his focus, there's more than ample physical talent to play a long time at the next level. It's utilizing this physical talent that Leslie has struggled with.
From a production standpoint, Leslie failed to make the expected jump during his junior season. His scoring fell from 19.8 points per 40 minutes pace adjusted to 17.8, with similar drops in rebounds (10.1 to 9.1) steals (1.5 to 1.2) and blocks (2.2 to 1.5), with an uptick in turnovers (3.2 to 3.7).
From a skills standpoint, Leslie continues to get more of his offense in the post, although he's still far from refined in this area and doesn't show great natural feel as a post scorer. His primary move is a hook shot over his left shoulder, which he gets off thanks largely to his ability to simply elevate over his defender and get a clean look. He doesn't have much in the way of counter moves or a move over his right shoulder, and his footwork and ability to feel and react to his defender is below average.
His other main move from high post sets is to face up and take his man off the dribble. This is where he becomes a match-up nightmare at the collegiate level, as his first step is simply far too quick for most power forwards at this level to defend. He's quick going either to his left or his right, and once he gets around the rim he has incredible elevation and hang time to finish with authority. He also does a good of drawing contact, with his 7.8 free throw attempts per-40 being a career best for him, ranking third among power forward prospects in our top-100. Despite his overall good ability as a finisher, Leslie could benefit for improving his touch and comfort level finishing with his off hand, as he often times forces attempts with his right hand even if they are not there.
Moving further away from the basket, his first step still remains an asset, but this is mostly hindered by his underdeveloped ball-handling and his inconsistency on his jump shot. According to Synergy Sports Technology, Leslie has increased his points per possession on jump shots to 0.759, which is up a bit from his first two seasons (0.613 and 0.625 during his freshman and sophomore seasons, respectively), but this is still well below average. He's frequently needlessly off balance on his attempts, and his follow through can be inconsistent, at times pulling up short on his release. His inconsistency and lack of overall touch on his jump shot allows defenders to sag off of him considerably, and partially negates his athletic advantage. Should he improve his jump shot considerably, he has significant potential as a face-up threat, but his jump shot needs quite a bit or work before it will become a consistent weapon, and NBA teams will raise questions about why he made such little progress in this area in his three seasons in college considering he turns 22 before draft day.
It's difficult to find many small forwards in today's NBA who do aren't threats to make shots from outside the arc, which is why Leslie is very much stuck in between positions considering he only made two 3-pointers this season, and 13 (of 48 attempts) his entire career.
As a ball-handler, Leslie has enough with either hand to be effective in straight lines, which is mostly all he's been asked to do at the collegiate level. As he goes up against similar athletes of his size at the next level, however, his struggles to change direction and speeds could cause him problems taking people off the dribble. Again, should he improve his ball-handling (and perimeter shooting), he has considerable potential as a face-up and isolation threat, but he is going to need to improve in both of these areas to fully realize this potential, and potentially show teams that he has a high enough skill level to play the small forward position in the NBA long-term.
Leslie continues to get a good amount of offense from transition, off offensive rebounds, and cutting to the basket. He's incredibly quick off the floor and has a very good second jump, allowing him to excel in these areas. These parts of his game that should translate relatively easily to the next level, and are attractive assets at either forward position.
Defensively, Leslie continues to flash some incredible physical tools that he has yet to fully capitalize on. If asked to play the 4 at the next level, he's at a pretty drastic strength disadvantage, something that shows up as a problem even at the collegiate level. He struggles to hold his position defensively, something which he compounds by avoiding contact until the offensive player has established deep post position. He also doesn't show great anticipation as a post defender, and while his length allows him to contest shots in the post, he's often times off balance and not ready for the offensive players' moves.
On the perimeter, Leslie moves his feet well and has very good overall length and athleticism. His athletic ability also shows up in his potential as a help defender, although his recognition limits his ability somewhat. More-so than anything related to his physical profile, his major struggles have been from inconsistent effort, technique, and recognition. Should he put all of his tools together, there's no question he has a unique enough physical profile to make an impact despite his lack of lower body strength, particularly as a rangy small forward.
C.J. Leslie
has long been a prospect who has had obvious physical talents, but we have been waiting to fully realize those physical gifts. In that respect, Leslie failed to ease his biggest concerns during his junior season. With that said, outside of the top-20 or so prospects in the draft, few can boast the type of athleticism and upside that Leslie does, which could make him an interesting low-risk high-reward type player for teams to look at to see if they can potentially help him improve on his weaknesses more than his coaching staff at N.C. State was able to in the past three years. Private workouts, and perhaps more importantly, interviews, will be crucial in his ability to ease concerns of decision makers and to convince them whether he has a high probability of reaching his physical potential, as plenty of concerns surround his work ethic, internal motivation and coachability, which teams will need to research seriously.