Colorado State's
Colton Iverson
emerged from total obscurity in his fifth season of college basketball after transferring from Minnesota. As one of the best rebounders in this draft, but also one of the oldest prospects, where does he fit in?
Colton Iverson, 6'11, Senior, Center, Colorado State
Matt Williams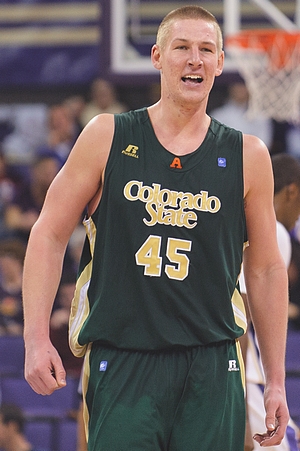 The leading scorer and rebounder on a veteran laden Colorado State team that made its second straight NCAA tournament appearance, Minnesota transfer
Colton Iverson
made the most of his senior year. After seeing his role stagnate over his three seasons with the Golden Gophers, the 151st ranked recruit in the 2008 RSCI sought an opportunity to showcase his skills. Transferring to Colorado State to play for then head coach Tim Miles, Iverson stuck with the program when Miles left for Nebraska, reaping the rewards of the work he put in during his redshirt season, earning the Mountain West Newcomer of the Year award and being selected first-team all-conference as a fifth year senior under new Head Coach Larry Eustachy.
A near 7-footer who has added some 30 pounds to his frame since he emerged as a high major recruit at Yankton HS in South Dakota, Iverson's physicality and toughness at 260-pounds are among his best assets as a prospect. Lacking great length and athleticism but playing with a strong motor, Iverson could certainly benefit from taking a page from mid-season Spurs signee
Aron Baynes
by working tirelessly to maximize his frame and conditioning to help translate his strength to the next level and tap into any explosiveness and speed he may be able to gain by cutting his body fat.
On the offensive end, Iverson proved to be an efficient interior threat thanks to his strength and touch around the rim as a senior. The primary post threat in a balanced Colorado State attack, nearly half of his total possessions came in the form of one-on-one back-to-the-basket opportunities according to Synergy Sports Technology.
Utilizing a basic, but effective arsenal of scoring moves, Iverson converted 54% of his post attempts this season, amongst the top rates in college basketball. Able to establish good position, overpower smaller defenders, and use his footwork to create space in close, Iverson had no trouble creating high percentage shots in the MWC. His ability to turn over both shoulders, score with both hands, and draw contact made him quite effective as he imposed his size on the block. Despite his success in the NCAA, it may be difficult for Iverson to bully defenders one-on-one at the next level, making the continued development of his footwork and the reliability of his hook shots that much more important.
As a finisher, Iverson is not overly explosive, but he shot an impressive 66% around the rim last season. Setting solid screens and rolling hard to the rim, crashing the glass aggressively, and doing a nice job reading the penetration of his teammates, he was able to find easy opportunities for himself at the rim in the half court working off the ball at the collegiate level.
Not possessing great foot speed, Iverson was at his best when the game slowed down, as he was not a significant factor in transition. He also had his shot blocked a fair amount when looking to explode and finish from a stand-still in traffic, elevating much better on the move when given a step to gather himself. Always taking the ball strong around the basket, Iverson made it to the line on 53% of his possessions
the third best mark in our top-100
, but shot just 59% from the line. Considering he attempted only nine jump shots in total as a senior, Iverson has plenty of room to diversify his offensive game by developing a midrange shot.
Possessing a good basketball IQ, Iverson is a capable passing big man who does not often try to do too much. His athleticism may limit his offensive impact at the next level, but if he can add some wrinkles to his game, he could find a niche.
On the defensive end, Iverson is not a significant factor as a shot-blocker, as he lacks great length and quickness, but he is a competitor who plays with toughness. Sometimes a bit too aggressive attempting to front his man in the paint, Iverson is a step slow at times recovering to his man after showing on the pick and roll, but does not take many plays off and has some nice moments protecting the rim by anticipating and getting a step ahead of the offense.
Iverson's best asset as a prospect on the defensive end is his rebounding ability. Averaging an impressive 13.5 rebounds per-40 minutes pace adjusted, Iverson
ranked as the 10th best rebounder
in the NCAA this year. Not explosive enough to attack the ball at its highest point, Iverson does great work before the shot, getting into the body of his matchup as the ball is going up on both ends of the floor.
One of the most pleasant surprises in the 2013 senior class, Iverson is by no means a glamorous NBA prospect. Turning 24 in June, he's significantly older than most of his peers and questions remain about how he'll fare against the more athletic players he'd match up with the NBA. His size, ability to score in the post, and rebounding ability give him plenty of upside in the European game though, and there may be a team in the second round that feels he can provide depth at the five spot. Already training at Impact Basketball in Las Vegas, after surprisingly electing to pass up on competing at the Portsmouth Invitational Tournament--where his measurements and competitiveness could have helped generate some momentum heading into the draft process after playing off the radar most of the year in the MWC--it will be interesting to see what kind of progress Iverson is able to make as we head towards workout season.