One of the best athletes in all of college basketball last season, does Memphis senior
D.J. Stephens
have what it takes to make it in the NBA?
D.J. Stephens, 6'5, Senior, Power Forward, Memphis
D.J. Stephens
]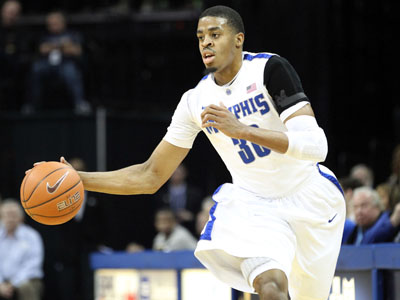 Kyle Nelson
Until his senior season, few outside of Memphis, Tennessee knew the name
D.J. Stephens
. To say that Stephens was an under-the-radar recruit is an understatement. North Texas withdrew his only scholarship offer out of high school, before Memphis signed him, not out of admiration, but out of desperation. Not only was Stephens Josh Pastner's "worst recruit ever" to quote CBS's Gary Parrish, but he also started just seven games in his first 93, scoring in double figures just once.
It's hard to explain then, how Stephens emerged as a leader and essential starter for a Memphis team that finished the season 31-5 in a weak Conference USA with one NCAA Tournament win under its belt. From an afterthought to a borderline NBA prospect, Stephens is one of college basketball's true underdog stories, and the question remains whether he has what it takes to play in the NBA.
Stephens actually may be the
best
athlete
in the 2013 draft, but few know what exactly he has to offer an NBA team. That's because he played a majority of his minutes at the power forward or center position in college, even though at 6'5 and 188-pounds, he looks more the part of an NBA shooting guard than even a prototypical small forward. While he is extremely undersized, he is incredibly explosive both in transition and from a standstill, and displays the requisite quickness for virtually any position in the NBA.
That being said, while he certainly looks the part, it is impossible to overstate just how raw the 22-year-old senior actually is at this stage. Though he improved by leaps and bounds throughout his career, Stephens possesses very few skills outside of his breathtaking athleticism. He is not a particularly productive player either, and his 12.0 points per 40 minutes pace adjusted ranks him among the four worst scorers in our Top-100. That being said, he only attempted 4.7 field goals per game and saw just 8% of Memphis's possessions.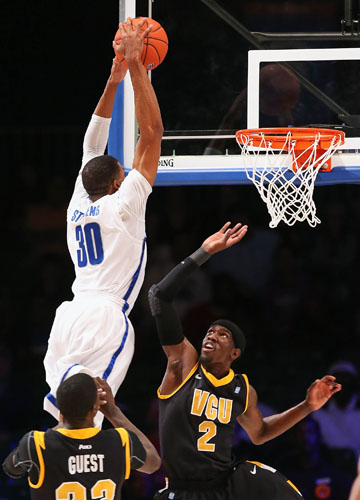 Basically, while he is one of the least productive players in our database, he also has the
second lowest usage rate among prospects in our top-100
.
On film, it's clear that his low usage rate has mostly to do with the fact that he simply cannot create any offense on his own. According to Synergy, he finds over 31% of his offense off of cuts to the basket and 45.5% of his offense between put backs, transition baskets, and spot-up jump shots. Additionally, he finds nearly 62% of his offense around the basket, where he makes an outstanding 75.3% of his shots.
While he does not have the softest touch in the world, he compensates for that by dunking almost anything in the vicinity of the rim. Most of his attempts come off of quick dishes from his teammates, alley oops and emphatic put-backs at the rim, and simple catch-and-finishes in the post. He is an extremely aggressive player, which combined with his willingness to move without the ball, results in a few easy looks around the basket each game, as well as opportunities to field his teammates' misses. He pulls down 3.3 offensive rebounds per 40 minutes pace adjusted, which is below average for a collegiate big man prospect.
Even though Stephens
leads all prospects in our top-100 in 2P%
, it must be noted that he attempts just 5.9 2FGA per 40 minutes pace adjusted. Additionally, while he showed occasional flashes from mid-range and as a slasher, the extremely small sample size offers few opportunities for definitive judgments about whether he can continue to develop in these areas.
Along these lines, his ability to get to the free throw line is variable on whether he can finish over his defender. While he gets to the line at an average rate relative to prospects in our top-100, his lack of size and propensity for attempting to finish emphatically at all costs results just as often in blocked shots as it does trips to the foul line. While his aggressiveness is impressive, he is not the most creative finisher, which will undoubtedly be exposed further at the next level, where he'll be even more undersized for a power forward.
While Stephens finds over 60% of his offense around the basket, 34.3% of his field goal attempts are jump shots. Of his 47 overall jump shots, 36 came from beyond the arc where he made a
respectable 36.1% of his attempts
. Considering the fact that he only attempted 10 perimeter jump shots in his first three years, his increased comfort lining up for spot-up jumpers from the corner points to what could hopefully eventually become an NBA-caliber skill down the road, one that he would certainly have to develop quickly if he's to have any chance at sticking in the league.
On film, his mechanics have definitely improved, even through his mechanics tend to be deliberate, with an errant elbow on his release. Ultimately, however, perimeter shooting is a very new aspect to his game, one that he must continue to improve upon, especially if he expects to play even at a high level overseas.
What emerges from analyzing Stephens on the offensive end of the floor is the question of what he can actually do at an NBA-caliber level. The answer, right now, is very little, as even his jump shot is a work-in-progress, as he attempts only 1.6 three point field goal attempts per 40 minutes pace adjusted. His lack of much in the way of ball skills, a consistent jump shot and the ability to create offense on his own shows just how much of an uphill journey he faces to improve his draft stock, particularly since he is not a prolific offensive rebounder.
While his offensive game redefines how scouts use the word "raw," he is an advanced and versatile defensive player at the collegiate level. On one hand, it's somewhat difficult to evaluate him because he played significant minutes as a power forward. On the other hand, watching him defend face-up big men and perimeter players in isolation and in pick-and-roll situations shows just what he is capable of bringing to the table.
In general, he is a very aggressive defender, where he does a good job of staying in front of his man, disrupting shots with his long arms, diving for steals – to the tune of 1.5 per-40 minutes pace adjusted - and loose balls, and exploding for blocks while covering weak side or simply while face guarding his man. Standing just 6'5, he blocks an outstanding 4.2 shots per 40 minutes pace adjusted,
the fourth best rate among prospects in our top-100
. While his aggressiveness and intensity limited his minutes due to foul trouble, he committed just 3.1 fouls per 40 minutes pace adjusted, down from 5.5 during his junior season.
Additionally, he grabs 10.6 rebounds per 40 minutes pace adjusted.
Therefore, the question remains, is
D.J. Stephens
a NBA player. His athleticism, defensive versatility, and potential on the offensive end of the floor certainly help his case, but at 22, his extremely raw skill set is a significant deterrence. After all, even defensive specialists such as
Tony Allen
and
Dahntay Jones
, among others, were productive, primary scoring options at the collegiate level. In fact, the only comparison that comes to mind is
DeQuan Jones
, whose path to the NBA was not exactly typical, or
Luc Richard Mbah a Moute
, who measured over 6-7 in shoes and 221 pounds, giving him the ability to spend time at the power forward position more adequately.
After surprisingly not being invited to the Portsmouth Invitational Tournament, Stephens is in a precarious position looking forward to the NBA Draft. He will need to shine in workout settings, and would do well for himself to show up with improved shooting mechanics. Whether he can guard NBA-caliber perimeter players on a nightly basis, let alone contribute so as not to be a complete liability on the offensive end, remains to be seen. In any event, scouts will want to take a long look at
D.J. Stephens
because, even if he is far from being ready for an NBA rotation at the moment, there is no denying that he could be an intriguing prospect for the right team after some time in the D-League or overseas if he can find a way to improve his perimeter shooting ability.