Kentavious Caldwell-Pope is one of the best shot-makers in the country. How does the rest of his game stack up as a NBA prospect?
---
-Trending Prospects: Deonte Burton
-Trending Prospects: Erick Green
-Trending Prospects: Shabazz Napier
-Trending Prospects: DeShaun Thomas
-Trending Prospects: Ryan Broekhoff
-Trending Prospects: Kenny Kadji
-Trending Prospects: Dwight Powell
-Trending Prospects: Zeke Marshall
-Trending Prospects: Jack Cooley
-Trending Prospects: Bryce Cotton
-Trending Prospects: C.J. Wilcox
-Trending Prospects: Isaiah Canaan
-Trending Prospects: Jahii Carson
-Trending Prospects: Chris Obekpa
-Trending Prospects: Jordan Bachynski
-Trending Prospects: Arsalan Kazemi
-Trending Prospects: Cory Jefferson
-Trending Prospects: Anthony Marshall
---
Kentavious Caldwell-Pope, 6'6, Shooting Guard, Sophomore, Georgia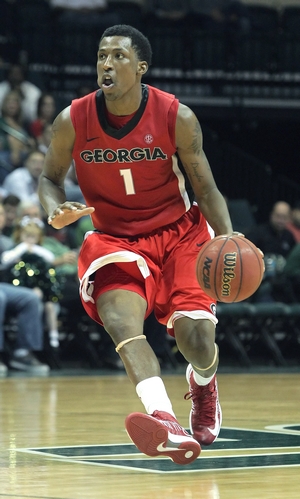 Joe Treutlein
After an inconsistent freshman season, Kentavious Caldwell-Pope has taken his game to the next level as a sophomore, playing largely the same exact game from a stylistic standpoint, but seeing much better results in terms of both his production and efficiency.
Caldwell-Pope has significantly increased his points (+4.5), assists (+0.6), and rebounds (+1.6) on a per 40 minute pace adjusted basis this season, while also seeing his true shooting percentage rise from 50% to 59% thanks in part to his much improved outside shot. While he only made 30% of his 3-pointers last season on nearly seven attempts per game, he's now converting 38% of attempts on exactly the same number of attempts. He's also managed to double his free-throw attempts per game from 2.5 to 5.1 while increasing his percentages at the line from 65% to 81%.
Caldwell-Pope's jump shot remains his most frequently used weapon on the offensive end, with still more than half his field-goal attempts coming from behind the arc, but he's yielding much better results this season. While he still has issues consistently keeping his legs underneath him and with taking difficult shots at times, he's significantly cleaned up his mechanics, which has allowed his spot-up shooting to catch up with his already impressive ability to put the ball in the basket off the dribble. He shows extreme ease getting the little separation needed to get off his shot from isolation situations, and his improved efficiency makes it a much more effective shot for him to take.
Able to come off screens, and very effective as a floor-spacer with his feet set, Caldwell's tantalizing ability to create and make tough shots off the dribble is likely his strongest calling card as a prospect. He's making 42% of his pull-up jumpers on the season according to Synergy Sports Tech, which ranks fifth amongst collegiate prospects.
| Name | Team | Made Pull-Up Jumpers | FG% on Pull-Ups |
| --- | --- | --- | --- |
| Nate Wolters | South Dakota State | 44 | 46.8% |
| Trey Burke | Michigan | 61 | 44.5% |
| Isaiah Canaan | Murray State | 71 | 42.8% |
| Erick Green | Virginia Tech | 73 | 42.2% |
| Kentavious Caldwell-Pope | Georgia | 42 | 42% |
| Shane Larkin | Miami | 38 | 41.3% |
Caldwell-Pope's ability to rise up and bury difficult shots can be somewhat of a curse at times as well, as he tends to rely very heavily on this part of his game and can be naturalized relatively effectively by a taller and longer defender. In the half-court, just 19% of Caldwell-Pope's shot attempts come around the basket.
As a slasher, Caldwell-Pope still remains raw, especially operating on the ball, where he shows little in the way of advanced ball-handling and even has trouble with anything more difficult than straight-line drives. He does a better job operating off the ball, where his lack of ball-handling skills don't impede his athletic gifts, but still could be much better overall in all areas finishing around the hoop. At the moment he doesn't possess the strength and toughness needed to take hits around the basket and finish, as he tends to collapse in a heap at the first sign of contact at the rim.
On the defensive end, Caldwell-Pope has the size and athleticism to be a very effective defender at the wing positions at any level, even if his short wingspan doesn't leave him huge margin for error. For the most part, he does a good job consistently locking in to straight man-to-man situations. He can run into some trouble when dealing with off-ball movement or fighting through screens on pick-and-rolls, where he seems to just go through the motions at times, but has the tools to be an excellent defender and doesn't appear resistant to putting in the effort on this end of the floor.
Looking forward, Caldwell-Pope remains raw overall, especially as a ball-handler and finisher, but he made significant strides this season despite still having plenty of flaws in his game. Becoming a more well-rounded offensive player should continue to be his highest priority, though further improving his defensive prowess certainly wouldn't hurt either.
The fact that his team is just 9-8 in a relatively weak SEC and 15-15 on the year certainly isn't helping his draft stock, even if it's very obvious that he does not have much talent alongside him. The question is, how much will things change next season? Another year in school would surely make him more ready to contribute immediately to a NBA team, but it will regardless be difficult to tell in this setting whether he's the type of player who can contribute to a winning environment. Nevertheless, Caldwell-Pope's physical gifts combined with his excellent scoring instincts will likely get him looks in the first round whenever he decides to declare for the draft, even if his lack of team success makes it more difficult to pinpoint exactly where he might land.