Pierre Jackson is one of the most athletic point guard prospects in this draft class, and is also an outstanding perimeter shooter. How will his lack of size and average decision making affect his draft stock, and what are his chances of sticking on a NBA roster?
Pierre Jackson, 5'10", Senior, Point Guard, Baylor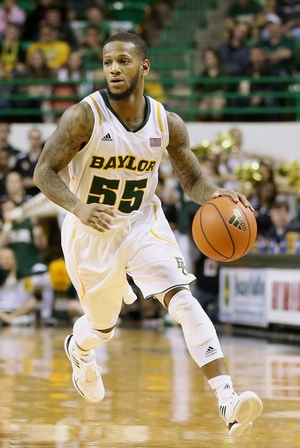 Derek Bodner
After two years of JUCO at the college of Southern Idaho,
Pierre Jackson
made a huge impact during his first season at Baylor. After the loss of
Perry Jones
III,
Quincy Miller
, and
Quincy Acy
from that squad, Jackson had an even larger role placed on his shoulders this year. After struggling somewhat in the Big 12 conference, finishing just 9-9 and missing out on a NCAA Tournament bid, Jackson responded well in the month of March, increasing his own personal production significantly while leading Baylor to the NIT championship.
Having to assume more of a scoring role, Jackson upped his scoring average to 21.8 points per 40 minutes, pace adjusted, a significant increase from the 17.6 he scored his first season at Baylor, with only a slight down-tick in efficiency due to his increased role, falling slightly from a 60% true shooting percentage to 58%. A big part of the reason Jackson was able to maintain his efficiency even with the increase in responsibilities was his ability to draw contact and get to the line, as Jackson increased his free throw attempts from 4.3 per-40 to 7.4.
In the half court, Jackson continues to prefer to operate out of pick and roll sets, where his combination of quickness, ability to change direction with his dribble and deadly pull-up jumper present a very tough package to defend as you very much have to pick your poison on what to focus in on defensively. According to Synergy Sports Technology, Jackson had an adjusted field goal percentage of 44.3% on jump shots off the dribble, which would be near the top 20th percentile in college basketball. With his extremely polished ball handling ability, Jackson is able to stop on a dime and gets very good elevation on his shot, which is key for somebody of his size.
Jackson's excellent shooting form extends to catch and shoot situations, where he is among the most efficient players in this draft class. His shooting form is virtually impeccable, with excellent balance, elevation, and follow through. His elevation allows him to successfully get shots off even when defended, something that would normally be a problem for somebody who is only 5'10".
Jackson has very good ball handling ability and quickness, and can change direction and speeds with relative ease. While he has an array of step back and pull-up jumpers, he's also very good at getting into the paint with either hand. An explosive athlete with good hang time and body control, who has done a much better job of drawing contact this season, Jackson can still at times struggle to finish over length. Perhaps more of an issue than his physical size is his decision making, which while it has improved greatly, he can still force up difficult shots that aren't always there.
Jackson's ability to get into the lane and how frequently he dominates the ball all but assures himself of a fairly good assist total, but he also displays solid court vision and passing ability, especially for a smaller player who may not have as many passing lanes available to him. His 7.8 assists per 40 minutes pace adjusted is 4th among players in our top 100 rankings, and even when adjusting for how many possessions he uses, he's one of the top guards in the country in assist rate.
One of Jackson's primary negatives last year was his decision making ability and high turnover rate, as he frequently suffered from baffling lapses of judgment, sometimes at critical ventures of games. While not completely solved – he still averages 3.7 turnovers per 40 minutes pace adjusted, 8th among top 100 prospects in our database – it's a fairly sizable improvement over the 4.5 he averaged last year. He will still try to force plays, both with his passes and his own shots, and will still at times get himself far too deep into the lane and out of control, but it was a noticeable improvement from last season. NBA decision makers will have to come to their own conclusions regarding why he struggled as much as he did against elite competition this season, where his numbers fell off dramatically (he shot just 32% for 3 and sported a near 1/1 assist to turnover ratio in eight games against top-25 teams), but it was difficult not to be impressed by the way he finished off the year.
Jackson's biggest negative at this time may be on the defensive end. His size, perhaps generously listed at 5'10", will always present significant matchup problems for him at the next level. Beyond that, while Jackson, when engaged, can move his feet well, it's his overall effort and attentiveness on this end of the court that may make it hard to find a spot for him at the next level. Jackson will simply fall asleep off the ball with alarming regularity. He also struggles to fight through screens, seemingly giving up very early in the process, resulting in a lot of unnecessary switches and defensive mismatches. Combine that with the disadvantage his height presents and the defensive side of the court is going to be a huge question mark decision makers have about his NBA prospects.
Pierre Jackson
presents an intriguing combination of athleticism, perimeter shooting, and pick and roll play that warrants a look at a roster spot at the next level. If he can continue to improve his decision making and, just as importantly, show decision makers that he can adequately defend at the next level, he has the talent and athleticism to hear his name called on draft night.