Buzz Williams will be among the first to tell you that on paper,
Jimmy Butler
wasn't one of the most talented players at the Portsmouth Invitational Tournament.
Marquette's excitable third-year coach attended the Virginia-based pre-draft camp in support of his graduating star - a sign of faith in Butler's NBA aspirations, as much as it was an act of respect.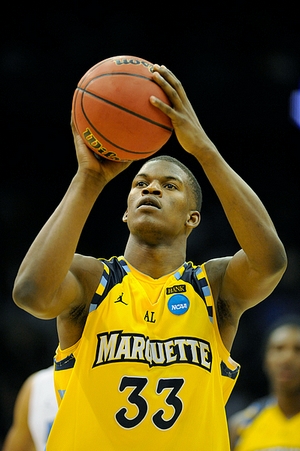 The 6-foot-7 forward rewarded his coach's commitment by winning most valuable player honors.
"He was the MVP because of the attention to all of the small things that he does," Williams says. "Not simply that he knows them, but because he can execute them, he's disciplined to do all that."
That Butler's attention to detail is so extreme is as much a testament to his intelligence and drive as it is to the regimented system Williams has crafted for the Golden Eagles. Butler on the other hand points to the hardest year of his life as the sole reason for his driven persona - a learning experience that has left an indelible mark on a now promising basketball career.
*****
Following a solid but unspectacular high school career, Butler's mailbox was devoid of major college offers, leading to the forward enrolling at Tyler Junior College, four hours south of his hometown of Tomball, Texas. He played well enough to lead the Apache's to a top ten national ranking and to earn Honorable Mention All-American honors - and also caught the eye of a new head coach.
On April 10th, 2010, just two days after being announced as the 16th head coach in Marquette basketball history, Buzz Williams sent Butler a national letter of intent. There was no phone call, no official visit, there was "no recruitment of any kind," as Williams so aptly put it.
For the Texas kid who just a year prior wasn't good enough, the allure of the Big East wasn't something he could pass on. The letter of intent was signed and Butler's world was suddenly upended.
The sometimes harsh reality of Junior College basketball is the lack of preparation it can provide young players. Butler was no exception.
"It was the most difficult time of my life," he says. "The mindset in junior college was you have to get yours because everyone wanted to play at a big school. It was faster than high school ball but it wasn't as fast or as tough as Marquette, not even close."
"In JUCO there were times where you could go out and not feel like playing on that particular night and still win. In the Big East you can't do that because everyone can play. You have to study the game more, take those scouting reports seriously, I had to watch my diet, watch how much I slept, I wasn't used to it."
It reflected in his playing time (less than 20 minutes per game) during his first season in the program. Still, that first season proved invaluable as a learning tool thanks to the presence of upperclassmen like
Wesley Matthews
,
Lazar Hayward
and
Jerel McNeal
who proved to be the archetype for developing into more than simply a contributing player, but one capable of making the jump to the NBA.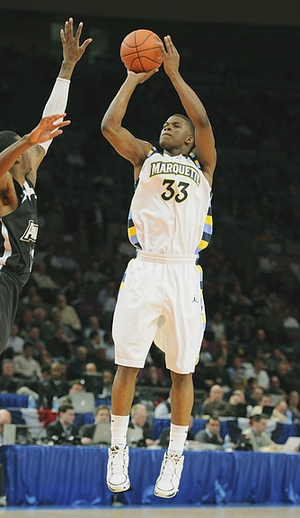 Matthews and Hayward now call the NBA home, with McNeal putting the finishing touches on a brilliant first season in the NBA Development League that resulted in a 10-day contract with the New Orleans Hornets.
"That's what those guys were all pushing for and they taught me that you weren't going to get there unless you worked that much harder than the next guy," says Butler. "You have to do whatever it takes to have a notch up on that next guy. I've taken that to heart and I bought into that from day one."
"As that process unfolded he began to understand the value of a daily work ethic and the value of winning. I think sometimes kids play so many games prior to their college arrival that they lose what winning and losing is supposed to be about," adds Williams.
*****
The collection of intangibles that continuously draws praise from former coaches and teammates is exactly why a pro team might be willing to spend a draft pick on
Jimmy Butler
– he gets it.
This isn't to say he lacks to necessary skills to translate to the pro level - certainly his defensive prowess and passing ability would suggest otherwise – but the willingness Butler has shown in buying into the team concept, regardless of setting, has made him a rarity in the "look at me" nature of the draft game.
Consider his MVP performance at Portsmouth: efficient scoring pulled teams in, but his leadership qualities and ultimately winning the championship left them raving.
"Teams are looking for guys that have that character and will make that sacrifice, that's big on any team," Butler says. "I don't want to be known as a selfish player, I never have been and I hope I never will be. I want to be known as a guy that teammates can count on, be it for one weekend like at Portsmouth or a whole season."
It's not hard to imagine this kind of polished response being delivered in front of a locker following a NBA game during Butler's rookie season. It might also be the best way to categorize his game – devoid of flash, but rich in substance. He does all of the little things well on offense, can guard multiple positions as a defender and his impact on his teammates and the locker room is undeniable.
Ultimately though, when Buzz Williams describes how his star senior will translate to the next level, his answer – much like the one he gave regarding Butler's Portsmouth MVP – isn't what you expect.
"I think his career at Marquette has shown that his responsibility level has increased by the week and he's always been able to exceed the expectations I had for him. That will translate to any level of basketball."