Welcome, welcome, welcome! My name is
Zack Rosen
and I'd like to thank you all for allowing me to take you on this journey. This is a pretty exciting time for me and I'm grateful for the opportunity to share my experiences with you. I'm a graduating senior from the Wharton School of Business and last season my play earned me Ivy League and Big 5 Player of the Year honors. Unfortunately, we fell just short of making the NCAA Tournament (and the taste is still bitter) but my individual efforts earned me an invite to the 60th annual Portsmouth Invitational Tournament and that's where we find ourselves now.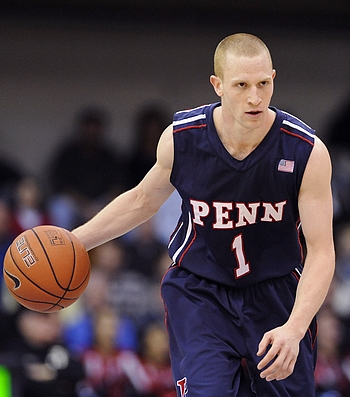 From April 11th-14th, 64 of the top seniors in college basketball gathered in Portsmouth, Virginia, with hopes of making a lasting impression on the NBA representatives in attendance. Portsmouth is viewed as a potential springboard for the majority of the guys here, some of whom are considered borderline second rounders. The idea is to play well and use this as a springboard for your stock as a player. The field is typically loaded with talent, and this year is no different. Most college basketball fans would recognize the names participating, mine being one of the less familiar because we never made the tourney and the Ivy League is not a BCS conference.
As far as the actual play at Portsmouth, I wanted to come down here with a plan. In these types of settings, there's usually bad shot selection and an absence of unselfishness. I knew I could fill a void by picking my guy up full court, displaying leadership, and making the right play on the offensive side of the ball. For a guy like me, I have to overcome so many obstacles and infinite doubt because of my size and "lack of athleticism". In order to do this thing, I am going to have to convince teams over and over again that I belong. Portsmouth was a good first step for me in terms of garnering some more belief, but it was the first of many more to come over the next two months.
Our team, comprised of some guys I knew prior to the event like
Truck Bryant
from West Virginia and
Rakim Sanders
from Fairfield, and some I had never heard of like
Cameron Moore
of UAB and
Laron Dendy
of Middle Tennessee, struggled a bit to build chemistry and find a rhythm. In our first two games, we were right there at the half and then let one run halfway through the second half kill our chances of a W.
We definitely played hard and guys attempted to play together but we struggled to feed off of each other's strengths and we didn't gang rebound on the defensive side, stifling our chances of converting easy transition buckets- a key to winning in this style of play. Overall, I hope the guys enjoyed the experience and even though we lost, I hope we all found joy in competing.
I was thoroughly impressed with Rakim. We played against each other in high school and I knew right then and there that he was a great player. St. Benedict's beat St. Andrew's at the PrimeTime Shootout in Trenton, NJ, but Rakim straight up killed us. Fast forward four years and he's doing the same things down here that he did to us in high school. Dude is a flat out scorer and matchup problem. He plays above the rim and he can post smaller defenders. On the other side, he can guard one through three and he even defended some opposing fours in this tournament when we went small. Rakim was a joy to do battle with and I wish him and all my other teammates (and peers) nothing but the best in the future.
Personally I'd like to thank everyone involved who puts Portsmouth together and sacrifices some time in his or her life to make it the great event that it is. Just WOW. The people who run the event are top notch, the volunteers are incredible, and the community is 100 percent behind the event. There are little kids constantly running around asking guys for anything they can get their hands on, from autographs to sneakers. There are local fans who have been attending the play at Churchland High year after year who really appreciate the game and who thank us for participating.
And there are representatives from every NBA organization with an eye on the games, hoping to learn just a little something more that they didn't know before. Again, thank you for creating this opportunity for young men like myself to climb one rung higher on the ladder that is the NBA dream.
That's all for now. I'll be back soon with some insight into the training process and all of the hard work that goes into getting a leg up on the competition. Later!