2009 D-League All-Star Game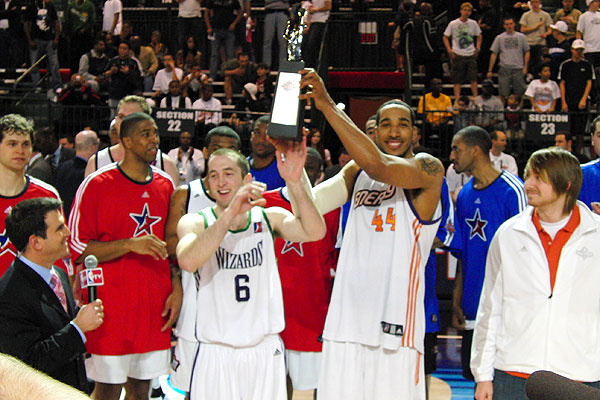 [c]
Blake Ahearn
and
Courtney Sims
were named co-MVPs.[/c]
Blake Ahearn
had 13 points and 13 assists to lead the Red Team to a 113-103 victory over the Blue Team in the 2009 NBA D-League All-Star Game.
"My deal was to get my teammates involved. All-Star games are usually one-on-one competitions but we wanted to play good team ball," said Ahearn.
Ahearn shared MVP honors with Iowa Energy star
Courtney Sims
who had 15 points, 8 rebounds and 4 blocked shots. Sims was signed by the Phoenix Suns this weekend, and then quickly reassigned to the D-League to allow him to play in the All-Star game.
"I've been watching the All-Star Weekend my whole life and to be a part of it is just a blessing," said Sims.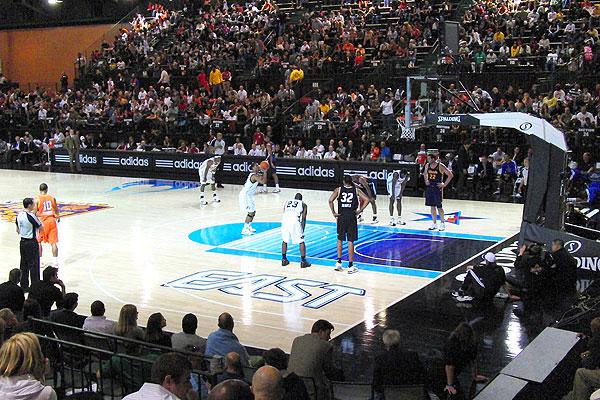 [c]A big crowd in Phoenix was treated to an entertaining All-Star game.[/c]
Reno's
Antonio Meeking
led the Blue Team with 17 points as he connected on 5 of 6 from behind the three point line.
The Red Team trailed 51-43 at halftime, but opened the second half with a 25-7 run in which Ahearn hit three shots from behind the arc. The Red Team never looked back as eight of their ten players scored in double figures.
2009 D-League H.O.R.S.E Competition
On Friday night, the D-League held their annual Dream Factory Friday Night where the three events were all won by D-League All-Stars with NBA experience.
Albuquerque's
Will Conroy
won the H.O.R.S.E. competition. His winning shot was a complicated combo shot: he tossed the ball of the backboard, grabbed it in midair, went through his legs and laid the ball in. Oh yeah, and he did it left handed.
"I knew I could do something under the legs off the backboard to make it hard on some of the other guys," said Conroy. "I just wanted to win. Everything I do I want to win."
Joe Crawford
of the Los Angeles D-Fenders finished second when his final attempt rimmed out. Despite the loss, Crawford enjoyed his time.
"It was a fun event. It makes you use your creativity…I really didn't practice any shots. I just tried to come out here and wing it."
Defending H.O.R.S.E. champion
Lance Allred
finished third. "I already got a big trophy from last year, so I'm fine that I didn't win this year," said Allred.
Allred was slightly critical of the event this year. "On the first shot, Conroy got to redo it when he missed it, I didn't get to redo it."
"I'm going to file an official complaint," he joked.
The redo was not the only controversy. In one sequence
Erik Daniels
led with a made free throw, Allred made his shot and then Crawford missed. It should have then been Conroy's attempt from the free throw line, but the official ruled that Conroy did shoot and it was Lance's shot. Conroy got away without having to take a free throw and Daniels was robbed of his chance to take a shot from anywhere.
The players were divided on the format of the game. After a player made a shot, all of the remaining players had to attempt that shot rather than waiting for someone to miss it. Allred had a suggestion to improve the game. "If everyone makes it, the guy who made the first shot gets a letter."
Conroy also had a suggestion: "make it P.I.G."
2009 D-League 3-Point Contest
The 3-point contest was won by Dakota's
Blake Ahearn
who has seen time with the San Antonio Spurs earlier this year. Ahearn hit 8 of his final 9 shots in the championship round to win the contest.
"The big deal with this is the money balls. That last rack helps a lot. My second round I didn't miss too many money balls," said Ahearn.
Like the NBA's 3-point contest the last ball in each rack is a money ball worth two points, however, in an attempt to innovate, the D-League decided to make the final rack more decisive by having all five be money balls. They also diverged from the NBA by not ponying up for full-sized racks, instead using practice racks that could only hold four balls, causing the fifth ball to be held by an assistant until the player needed it. Why they
couldn't be bothered to bring the NBA racks in from across the street is a mystery and just another reason we love the D-League.
Ahearn was the favorite for the event, but did not enter it overconfident. "I've played against all of them and they all have the capability of getting hot. That's the scary thing - anybody can get hot and anybody can win."
Luckily for Ahearn, he was money.
Keep an eye out for special coverage of the 2009 D-League Slam Dunk contest in the next few days.