Cleveland Cavaliers owner Dan Gilbert and other NBA executives fielded questions after the final 2011 NBA draft order was determined.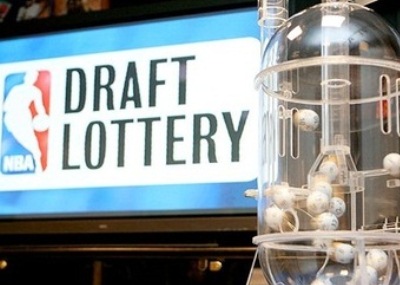 Dan Gilbert, Cleveland Cavaliers
Owner
First and Fourth Overall PicksRick Kamla:
Your son Nick represented the Cavaliers at the NBA Draft Lottery in Secaucus. In my estimation you have the greatest good luck charm in the history of the NBA Draft Lottery.
Dan Gilbert:
We sure did. It was shocking. It was almost like a dream. I'm thrilled for Nick, but I'm even more thrilled for the fans and the supporters in Cleveland, Ohio who have been through a hellish year, who have been through a challenging year, and been through a rollercoaster. Now there's hope with the number one and number four pick in the draft. I can't tell you how thrilled I am because they stuck behind this franchise for the entire year without even flinching and they deserve this and now we've got some good hope for the future. We've got some injured guys coming back who are talented players. We've got a lot of experience that was gained by some of the players who wouldn't have otherwise gotten it this year and these two picks along plus more stuff we might do this summer. I can't tell you how thrilled I am.
Kamla:
Does this feel like redemption after the hellish year you just talked about?
Gilbert:
Well, I don't know if I'd call it redemption, but it certainly brings around full circle. I'm just so happy that there's going to be hopeful times here again. I certainly think wherever we would have come out in the draft, we would have been a lot more competitive and been a better team than we were last year, but this kind of puts it over the top. Its thrilling and exciting and I can't wait to go see our front office and talk to them and figure out what we're going to end up doing here in the next few weeks.
Kamla:
Dan, you and your front office were big players heading into the trade deadline, pulling off the trade to get Ba
ron Davis
sending Mo Williams to the Clippers, getting a pick back that has turned into one of these picks. You have the first and the fourth picks, so I would assume that you and the Cavaliers are going to be major players, and maybe the major player heading into the 2011 NBA Draft.
Gilbert:
It sure feels that way having one and four and to think the number 8 pick turned out to be number one and the number two, if you do the records, fell to number four it just has irony all over it. But we'll take it. If you would have told me one and four before this draft, you would have been we would have jumped on that. So we're just thrilled.
Kamla:
You had a lot of thrills as owner of the Cleveland Cavaliers from getting the team, to some playoff victories, to making the finals in 2007. Where does this rank for you, Dan DG, amongst all your thrills as an owner in the NBA.
Gilbert:
This is right up there. This is pretty exciting. After going through the year in Cleveland all of us went through and the long-term fans and supporters and all the people in that state have went through not only economically, but with what happened last summer. And then of course the ramifications of that with the team this year and our record, it just brings it full circle and its right up there.
Q:
What does this mean for the fans?
Gilbert:
I think it means everything for the fans. They are the ones that went through the tough and difficult times. They deserve it more than anybody and that is really what it is all about, the fans and people of Cleveland, Ohio. Hopefully these are two great steps in the right direction.
Q:
Does this give you a sense of hope?
Gilbert:
It sure does, and that is what we need more than anything. We have some very good young talent and some good players who were hurt and are coming back. We have some great talent that hopefully we will pick up at picks one and four.
Q:
Talk about your emotions from seven months to now.
Gilbert:
It has been a roller coaster ride. Obviously shocking events took place last summer for not just myself, but a lot of people in Ohio. It was a slow, long and painful haul to get through it, and maybe this will be the final straw of getting over the hump and getting to the other side and having a lot hope for the future, and that's what we need.
Q:
Do you think getting two top picks accelerates it being put in the past?
Gilbert:
I think it's good fortune that will make us be competitive again. It was not just the players we lost, but it was the injuries, and those players are coming back and we still have a trade exemption. Our front office has worked very hard on this draft, so we are confident we will pick the right players. I know these things are not built overnight. You're not going to get two players in the draft and expect the next year to win the NBA Championship, but you never know. We're going compete hard and I think we will be a lot better than we were last year.
Q:
Were you more nervous about the pick or watching Nick and waiting for his reaction?
Gilbert:
It was quite a sight. I am very happy for him, too. He has been a lucky kid his whole life and overcome a lot of great odds. It's a very good thing that he was a part of this.
Q:
What does this mean for the city of Cleveland?
Gilbert:
The people, the fans and the support in Cleveland has been overwhelming. It has kept us going, the front office going and the entire franchise going. For them to get this delivered back to them and get these ping pong balls to fall this way and give them hope.
Q:
Do you think it was vital for you guys to get the number one pick?
Gilbert:
I don't know if it is everything. There is some significant talent at the top of this draft. When people say this draft doesn't have talent it depends if you're talking top-3, top-10... I think we're going to get two big building blocks.
Q:
Do you think
Kyrie Irving
is going to be your pick?
Gilbert:
I have to defer that question to the front office who has been working very hard. Certainly people know who is going to be in play for the one pick… Everyone knows there's some great players and there and we will do some deeper research and make the best decision.
David Kahn, Minnesota Timberwolves
General Manager
Second Overall PickQ:
Do you consider today to be a success, in that you didn't fall out of the top three?
Kahn:
When you come here, I don't want to term it a success. The fact remains, you have a greater chance of moving backwards than you do of staying in your spot. You have a 25 percent chance of winning, so you have a 75 percent chance of not winning, and not winning and moving as far back as four. I don't think it's anything to cry about. It is what it is.
Q:
The record may not have been there this year for your team, but there are some things to really like about your roster.
Kahn:
I hope so. We're very, very young. That's what we are. We're exceedingly, extraordinarily young at almost every position. We were the youngest team in the league last year. While this draft is important, what's also important is this summer as we begin to fine tune some things with our team and make some adjustments so we can continue on a path to hopefully in a few years be one of the very best teams in this league.
Q:
With the second pick, are you thinking best talent available?
Kahn:
We're not thinking, meaning, tonight's not the night to think. Everybody moves onto Chicago (Pre-Draft Camp) tomorrow, and we'll start to really talk about all the prospects. We have another pick in the first round at 20, so this is a very important June for us, as the past few have been. I'm excited about the promise of the future.
Q:
Are you drafting with
Ricky Rubio
being a part of your team in your mind?
Kahn:
We took Ricky two years ago with the understanding that he wouldn't be available to come right away, but that he would be available to come someday. So, he has to be a part of the mindset.
Kevin O'Connor, Utah Jazz
General Manager
Third and Twelfth Overall Picks Q:
Can you talk a little bit about the outcome tonight?
O'Connor:
We went forward. Anytime you go forward, it's a success. It's been good for us to move up in the draft. We gave up a premium player in the league in
Deron Williams
, so hopefully we can make something work.
Q:
How important is it to take advantage of the fact that you were able to move up?
O'Connor:
I think for the franchise's sake, when you have an opportunity to swing up there, you want to make sure you pick a good one. We haven't had a chance to swing up there very often but we like the idea of having the opportunity
Q:
Is there potential to draft a player that will have an immediate impact?
O'Connor:
Most of the young players play on teams that struggled the year before. They help their teams, but they don't help them win right away. We are probably a little further along, so hopefully we can incorporate somebody that fits into what we're doing. It is not necessarily the first 30, 60, 90 or 100 games. It's the first three years and where they are at the end of that.
Bryan Colangelo, Toronto Raptors
General Manager
Fifth Overall PickQ:
What are your overall feelings on tonight?
Colangelo:
There are obviously a bunch of players we're going to have to look at. We have our work cut out for us going into this process, kind of narrowing down who we think might go in those top spots, especially in the three and four spots. We like six or seven players in this draft. I actually think there are quite a few that will be impact players in this league for years to come, and it was short on star power. You might argue that there are only a few stars, and they're right there at the top. We'll see how it plays out. I don't think it's a dramatic fall back, in terms of falling from three to five. In fact, we'll get a little more relief in terms of the salary cap, which will free up some money to maybe do some other things. We have to look at it as we're going to get a quality player at five, and do what we have to do that.
Q:
At five, do you want to maybe address a need or just take the best available talent?
Colangelo:
I've been saying all along, I think we're a team that has a long way to go, but you take the best talent. Obviously, we'll look at all the circumstances before I say that without hesitation. We've got to look at what other things happen between now and draft night, with respect to trade conversations, have to start lining up what free agent prospects we have. I think we're probably going to be taking the best player.
Q:
If you keep that pick, are you hopeful that you'll be getting a rotation player?
Colangelo:
It's probably too early to say that. We're committed to the development of young players. We've shown that with
Ed Davis
and
DeMar DeRozan
the last two years. Years ago, Andre Bargnani got the chance to play a lot as a rookie. With so many young players and so many things uncertain about the roster, it's hard to say whether or not the number five pick will be a rotation guy or an impact player next year. It might take a few years to get everything you want out of that pick.
John Wall, Washington Wizards
Player
Sixth Overall PickQ:
What are you hoping for with this pick for the Wizards?
Wall:
It depends on which team is going to draft who, but there are a lot of great players in this draft. There are a lot of great guys in this draft that can help our franchise, so I'm excited to see what we can do with this pick. When I heard that the two teams moved up, we knew it would be tough. At number six, hopefully we can find someone who can really help us. I knew it would be tough to move up.
Q:
More so than position, guard, forward, what have you, what type of player are you looking for with this pick?
Wall:
Someone I can go to war with. Someone who's going to play hard every night. Someone who's going to give this team everything he has. That's the type of guys we need as we continue to try to get better. I'm not sure what's going to be there for us at six, but I like a lot of the players in this draft, and I feel like our management is going to make the right pick for us.