Scouting Report by Josh Riddell. Video Analysis by Mike Schmitz
After being an integral part of an outstanding regular season for the Kentucky Wildcats that ended in a disappointing Final Four loss to Wisconsin,
Andrew Harrison
was one of seven Kentucky players to declare for the NBA Draft. While his minutes dropped from his freshman (32 mpg) to sophomore (25.5) season, largely due to the depth of Kentucky's roster, he had a much stronger season overall, upping his PER from a very poor 12.7 to a much more acceptable 18.3.
---
Also on DX:
Andrew Harrison Workout Video from Santa Barbara
---
As a sophomore, Harrison averaged 15 points and 5.7 assists per 40 minutes pace adjusted while posting a 54% true shooting percentage, numbers that likely won't blow anyone out of the water. Once seen as a sure-fire lottery prospect, Harrison is at this stage hoping to be a first round pick and earn guaranteed money as he tries to carve out a niche for himself at the NBA level.
(Video may not load with Internet Explorer. Use Chrome or Firefox)
Harrison has great size for a point guard, measured at 6'4 ½ without shoes, with a 6'9 wingspan at the NBA Combine. He combines that with a strong frame, with overall measurements more like that of your typical NBA shooting guard than a point guard, which will benefit his cause greatly during the draft process. However, his athleticism doesn't leap off the page, as he lacks great quickness or explosiveness, which really hampered his transition from the high school to the college game, particularly inside the paint. With that said, his superior size and strength allows him to get to different spots on the floor when combined with his strong ball-handling skills and ability to operate at different speeds, helping him draw fouls a great rate (6.5 free throw attempts per-40 minutes, ranked #2 among DX-100 PGs).
While Harrison has the size to defend either guard position, he is most comfortable offensively operating with the ball in his hands. He is at his best operating in the pick and roll, where his ability to utilize different gears and handle the ball on a string makes him challenging to contain when taking his strong frame into consideration. He's difficult for smaller guards to handle when operating downhill, as he can simply bulldoze his way through the competition, while still seeing over the top of the defense, which allows him to find the open man effectively in drive and dish situations, particularly cutters at the rim. He is also fairly unselfish in transition, regularly passing the ball ahead to his very talented big men streaking the floor with pinpoint lobs.
Harrison averaged
5.7 assists per 40 minutes pace adjusted
, eighth among prospects in our top 100, while recording a very solid
2.79 pure point rating
. He cut down on his turnovers from 3.4 his freshman year to 2.6 his sophomore year per 40 minutes pace adjusted, making more careful decisions with the ball in his hands.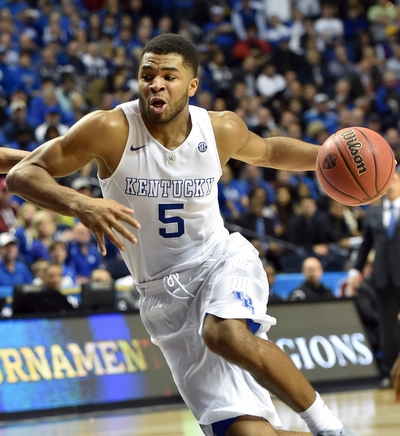 He still has a tendency to get wild at times, with his 16% turnover percentage being the third highest rate among DX Top-100 point guards, and he does have a tendency to settle for tough shots at times and try to do things that aren't in his repertoire. Harrison had about as much talent surrounding him as basically any point guard in college basketball, which made things much easier this past year, but there's no question that he made significant strides as a playmaker in his sophomore season, not looking anywhere near as selfish as he did in the past.
Defensively, Harrison has the potential to defend either guard position, as his physical tools give him the lateral quickness to stay in front of smaller athletes, while his length and strength will help him against bigger matchups, allowing him to contest shots very well out on the perimeter. This is perhaps the area he's made the biggest strides in since he arrived at Kentucky, as when he is locked in, he pressures the ball ferociously to disrupt the offense, and moves his feet well to stay in front of his man.
At times he can lose focus and gets out of his defensive stance while leaving his hands at his side, which leaves him susceptible to getting beat off the dribble or by cutters. He'll need to stay focused as much as possible, as he has the ability to make an impact defensively at the next level, something that will play a very important role in his ability to carve out a niche at the NBA level.
(Video may not load with Internet Explorer. Use Chrome or Firefox)
The biggest question marks about Harrison's transition to the NBA level revolves mostly around his scoring ability. He was neither a prolific or efficient offensive option in college, as his 15 points per-40 minutes ranked 11th worst among collegiate players in the DX Top-100, while his 54% true shooting percentage ranked 15th worst.
Harrison struggled badly to score efficiently inside the arc, hitting an incredibly poor 19 of 60 (31.6%) of his overall attempts inside the arc this season on layups and floaters, which is a historically poor rate. Not a single player who has been drafted since 1979 has shot under 38% from 2-point range in his draft year like
Andrew Harrison
did this past season, which tells you quite a bit about how much he struggled to score inside the 3-point arc.
Harrison has a very difficult time beating his man off the dribble without the assistance of a ball-screen, as he lacks great burst on his initial first step, and isn't very explosive around the basket in the rare occasions he does get all the way inside the paint. Since he rarely is able to beat his man cleanly off the dribble, he frequently has a man on his hip as he drives inside the paint, which leads to some very awkward floaters and runners. He almost never uses his off hand, and thus is fairly predictable with his finishes, struggling badly with length in traffic.
The only thing that salvaged Harrison's efficiency this season from being downright atrocious was his ability to draw fouls at an outstanding rate, and his near 80% conversion rate at the line helped him score 35% his total points from the charity stripe, the third highest rate in our Top-100. There are significant questions whether Harrison will be able to live at the line in the NBA the same way he did in college, though.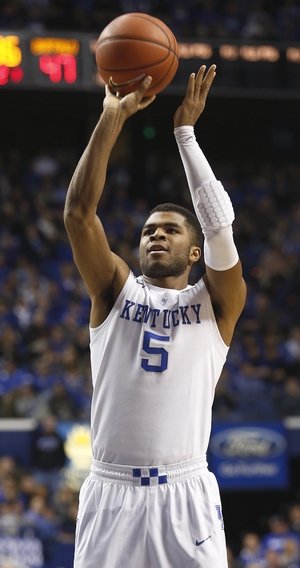 Harrison's struggles as a finisher this season put a lot of pressure on his ability to make shots from beyond the arc, and he responded by hitting 38% of his 3-pointers this season. He's improved quite a bit in this area over the years, but his average mechanics and the limited sample size of his attempts (94 in 39 games) leaves quite a few question marks about how this part of his game will translate to NBA settings as well, particularly with the much further distance of the NBA line. The ball doesn't come out of his hands very smoothly, either with his feet set or off the dribble, so he'll need to work very hard to make this a consistent part of his game, as he will certainly have issues finding offense otherwise.
Ranked as the
#4 player in the 2013 high school class
, Harrison may not have lived up to the sky-high expectations he came into Kentucky with, but will still likely hear his name called during the NBA draft, possibly in the first round even. He'll need to show scouts in pre-draft workouts he has the skills to play either guard spot at the next level, either by looking more comfortable attacking off the dribble in the half-court or by being consistent from behind the arc.
Harrison's size, playmaking ability and defensive prowess gives him a tailor-made role in the NBA even without being a prolific scorer, as long as he's willing to accept his role and buy into being someone who is willing to do the little things. Improving his leadership skills and body language on and off the court will go a long way in that.