Andrew Harrison
Recent Tweets
All Tweets
DraftExpress: With the #44 pick the Phoenix Suns select Andrew Harrison from Kentucky. DX Profile Video Scouting Report + more http://t.co/LyTMYZE0r1
2015-06-25 23:38:28
DraftExpress2: RT @DraftExpress New on DX Andrew Harrison Workout Video and Interview from Santa Barbara http://t.co/5yxqKDPuw0 http://t.co/bxciBUbclu
2015-05-21 11:10:54
DraftExpress2: New on DX Andrew Harrison Workout Video and Interview from Santa Barbara http://t.co/5yxqKDPuw0 http://t.co/bxciBUbclu
2015-05-21 08:40:29
DraftExpress: Andrew Harrison "We only had two days to prepare but that's not an excuse. We should have played better defense but woulda coulda shoulda"
2013-04-20 21:39:15
DraftExpress: USA Team press conference starting with Jabari Parker Andrew Harrison and coach Mike Jones. http://t.co/rTw61PRhiY
2013-04-20 21:37:38
Team: Iowa
Physicals
Positions
Rankings
Salary
Misc
H: 6' 6"
W: 213 lbs
Bday: 10/20/1994
(21 Years Old)

Current: PG
NBA: PG
Possible: PG

RSCI: 4

Agent: Kevin Bradbury

High School: Travis
Hometown: Fort Bend, TX
Drafted: Pick 44 in 2015 by Memphis

Predraft Measurements
| Year | Source | Height w/o Shoes | Height w/shoes | Weight | Wingspan | Standing Reach | Body Fat | No Step Vert | Max Vert |
| --- | --- | --- | --- | --- | --- | --- | --- | --- | --- |
| 2015 | NBA Draft Combine | 6' 4.5" | 6' 5.5" | 213 | 6' 9" | 8' 4" | 5.9 | 26.5 | 33.0 |
| 2014 | Kentucky Combine | 6' 5" | 6' 6" | 210 | 6' 8.25" | 8' 3" | 4.0 | 30.0 | 36.5 |
| 2013 | Hoop Summit | NA | 6' 5" | 207 | 6' 8" | 8' 2" | NA | NA | NA |
| 2012 | Deron Williams Camp | NA | 6' 5" | 214 | 6' 8" | NA | NA | NA | NA |
| 2011 | Deron Williams Camp | NA | 6' 5.75" | 209 | 6' 8" | NA | NA | NA | NA |



Basic Per Game Statistics

- Comprehensive Stats - Statistical Top 25s
| Year | League | Name | GP | Min | Pts | FG | FGA | FG% | 2Pt | 2PtA | 2P% | 3Pt | 3PtA | 3P% | FTM | FTA | FT% | Off | Def | TOT | Asts | Stls | Blks | TOs | PFs |
| --- | --- | --- | --- | --- | --- | --- | --- | --- | --- | --- | --- | --- | --- | --- | --- | --- | --- | --- | --- | --- | --- | --- | --- | --- | --- |
| 2015/16 | DLEAGUE | Andrew Harrison | 4 | 33.8 | 13.3 | 4.8 | 11.5 | 41.3 | 3.5 | 8.0 | 43.8 | 1.3 | 3.5 | 35.7 | 2.5 | 4.5 | 55.6 | 0.5 | 4.3 | 4.8 | 5.0 | 0.8 | 0.3 | 2.3 | 4.3 |

Player Page&nbsp&nbsp| Player Stats | Mock Draft History | Related Articles&nbsp&nbsp| Add to My Draft Express&nbsp
&nbsp
Andrew Harrison NBA Draft Scouting Report and Video Breakdown
May 26, 2015
Scouting Report by Josh Riddell. Video Analysis by Mike Schmitz

After being an integral part of an outstanding regular season for the Kentucky Wildcats that ended in a disappointing Final Four loss to Wisconsin, Andrew Harrison was one of seven Kentucky players to declare for the NBA Draft. While his minutes dropped from his freshman (32 mpg) to sophomore (25.5) season, largely due to the depth of Kentucky's roster, he had a much stronger season overall, upping his PER from a very poor 12.7 to a much more acceptable 18.3.
---
Also on DX:
Andrew Harrison Workout Video from Santa Barbara
---
As a sophomore, Harrison averaged 15 points and 5.7 assists per 40 minutes pace adjusted while posting a 54% true shooting percentage, numbers that likely won't blow anyone out of the water. Once seen as a sure-fire lottery prospect, Harrison is at this stage hoping to be a first round pick and earn guaranteed money as he tries to carve out a niche for himself at the NBA level.

(Video may not load with Internet Explorer. Use Chrome or Firefox)

Harrison has great size for a point guard, measured at 6'4 ˝ without shoes, with a 6'9 wingspan at the NBA Combine. He combines that with a strong frame, with overall measurements more like that of your typical NBA shooting guard than a point guard, which will benefit his cause greatly during the draft process. However, his athleticism doesn't leap off the page, as he lacks great quickness or explosiveness, which really hampered his transition from the high school to the college game, particularly inside the paint. With that said, his superior size and strength allows him to get to different spots on the floor when combined with his strong ball-handling skills and ability to operate at different speeds, helping him draw fouls a great rate (6.5 free throw attempts per-40 minutes, ranked #2 among DX-100 PGs).

While Harrison has the size to defend either guard position, he is most comfortable offensively operating with the ball in his hands. He is at his best operating in the pick and roll, where his ability to utilize different gears and handle the ball on a string makes him challenging to contain when taking his strong frame into consideration. He's difficult for smaller guards to handle when operating downhill, as he can simply bulldoze his way through the competition, while still seeing over the top of the defense, which allows him to find the open man effectively in drive and dish situations, particularly cutters at the rim. He is also fairly unselfish in transition, regularly passing the ball ahead to his very talented big men streaking the floor with pinpoint lobs.

Harrison averaged 5.7 assists per 40 minutes pace adjusted, eighth among prospects in our top 100, while recording a very solid 2.79 pure point rating. He cut down on his turnovers from 3.4 his freshman year to 2.6 his sophomore year per 40 minutes pace adjusted, making more careful decisions with the ball in his hands.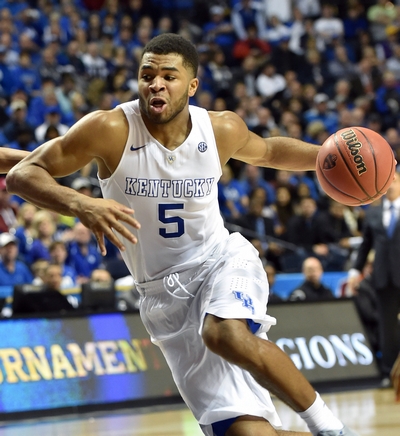 US Presswire



He still has a tendency to get wild at times, with his 16% turnover percentage being the third highest rate among DX Top-100 point guards, and he does have a tendency to settle for tough shots at times and try to do things that aren't in his repertoire. Harrison had about as much talent surrounding him as basically any point guard in college basketball, which made things much easier this past year, but there's no question that he made significant strides as a playmaker in his sophomore season, not looking anywhere near as selfish as he did in the past.

Defensively, Harrison has the potential to defend either guard position, as his physical tools give him the lateral quickness to stay in front of smaller athletes, while his length and strength will help him against bigger matchups, allowing him to contest shots very well out on the perimeter. This is perhaps the area he's made the biggest strides in since he arrived at Kentucky, as when he is locked in, he pressures the ball ferociously to disrupt the offense, and moves his feet well to stay in front of his man.

At times he can lose focus and gets out of his defensive stance while leaving his hands at his side, which leaves him susceptible to getting beat off the dribble or by cutters. He'll need to stay focused as much as possible, as he has the ability to make an impact defensively at the next level, something that will play a very important role in his ability to carve out a niche at the NBA level.

(Video may not load with Internet Explorer. Use Chrome or Firefox)

The biggest question marks about Harrison's transition to the NBA level revolves mostly around his scoring ability. He was neither a prolific or efficient offensive option in college, as his 15 points per-40 minutes ranked 11th worst among collegiate players in the DX Top-100, while his 54% true shooting percentage ranked 15th worst.

Harrison struggled badly to score efficiently inside the arc, hitting an incredibly poor 19 of 60 (31.6%) of his overall attempts inside the arc this season on layups and floaters, which is a historically poor rate. Not a single player who has been drafted since 1979 has shot under 38% from 2-point range in his draft year like Andrew Harrison did this past season, which tells you quite a bit about how much he struggled to score inside the 3-point arc.

Harrison has a very difficult time beating his man off the dribble without the assistance of a ball-screen, as he lacks great burst on his initial first step, and isn't very explosive around the basket in the rare occasions he does get all the way inside the paint. Since he rarely is able to beat his man cleanly off the dribble, he frequently has a man on his hip as he drives inside the paint, which leads to some very awkward floaters and runners. He almost never uses his off hand, and thus is fairly predictable with his finishes, struggling badly with length in traffic.

The only thing that salvaged Harrison's efficiency this season from being downright atrocious was his ability to draw fouls at an outstanding rate, and his near 80% conversion rate at the line helped him score 35% his total points from the charity stripe, the third highest rate in our Top-100. There are significant questions whether Harrison will be able to live at the line in the NBA the same way he did in college, though.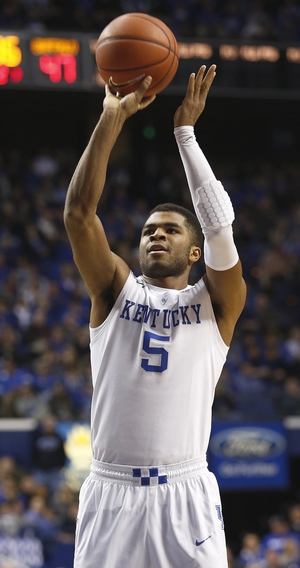 US Presswire



Harrison's struggles as a finisher this season put a lot of pressure on his ability to make shots from beyond the arc, and he responded by hitting 38% of his 3-pointers this season. He's improved quite a bit in this area over the years, but his average mechanics and the limited sample size of his attempts (94 in 39 games) leaves quite a few question marks about how this part of his game will translate to NBA settings as well, particularly with the much further distance of the NBA line. The ball doesn't come out of his hands very smoothly, either with his feet set or off the dribble, so he'll need to work very hard to make this a consistent part of his game, as he will certainly have issues finding offense otherwise.

Ranked as the #4 player in the 2013 high school class, Harrison may not have lived up to the sky-high expectations he came into Kentucky with, but will still likely hear his name called during the NBA draft, possibly in the first round even. He'll need to show scouts in pre-draft workouts he has the skills to play either guard spot at the next level, either by looking more comfortable attacking off the dribble in the half-court or by being consistent from behind the arc.

Harrison's size, playmaking ability and defensive prowess gives him a tailor-made role in the NBA even without being a prolific scorer, as long as he's willing to accept his role and buy into being someone who is willing to do the little things. Improving his leadership skills and body language on and off the court will go a long way in that.

[Read Full Article]

---
Andrew Harrison Workout Video
May 21, 2015
An interview with Kentucky's Andrew Harrison featuring footage from his pre-draft workouts at P3 Sports Science center and UCSB in Santa Barbara.

(Video may not load with Internet Explorer. Use Chrome or Firefox)
---
More Pre-Draft Interviews/Workout Videos
-J.P. Tokoto Workout Video
-Jarell Martin Workout Video
-D'Angelo Russell Interview
-Quinn Cook Interview
-Frank Kaminsky Workout Video
-Robert Upshaw Workout Video
-Rakeem Christmasn Workout Video
-Myles Turner Workout Video
-Stanley Johnson Interview
-Kelly Oubre Interview
-Frank Kaminsky Interview
-Satnam Singh Interview
-Satnam Singh Workout Video
-Alan Williams Interview
-Aaron White Interview
-T.J. McConnell Interview
-Chasson Randle Workout Video
-Chris Walker Interview
-Chris Walker Workout Video
-Cameron Payne Workout Video
-Cameron Payne Interview
[Read Full Article]

---
NBA Combine Competitive Action Recap: Day One
May 14, 2015
17 points, 5 assists, 2 steals, 5-10 2P, 0-3 3P, 7-8, FT, 26 minutes

Andrew Harrison played as well as any point guard at the NBA Combine on Thursday, as he controlled tempo, played with excellent pace, changed speeds consistently in the half court and made a few nifty passes while finishing through contact consistently. The 6' 5" Kentucky point guard flashed several different combo moves that, along with his ability to change speeds, helped him knife through the defense and drop it off to bigs around the rim. Harrison also looked very comfortable operating out of the pick and roll, keeping his man on his back, hitting the roll man in stride with pocket passes, and even knocking down a pull back jumper off the bounce. Although he wasn't immune to a couple of contested jumpers early in the shot clock early shot, overall Harrison played with excellent poise, handling pressure and making the extra pass when necessary. Harrison still has room to improve from the perimeter, where he missed all three of his triples, but his pure point guard skills were certainly on display Thursday evening.

[Read Full Article]

---
2014 Kentucky Combine Measurements and Analysis
October 11, 2014
Andrew Harrison measured 6'5 with a 6'8.25 wingspan and 210-pound frame. His 4% body fat was the lowest among Kentucky players. His athletic testing was solid, but not spectacular as his 36.5 maximum vertical leap doesn't jump off the page.

[Read Full Article]

---
Top NBA Prospects in the SEC, Part 7: Andrew Harrison Scouting Video
September 24, 2014

Mike Schmitz is the video analyst for DraftExpress. Follow him on twitter and check out the DraftExpress video section. He will be breaking down the NBA draft in digital format all year long for us.

[Read Full Article]

---
High School Class of 2013: Elite Prospect Scouting Reports
September 5, 2012
Jonathan Givony

Recruiting Rankings: ESPN: #2, Scout: #2, Rivals: #4, 24/7: #3

Strengths:
-Excellent size for a point guard/combo guard
-Very strong frame (weighed at 214 pounds)
-6-8 wingspan
-Great ball-handler
-Uncanny knack for creating offense with the ball in his hands
-Extremely advanced instincts for scoring, creating
-Tremendous finisher around the basket. Bounces off opponents, finishes through contact.
-Dribbles and finishes with both hands
-Very good in transition
-Terrific full-court passes
-Can make shots off the dribble and with range, in impressive fashion
-Good potential on defense when locked in.

Weaknesses:
-Relies too much on strength at times simply trying to bully his way to the basket. May need to adapt style somewhat against older, more physically mature players
-Outside shot prone to streakiness
-Needs to improve ability to play without the ball
-Gets tunnel vision. Overdribbles excessively. Loose with the ball. Forces issue. Very turnover prone at times
-Up and down with energy level
-Doesn't always compete on defense. Lets previous play affect him. Fails to get back.
-Body language can be very poor. Complains to teammates, referees. Needs to do a better job dealing with adversity.

Outlook:
Arguably the most talented guard in all of high school basketball. Top-shelf NBA prospect. Will be a game-changer from day one in college. Needs to improve in the areas most superstar prep players do as the competition stiffens. Has had a lot of attention come his way from a very young age. Can't let that go to his head at this early stage of his development. Needs to find a real position? If he's a point guard, will need to improve playmaking ability creating offense for teammates. If he's a shooting guard, must improve ability to play off the ball.

Highlights:




[Read Full Article]

---
USA Basketball U18 Tryouts Report
June 6, 2012
While this team is clearly loaded with talented ball-handlers and scorers, this group is still very much looking for a player to emerge as a leader and floor general at the point guard position. Combo guards Andrew Harrison and Rodney Purvis have taken turns showing their phenomenal ability to create high percentage shots for themselves around the rim in both half-court and transition situations, but are still more comfortable creating shots for themselves rather than for teammates and haven't developed the leadership skills needed to command the respect of the group. The play of more traditional point guards Nate Britt, Ryan Arcidiacono, James Robinson and Kris Dunn have been inconsistent at best, and very turnover prone at worst.

Andrew Harrison would be our guess as to who ultimately takes the helm based on natural talent alone. His combination of size, strength and creativity are unmatched in this age group, and would be an extremely difficult matchup for any FIBA Americas opponent to match up with. Harrison can get to the rim with ease and finishes extremely well, while also possessing the ability to create for others in drive and dish fashion.

Like all young players, he has a tendency to pound the ball excessively at times and force the issue, but the bigger concern for him long-term would be how he deals with adversity. He's easily distracted by turnovers he commits or "missed calls" from the referees. His body language can be quite poor at times, especially with the way he tends to stare down the zebras when they refuse to blow the whistle and give him "superstar calls". He loses his focus on defense quite easily and tends to go through the motions somewhat when things aren't going his way, jogging back lackadaisically on defense for example.

This may seem like an unduly harsh assessment considering how young he is, but he really is a special talent and there's little doubt that he will be drawing more and more attention to himself as time goes by with these types of antics. We talked to Harrison about this topic, and he didn't seem to be overly concerned long-term:





[Read Full Article]

---
adidas Nations: The Best of the Rest
September 27, 2011
Jonathan Givony

One of the most talented players seen at the adidas Nations regardless of class, there is very little doubt that we'll be writing plenty more about Andrew Harrison (#4 Scout, #1 Rivals, #4 ESPN) in the years to come.

A 6-5 point guard in the Tyreke Evans mold, Harrison has terrific size and strength for his position, and is an extremely fluid and shifty athlete.

First and foremost an outstanding slasher, Harrison has a knack for getting to the basket almost whenever he pleases. He has a great first step and terrific timing on his drives, utilizing crossovers, change of speeds and simply overpowering opponents with his strength, allowing him to make a living at the free throw line. Once at the basket, he finishes with either hand, often through contact, and will at times go up and finish above the rim impressively, even if he's not what you'd call an incredibly explosive leaper.

Not quite as much of a sharpshooter as his twin brother Aaron, Andrew can nevertheless make shots with his feet set or off the dribble, particularly in the mid-range area.

Also capable of finding the open man, Harrison has good court vision and is willing to hit the open man, leading you to believe that his future is indeed at the point despite the fact that in terms of size, he'd have no problem operating as a shooting guard. With that said, at times he does have a tendency to pound the ball a bit and stop the flow of the offense, so continuing to expand his knowledge of the game and improve his decision making will help him as he gets older and the competition stiffens.

Showing just average intensity on the defensive end, Harrison has the physical tools to be very effective on this end of the floor, something that will likely be emphasized more at the college level.

While obviously still very early in his career, there's a lot to be excited about in regards to Harrison's future. If he continues to work on his game and manages to stay humble with all the attention that will inevitably come his way, he has a chance to develop into a special prospect.

[Read Full Article]

---
adidas Nations Highlights and Interview: Aaron and Andrew Harrison
August 16, 2011
A video profile featuring top-10 ranked 2013 prospects Aaron (blue jacket, #29) and Andrew Harrison (white t-shirt, #30) from the adidas Nations Experience in Los Angeles.



[Read Full Article]

---