-The bracket projections are posted below, and the highlighted match-ups for tonight are posted below that. The projections are not a prediction of the future, but a checkpoint for where teams currently stand based on what's happened. Since the data is limited, parts of it may look a little strange.
TOO EARLY??
-Two years ago, when the number of games in the non-exempt season was expanded from 27 to 29 (28 to 30 for schools who don't play in conference tournaments), the beginning of the non-exempt season was moved up a week. This year, it began on November 9th, whereas two years ago it would have begun on November 16th. I personally would have liked it better had the NCAA opted to end the season a week later rather than begin it a week earlier. One of the reasons is that as popular as college basketball is in this country as a mainstream sport, the beginning of the season goes unnoticed, and starting a week earlier makes it even worse. Opening Day is a huge day for Major League Baseball. The kickoff to the NFL season is also a big deal, as is the beginning of the college football season. All of those sports start off with a bang. College basketball captivates the nation once the season gets going, but it does not start off with a bang. It starts off with more of a pop from a toy gun. The reported attendance for the Richmond vs Maine game this past Monday that opened the season was 32. There are usually more people at Denny's at 3am. Granted the game was in Memphis, TN, and it was the first game of a doubleheader where Memphis was the second game, but still, there were 32 people at the first official game of the season. Obviously there are several fan bases where the level of enthusiasm is very high at the beginning of the year, but for the most part, I don't think the country is really fired up about college basketball this early on, and that's one reason I wouldn't mind seeing the start date of the non-exempt season pushed back to where it was before.
Another reason is that teams who have undergone coaching changes and/or have a lot of new players on their roster have one less week to prepare than they would have two years ago. I don't think that's the only reason we've seen some early surprises this year, but I do think it has something to do with it. Midnight Madness is generally around October 13th, and the nonexempt season begins just over three weeks after that. Teams with a lot of new players and/or coaches aren't used to themselves yet, and I believe that not having that extra week can hurt them. I actually wouldn't mind giving teams the option of a third exhibition game and pushing everything back one week. The games in November are important, and the committee does look at them even if the majority of the fans don't. A November game could potentially give a team a big signature win that it needs to make the NCAA Tournament, or put a bad loss on a team's resume that could potentially keep them out of the field. I just think we'd see a little more enthusiasm from the fans along with a slightly higher quality of basketball if teams had that extra week to practice.
RECAPPING THE WEEK
THE ATLANTIC FUN!!!
-The Atlantic Sun, or Atlantic Fun as some fans like to call it, had a huge week. Gardner Webb made big headlines when they blew out Kentucky in Rupp Arena and advanced to the semifinals of the Coaches' vs Cancer Classic. We'll get to see them this week along with Oklahoma, Memphis and Connecticut. Mercer's win at USC wasn't broadcast on TV, but it was another big shock. I have Mercer in my bracket as a #9 seed and Gardner Webb in as a #10 (see below). They may not end up there, but the bracket is a checkpoint of the present and beating a Top 25 team handily on the road warrants inclusion.
Belmont also managed a win at Cincinnati, which may be a big named program, but that win looked a little less stellar after the Bearcats only beat Western Carolina by two, and then lost to Bowling Green to go 1-2 in their own invitational. Nevertheless, the A-Sun looks could be in for a big year, and Belmont is one of the favorites. They're off to a decent 2-1 start.
-East Tennessee State is another A-Sun preseason favorite, and they nearly beat Dayton on the road in their season opener. Dayton does not appear to be a Top 25 caliber team by any means, but they are still viewed as being on a higher level than ETSU and are tough to beat at home. They didn't win, but it was still an impressive showing that was above what we typically see from the Atlantic Sun.
MORE BRACKET NOTES
-I know it's early. I know some of the things in the bracket below look unusual. I know that there really isn't enough data to go on yet to make a solid projection. However, if Associated Press and Coaches can have a Top 25 each week, then I say I can do a bracket each week. I have just as much to work with as they do.
-I haven't seen San Diego State in action yet, but their scores sure looked impressive. The Aztecs won big against what looks to be a pretty good Fresno State team 89-72. They've also chalked up wins against Liberty and Portland, but winning on the road at Fresno by that margin certainly got my attention. They dominated the glass and shot nearly 60% from the floor. That earned them a spot in this week's bracket.
-New Mexico State lost their season opener to Ohio. I originally had them as a bubble team, and wouldn't be surprised if we see them on the bubble coming down the stretch. It was a good win for the Bobcats, and it could end up being a costly loss for New Mexico State. For bubble teams, generally one game can make the difference of whether they make it or not. It's early and we don't know for sure what impact it will have, but at this point in time it looked like a missed opportunity for a team fighting for a tournament spot to pick up a win on the road.
-George Mason, another team I had projected near the bubble in the preseason, struggled in their opener, but managed to get a 70-63 win against a pretty good Vermont team. Those are the kinds of games tournament teams need to win at home, even in November, because if a team's schedule doesn't allow them too many shots at heavyweights they don't get that many strikes before they're out of the at-large picture.
-Weber State had a rather surprising win against a Utah State team that was expected to make some noise in the WAC. It's hard to say how costly that will be for Utah State, but they were a team that had expectations this year and that isn't a good way to start things off.
-Two Tournament hopefuls from the Missouri Valley got off to a rough start. Missouri State fell to Toledo on the road, and Bradley fell to Illinois Chicago. These are two teams that ended up on the bubble last year and know how much of a difference just one game can make, even if the game is in November.
-In case I haven't been clear enough, I'm trying to stress the fact that games in November do matter.
-A good number of teams haven't even played yet. Generally, if a ranked team won the games they were expected to win, I did not move them on my S-curve. If they lost a game they were expected to win, then hey moved down or out. For the conference champions, I generally went with the highest rated team, or the team that appeared to have the best win in the league so far.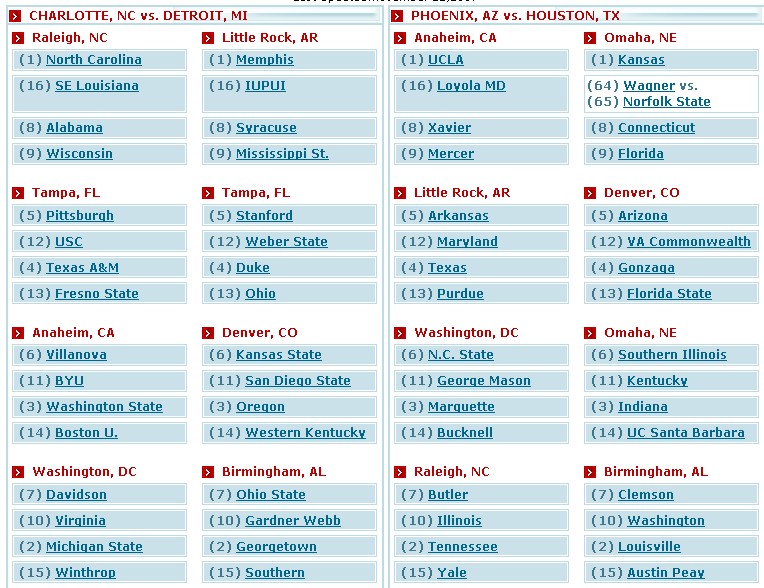 HIGHLIGHTED MATCH-UPS
-APPALACHIAN STATE AT CHARLOTTE. Appy State had a big year last year, but lost quite a bit of talent. Charlotte began their season with a win over a solid High Point team, and is looking to improve to 2-0 tonight. This is a team that has a history of struggling out of the gate, so starting off strong is important to them.
-NEW MEXICO STATE AT DUKE. New Mexico State dropped a disappointing loss to Ohio in their season opener, which was a disappointment. A win at Duke would make up for it and then some, but that isn't likely to happen. Still, it will be interesting to see what they can do against the Blue Devils because NMSU looks to be one of the better teams in the WAC.
BUY GAMES
-FLORIDA ATLANTIC AT BOSTON COLLEGE. BC won their first game, and shouldn't have too much trouble with FAU tonight.
-FURMAN AT CLEMSON. It's the season opener for the Tigers, and they're trying to break through the bubble and get to the NCAAs.
-CHATTANOOGA AT INDIANA. This is the season opener for Indiana, and Chattanooga's first div1 opponent. IU clearly looks superior and should win rather easily.
-SOUTHEAST LOUISIANA AT LSU. This is LSU's season opener.
-UTAH VALLEY STATE AT MARQUETTE. Marquette breezed past IUPUI in their opener, and shouldn't have any trouble winning tonight.
-EASTERN WASHINGTON AT NEW MEXICO. New Mexico had a nice win at Colorado to start the year, and should be able to win at home against Eastern Washington.
-LONG ISLAND AT NOTRE DAME. A major sports team from Notre Dame should finally get to win a game. It's the season opener for the Irish, and they shouldn't have too much trouble.
-ALCORN STATE AT OKLAHOMA. Oklahoma will play in the Coaches vs Cancer Semifinals later this week and will get a true test there, but shouldn't have too much trouble winning tonight.
-WESTERN MICHIGAN AT OREGON. This is the final game of a round robin tournament for Oregon. They beat Pacific rather easily last night, and Pacific didn't seem to have too much trouble putting Western Michigan away the night before.
-NORTH CAROLINA CENTRAL AT RUTGERS. Rutgers got a nice win against North Dakota State the other day, and can improve to 3-0 with a win tonight.
-THE CITADEL AT SOUTH CAROLINA. South Carolina should be able to improve to 2-0 with a win over an in-state foe.
-TEXAS SAN ANTONIO AT TEXAS. It's the season opener for the Longhorns, and it doesn't look like it will be all that tough.
EXEMPT TOURNAMENT GAMES
-CENTRAL MICHIGAN AT MISSOURI (CBE Classic). Central Michigan is up and coming, but they probably aren't good enough to knock off a Missouri team that's also building itself up and looking to have a big year.
PRESEASON NIT
-SIENA AT SYRACUSE
-SAINT JOSEPH'S VS FAIRLEIGH DICKINSON
The winners will face each other in the quarterfinals. For Saint Joseph's, they have a lot of experienced and talented players back and doing well in this tournament is their chance to make a splash on the national stage.
-GREEN BAY AT OHIO STATE
-COLUMBIA VS DELAWARE STATE
It doesn't look as if Ohio State will have too much trouble advancing out of this region and into the semifinals.