-The new bracket has been posted. It was most recently updated at 1:30pm, est. I didn't take into consideration any of the games played on Saturday, but I'll obviously be updating it tonight as events unfold.
-All of the projected conference champions are the highest remaining seeds in their tournaments.
CLICK HERE FOR A RUNDOWN OF ALL OF TODAY'S CONFERENCE TOURNAMENT ACTION
TEAMS THAT WERE MOVED TO MEET BRACKET REQUIREMENTS
-Villanova was moved from a #10 to a #9
-Kansas State was moved from a #9 to a #10
-Davidson was moved from a #12 to a #11
-Oregon was moved from a #11 to a #12
-Villanova was my worst #10, so I don't like the idea that they move up to a #9, but there was no other way to make the bracket fit with eight teams from the Big East.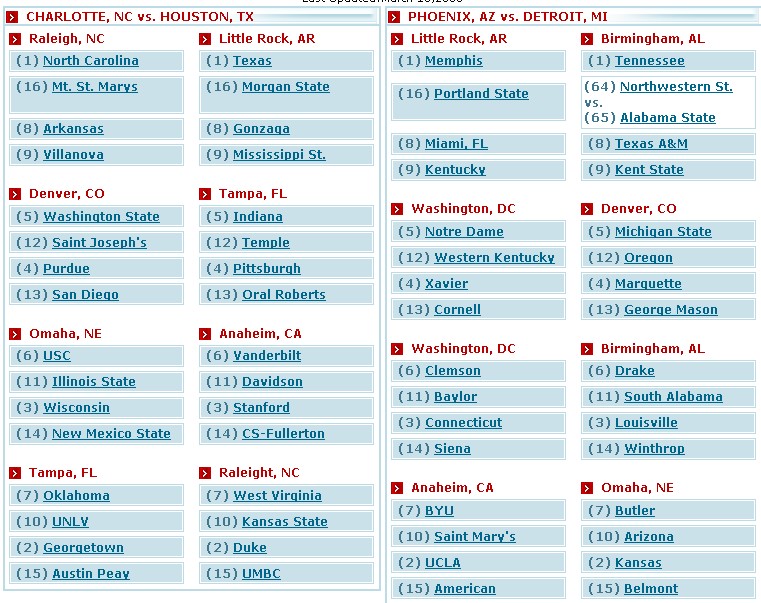 NOTES ON THE BRACKETOTHERS CONSIDERED
: Arizona State, Ohio State, Syracuse, Virginia Tech, Massachusetts, Dayton, Florida State, Stephen F Austin
CLICK HERE FOR THE BRACKET EXPRESS BUBBLE WATCH, AND A COMPLETE ANALYSIS OF EACH TEAM
#1 SEEDS
-No one is giving Texas all that much love for a #1 seed, which I don't understand at all. I know they've been struggling down the stretch, but they've still been winning. It's also worth noting that other than Memphis none of the other teams in contention for a #1 seed have exactly been blowing people away. Texas has won at UCLA, they've beaten Tennessee on a neutral floor, and they also have a big win against Kansas. That's pretty good. When a team beats the other teams who are contending for a #1 seed head to head like that, it gives them an advantage. I think Texas could wrap up a #1 with a win today regardless of what happens tomorrow.
-If Virginia Tech wins today, I believe they'll make the NCAA Tournament.
-If Akron beats Kent State, which is a real possibility, either Oregon or the loser of the Saint Joseph's vs Temple game will probably be coming out. That is a huge game because both teams are squarely on the bubble.
-I'm not a fan of Vanderbilt and Davidson having to play each other in Anaheim, but in the case of how I had everyone ranked on the S Curve it was the best way to make the bracket all fit. The good news is that this is just a simulation. The real committee will hopefully be able to get them closer to home.
-There were several upsets in some of the smaller tournaments that effected the bottom part of the bracket. Stephen F. Austin is out, and although they have some sort of a case for an at-large bid, it's a very weak one. That is very unfortunate because SF Austin is a good team and I wouldn't have been surprised to see them upset someone in the first round. As a result, the Southland has the 5th seed squaring off against the 7th seed for the automatic bid.
-The #16 seeds look bad this year even by #16 seed standards. Portland State is solid and would probably beat the rest of the #16/#17 line very easily, but everyone else other than Morgan State that's projected to win got hot in their conference tournament and knocked off a higher seeded team.
-Check back for more news and analysis throughout the day.