-The following bracket is not an attempt to guess what it will look like on Selection Sunday at the end of this week, but rather a checkpoint of what it would look like if today was Selection Sunday. The criteria used to select and seed the teams is the exact same criteria used by the NCAA Selection Committee.
-Bracket reflects games played through Thursday, Mach 9th.
-Be sure and check out the article below for an explanation of the bracket. A summary of tonight's action, along with a thorough look at the bubble is also included below.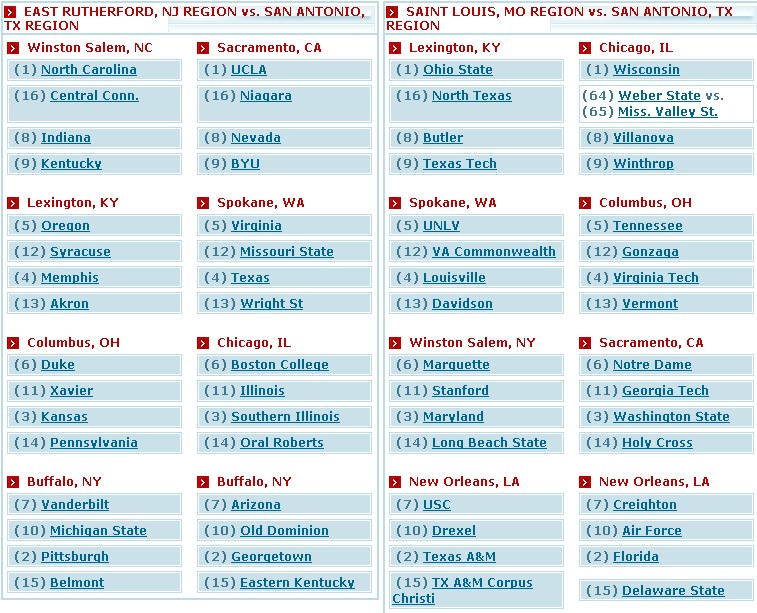 NOTES ON THE BRACKET
-A very detailed rundown of all of today's conference tournament action can be seen in the article right below this one, or by clicking
HERE
-Indiana and Kentucky are set to play in the first round of my projections. The committee generally attempts to avoid regular season rematches prior to the Sweet Sixteen, but they will break that rule before they'll break the rule of having BYU play on a Sunday, or have a conference match-up prior to the Elite Eight.
-Michigan State was originally a #9 seed, but needed to be switched with Winthrop, who was a #10 seed in order to make the bracket fit.
-I still have UCLA as a #1 seed, but they've been eliminated from their tournament. All of my other #1 seeds are still playing along with Florida, who is my top #2 seed. If Florida gets hot and wins the SEC I would expect them to end up a #1 in the actual bracket that comes out Sunday.
-I really like BYU, but I can't seem to get them any higher than #33 on my S Curve, which makes them the best #9 seed. They just don't have the quality of wins that many of the other teams ahead of them have. From that aspect, it would have probably helped them out more had Air Force not been upset yesterday by Wyoming. At least that would give the Cougars a chance to play a quality team on a neutral floor. If they win the Mountain West Tournament, I expect their seed to end up better than a #9, but at this moment in time that's where they remain.
-I moved Drexel up to a #10 from a #12, which is where I had them in my last bracket. The more I look at Drexel, the more I believe the committee will like them. They did everything the committee says a team is supposed to do. They've won 14 games away from home, which is amazing. They also have some quality wins at Syracuse, at Villanova and at Creighton. After hearing the committee preach year after year about the importance of going on the road and scheduling good teams, they should reward Drexel if they practice what they preach. Right now I'm inclined to believe that they will.
-Old Dominion is also a #10 seed. They have a big time win at Georgetown, and a pretty good resume overall. Although they lost in the semifinals of the Colonial Tournament, they finished the season red hot and I believe they will be selected.
-The trend of my projections seems to be that teams who have done the most on the road are the ones who are getting the good seeds. I've spoken to a few of the committeee members throughout the seaoson, and all of them emphasized how much they value teams winning on the road.
THE BUBBLE WATCH
OTHERS CONSIDERED: Purdue, Florida State, Arkansas, Michigan, West Virginia, Bradley, Mississippi, Kansas State, Clemson, Oklahoma State
IN
-Syracuse is a #12 seed, but I actually have them a little further in than that. It's just that they needed to be moved down from a #11 seed in order to make the bracket fit. Still, losing to Notre Dame yesterday has them closer to the bubble than they'd like to be. A win in that game would have probably virtually locked them in.
-Georgia Tech's had been playing better, but they were upset by a weak Wake Forest team, and they appear to be back on the bubble. They are a hard team to figure out because they have some really good wins, but they also have some very puzzling losses. They also have just one true road win, and that alone could result in them being left out. I have them in now, but there is no guarantee that I'll still have them in come Sunday as other teams begin to make their case.
-Missouri State remains squarely on the bubble. The biggest credential they have is a neutral floor win over Wisconsin. Again, I have them in for now, and they do have a case to be selected, but once all the conference tournaments are over with it's very possible that they'll be knocked out. They don't really have any bad losses other than Evansville. It's just that the Wisconsin win is their only win against a solid NCAA team.
-Stanford has really gone into the tank lately. None of their losses are all that bad, but it's just that they had so many of them down the stretch. A win against USC yesterday would have made them a super lock, but when I look at their profile now, they've lost four of their last five, and six of their last nine. They do have a good road win at Virginia and have done reasonably well on the road as a whole, but it's just the way that they've fallen apart recently that could get them into trouble. I wouldn't be surprised if I ended up taking them out of my bracket before it's all over, especially if other teams on the outside looking in get hot.
OUT
-Purdue is playing for their NCAA Tournament lives today. Two wins locks them into the field, but a neutral floor win over Iowa may be enough. Without at least a win today, I believe the Boilermakers are NIT bound. Their biggest problem is that they haven't performed on the road, but at least this would add another neutral floor win to their resume.
-Florida State can get in with a win against North Carolina today. A loss and they're still sweating, but they do have a pretty strong case. They've also won three in a row so they have a little momentum going on right now as well.
-Arkansas still has some work to do, but the opportunity is theirs for the taking. Winning today against Vanderbilt is pretty much a must. If they can't get it done I believe they'll be watching the NCAA Tournament on TV like the rest of us.
-I believe West Virginia's loss to Louisville has knocked them out of the field. In looking at their resume, they do have a big time win against UCLA, but UCLA was not at full strength for that game, and it was on West Virginia's home floor. They played a very weak OOC schedule (bad), are just 3-6 on the road with those wins coming against Seton Hall, Rutgers and Duquesne (bad), and did not finish the season terribly strong. I believe the Mountaineers are out.
OTHER BUBBLE BUSTERS
-Both Colorado State and Wyoming have advanced to the semifinals of the Mountain West. Neither team can get in without the automatic bid so if one of them ends up winning it means one less bubble team seeing as how Air Force, UNLV and BYU are pretty much locks.
-Memphis is steamrolling through C-USA, but if they slip up then it will also take a bid away from someone.
-One of the most entertaining semifinals today will be out in the WAC. Nevada is playing Utah State, a team that beat them just over a week ago, and New Mexico State is playing Boise State. Boise State was sort of a surprise, but both New Mexico State and Utah State have both shown they can play with and beat Nevada. Chances are neither will get to the NCAA Tournament without the automatic bid, although Utah State's resume will look pretty good if they can beat Nevada today, but fail to beat New Mexico State in the finals. Still, it's another bubble team that could get knocked out.
-Xavier is another team to root for if you're on the bubble. They appear to be rather solid, but a loss in the Atlantic Ten might also have the Muskies sweating a little bit. They'd make life easier on all of us if they just ended up winning the tournament. The problem with them is that other than a neutral floor win against Villanova, Xavier's best wins have come at home against bubble teams. Although they're red hot now, the teams they've been playing and beating aren't tournament caliber teams.